Here's an excerpt from the IMDb plot summary of Employee of the Month starring Dane Cook:
Zack has not won any "Employee of the Month" awards and has no desire to except when Amy, a new cashier who only dates "Employee of the Month" winners, transfers to the store.
Here's the premise of Good Luck Chuck, also starring Dane Cook:
Stu starts to become convinced that there's something peculiar about Chuck's pattern of girls getting married as soon as he has sex with them. This is only compounded when an article on a dating site tells of Chuck's prowess. Stu eventually convinces Chuck to embrace the (now many) women who visit his practice, arguing that there's nothing better than having a bunch of guilt-free sex.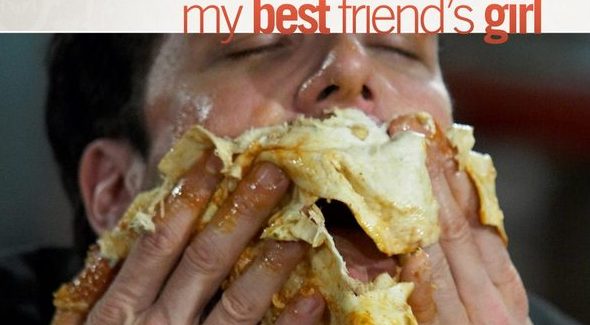 And here's the premise of My Best Friend's Girl, which also starred Dane Cook:
Dustin, an amiable guy, is in love with Alexis, a coworker. When she tells him she just wants to be friends, he hires his roommate Tank, a fast-talking, amoral scoundrel who has a side business: men whose women have dumped them hire Tank to take their ex-girlfriends out on the date from Hell, to drive the women back into their old boyfriends' arms.
Each of these movies has a different director and screenwriting team. They came out in 2006, '07 and '08, respectively. Aside from overwhelming critical disdain (their combined Metacritic scores don't even reach 100), the only thing these three films have in common is Dane Cook in a starring role.
At first glance, anyway.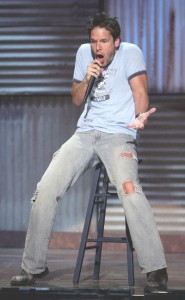 Reading the premises again, though, you notice a striking similarity: women following magical rules enforced by Dane Cook.
In Employee of the Month, Jessica Simpson plays a cashier who only dates big-box store employees of the month. Why? Is there something about the gilded frame on the concrete wall that heats up her erogenous zones? Is she a really short-sighted social climber? No matter! Jessica Simpson's character is not a human being with thoughts and drives. She's an automaton who reacts to external stimuli.
("Ha ha," you're thinking, "that's not much of a stretch." Keep reading)
In Good Luck Chuck, every woman who Dane Cook sleeps with marries the next man she dates. Really? What if that man's a paroled murderer or an embezzling douchebag? Doesn't matter! The universe has endowed Dane Cook's junk with special powers – lay your hands on it and bam! Instant matrimony. The woman does not choose who she wants to marry – the universe (and Dane Cook) choose for her.
In My Best Friend's Girl, not only does Dane Cook's character have the same power as in Good Luck Chuck, but now he's turned it into a commodity. He now cooperates with heartsick losers in scamming girls. A woman who goes out with Dane Cook's repellent character will run back, hands waving uselessly in the air, to the arms of the last guy she dumped. Again, no choice on the woman's part.
I'm not asserting that Dane Cook is playing the same person across multiple continuities (not this week, anyway). But, again, these three movies have nothing in common other than the lack of female agency in the stories and Dane Cook's name in the marquee. It's not the same studio of writers and directors churning out an agenda.
Romantic comedies and feminist thought have always had a shaky history. Even the strongest females in a Nora Ephron weeper aren't truly strong until they find a man to complete them. And while there's nothing inherently un-feminist about marriage, Hollywood does think it solves an awful lot of female problems. So if we're toting the feminism gun today, romantic comedies are an easy target.
But even the worst of these romantic comedies presume that women can make choices. "Will she spend the rest of her life with the rich asshole or the sensitive poet?" is a cliched choice, but at least it grants the female autonomy. Ditto "her love or her career?", "her family or her husband?", "her youthful dreams or her mature ambitions?", etc, etc. False dichotomies all, but they make the female character a participant in her own destiny.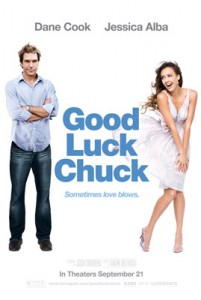 Not so in the world of Dane Cook! In Dane Cook movies, women don't even have the luxury of a cliched choice. Women are objects to be acted upon. If the male lead has yet to end up with the female lead, it's not because of a decision she's made – it's because the male lead has not yet completed the necessary ritual (become Employee of the Month, figured out how to sleep with her without activating his gypsy curse, etc).
(N.B.: For readers in OTI's largely male audience who don't see why anti-feminist thought in popular movies is such a big deal, consider the following. Let's say you saw a movie about two sisters who use magic to entice a man to fall in love with one of them. And at the end of the movie, the man learns that he's been enchanted, but decides to stay with the sister he's in love with anyway. If you said, "Holy hell, that's creepy," you're right.
If you also said, "That's remarkably close to the plot of Practical Magic, the 1998 romance starring Sandra Bullock and Nicole Kidman," you're also right.)
"Once is happenstance; twice is coincidence," Ian Fleming observed in his novel Goldfinger. "Three times is enemy action." In each of the last three years, Dane Cook has starred in a movie which turns women into objects – Rubik's Cubes to be manipulated until the colors line up. What do we have to look forward to in the future?
Money Run (2009): Hillary Duff plays an heiress who has vowed to marry the one millionth person who asks for her hand in marriage. Dane Cook, Anton Yelchin, Jackie Earle Haley and Channing Tatum play suitors racing across the country to claim their prize.
Pygmalion 2525 (2010): Dane Cook plays a roboticist obsessed with creating the perfect female robot. He creates dozens of brilliant, warm, gorgeous androids who want nothing more than to please him, but none of them is quite perfect. Then he finally makes the perfect love-droid – only for evil Martian mobsters to kidnap her! Verne Troyer stars as Cook's alien sidekick.
On Ice (2011): A virus kills every human being on the planet except a few stranded Antarctic outposts. When climatologist Brad Melbourne (Dane Cook) discovers a beautiful woman in cryogenic storage (Emilie de Ravin), he must unlock the computer code that seals her in. When she thaws out, it's understood that she'll want to sleep with him. de Ravin has no lines of dialogue.