The Super Saiyan Apotheosis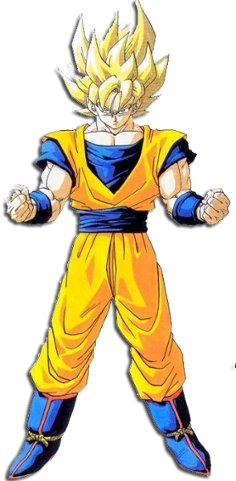 Well, I should say, Dragon Ball is "about it" to an extent, but it comes down strongly against the idea of a Chosen One – of somebody designated by fate or destiny or even King Kai – having greater bearing on events than someone who is simply driven and motivated enough to work for it. Vegeta may be a prince destined to be strong, but it is his pride, not his lineage, that sustains him and keeps him going (as he gets his ass kicked again and again).
In Dragon Ball, there is a myth of a Chosen One – The Super Saiyan, a mighty alien warrior who is unbeatable in combat and thus capable of establishing primacy across the galaxy. Through one of the major story arcs (and, some would argue, the best saga in the series), three different characters vie for this primacy.
Frieza – An arrogant intergalactic dictor with tremendous strength. He believes other people in general have little potential of consequence, especially relative to him.
Vegeta – An arrogant Saiyan Prince who believes he is the Chosen One, the coming Super Saiyan who will depose Frieza and rule the galaxy. He believes in destiny and station; that people cannot change their nature.
Goku – A well-meaning fellow who does a lot of push ups and primarily fights to save his friends and because he enjoys the challenge of it. He believes that individuals have great capacity for change.
Vegeta's death at the hands of Frieza ties together the different plotlines and ideas of destiny very nicely —
http://www.youtube.com/watch?v=cF-dhJSNT8s
One of the great lines in this scene (and I think the scene has a lot of pretty great lines, although the pacing, as it always is with the TV show, is more than a bit off), comes after Vegeta dies, when you see Goku's shadow over him.
"I'm the only one left."
Not the Chosen One. Not the Super Saiyan. When a character in Dragon Ball says he fights because no one else will, or can, it's usually because that character is dead or incapable of fighting (or too weak to matter).
These are all better reasons than the Chun-Li reason referenced at the top of this article. I didn't see the Kristen Kreuk Street Fighter movie, but I was kind of hoping you'd see other people fight Bison too – see a match with Blanka, then a match with Dhalsim, etc. I mean, hypothetically, if Chun-Li decides not to go fight, there are a bunch of other folks who are more than willing to do it, all the way down to Dee Jay and T. Hawk.
Yes, Goku in Dragon Ball goes through an apotheosis where he is recognized as a special, singular individual and transforms into a hero of prophecy and destiny – but he is only able to do it because he rejects prophecy and destiny. It's one of the great ironies of the series (and one of the structural elements of the underlying ideology of it that I find especially compelling).
Prophecy and destiny are revealed for what they are – an historical notion of what is possible, which should be listened to because of history's tendency to repeat – or, as I've heard, "rhyme" with the past.
To complete the cycle, here's Goku's major apotheosis – it's another case of a well-used motif – Vegeta dies at Frieza's hands, telling Goku about their exploded planet, then Krillin is exploded in the sky, combining and reimagining the notion of a ravaged home. At Vegeta's death, Goku takes on a heroic mantle of vengeance, his best friend Krillin is killed (an act that makes God himself shudder with helplessness), and Goku becomes something else —
http://www.youtube.com/watch?v=mKir_imxqV8
The main things to take away from this concerning Chosen Ones and the topic at hand here are:
Goku has a reason for his tranformation that has nothing to do with destiny. ("I won't let you get away with this.")
Nobody informs him that he has to transform, or tells him that he really ought to do it – you get to see the character take the action organically.
Because nobody is clogging up the scene with nonsense about "MAKE A CHOICE" or "IT IS YOUR DESTINY!" the moment has a lot more dramatic and almost lyrical complexity. There's an overlay of Goku's responsibility for his birth world and his adoptive world (again, set up as so many things in Dragon Ball, by motif).
There's the question of how much active agency he actually has, which doesn't really need to be identified right on the nose (and it cheapens it to do so).
It's a character-building moment for Goku. We see him in a somewhat unguarded moment doing things entirely from his internal motivations. Toriyama further refutes the idea of destiny and a Chosen One by having many characters make this same transformation later on in the piece – but it's important to note that no two of them go through their first transformation in quite the same way.
And most elegantly, it is done very efficiently, without much wasted dialogue. You don't have to actually explain the things that are going on. It is enough to show them, as long as you have compelling character design.
So, let's expand this away from Dragon Ball a bit.