Movie junkies suffered a crippling blow to their understandings of the universe this week. If you put your ear to the ground in Hollywood, you could feel the vibrations as the Earth shifted to accommodate it.
As of this writing, Vin Diesel's IMDB STARmeter is up 600%, week-over-week, and the entertainment windmills are spinning like industrial fans.

Fast & Furious made $72.5 million last weekend. That's the largest April opening weekend ever. It's the largest opening for a movie about cars ever. It's the largest opening weekend of the year, annihilating pretenders like Watchmen and Monsters vs. Aliens. These are summer blockbuster numbers, people — and we're not even in finals season yet.
Thankfully, Overthinking It is here to help you sort through the madness with a little philosophy about this strange world it turns out you've been living in all along — this world where Vin Diesel is a huge movie star —
Why Did You Ever Doubt Him?
When you come across an event or fact that defies your explanation of the world, the natural urge is to nudge your explanation of the world enough to fit in it. Contextualize it. Narrativize it. Give it a story and a place. Adjust your idea of the world to accommodate the new piece of information.
A bunch of folks in Hollywood are no doubt doing this right now. Clearly, Vin Diesel speaks to an underrepresented +18 male demographic that is not as enchanted with comic book adaptations as we thought. Clearly, American moviegoers crave multiracial heroes and fantasies about conspicuous consumption.
Clearly, Vin Diesel was always a huge movie star, and he just didn't make a lot of movies in the last couple of years, since he's been spending a lot of time stuck in development and raising money so he can act in and direct Hannibal the Conqueror.
(As I often say, in any sort of argument, "clearly" usually means, "I really think this is true, but I'm not going to provide any evidence of it.")
Actually, take a moment to let that Hannibal part sink in. Check out the directorial credit on this page. That's written by the guy who wrote Gladiator and Amistad.  Truly, there are more things in heaven and earth, Horatio, Than are dreamt of in your philosophy.
Anyway, for most people (and indeed for this site 99% of the time), retroactive explanations are not only enough, they're what we go for. We all go through life looking in the rear view mirror, and just because it's not perfect, that doesn't mean it isn't the way things work.
But I want to take a moment to invoke my favorite book of the decade so far, Nassim Taleb's The Black Swan.
A Fast, Furious World
The Black Swan is about how history and the world are mainly and increasingly shaped by unlikely twists that nobody can ever successfully forecast. The more we think we know what will happen, the more we will be sideswiped by what will actually happen, which will probably be crazy!
One of the book's early supporting details is that people are really good at coming up with explanations after the fact that they would never be able to offer before something happens, and that this way of thinking is worth a lot less than we think it is.
After Spider-Man, it's obvious that comic-book movies straddle very fortuitous demographic dynamics, have built-in, pre-sold audiences of loyalists, and can make for great summer blockbusters. After The Lord of the Rings, three-and-a-half hour movies are clearly justified for theatrical release.
After the hundreds of millions of dollars are in and counted, those movies became mainstream signposts. People forget that their successes were far from foregone conclusions, and that you had to get gloriously crazy horror movie visionaries to venture so far from the beaten path to make them work in the first place.
Accepting retroactive explanations for phenomena is philosophically lazy, because such explanations rarely resemble the world as we experience it or faithfully describe the mechanisms of causality.
They imitate it, they reflect it back to us, but they don't show up until the present moment has moved on, and since all of history is a myth, they're myths as well (I've ventured pretty far from The Black Swan by now, but bear with me). We the living must exist in our moment, as Frost said, a present "too much for the senses,  / Too crowding, too confusing- / Too present to imagine."
This, by the way, is why I always scoff at scientific evidence that begs the questions of free will or consciousness by introducing some mechanism by which to demystify them. Explanation and experience are different animals, and finding the reason the sun rises doesn't change the fact that you have to get up in the morning. So, whether it works or not, it's still just a retroactive explanation.
On history as myth: Every once in a while, I think about a historical person whom I can imagine with clarity, like, say
Abraham Lincoln, or the world that surrounds that person; the three-piece suits, the absurd mustaches, the tattered blue and gray bloody shirts waved by politicians, and I muse as to where it is. I can imagine it as vividly, or more so, than Dubai or New Jersey or any number of other real, fantastic places.
But Lincoln's America isn't real anymore. It exists only in our imaginations and records, not in the memory of any living person.
Consider Carl Sandberg's "Cool Tombs."
Now, consider Fast & Furious:
I have to say, the movie looks pretty awesome, and I love the big reveal on who's driving the car. Haven't seen it yet, but I can definitely understand the retroactive explanation that this movie was always going to be a huge hit and Vin Diesel's star power has been consistently underestimated. And I'll probably eventually catch it on DVD or video on demand or something.
Maybe I'll have a Fast, Furious movie marathon and Tokyo Drift all over my house until my roommates tell me I'm too loud and I need to go to sleep.
Lessons
As you can tell by now, I'm a bit less concerned than Taleb and his Black Swan are with the pragmatic consequences of the prevailing unknown, but they bear mentioning. Remember that you don't really know what's going to happen. Make business and career choices that put you in a position to benefit from large, unexpected events rather than leave you vulnerable to them, because they will happen, and you don't know what they will be.
I also feel a bit vindicated personally, because my explanations for Vin Diesel's star power are not entirely retroactive. I've liked the guy's work for a long time, and I'm less than half-joking when I recommend that people at least watch The Chronicles of Riddick. But that's not really the point. I got lucky this time. I'm sure I'll get my comeuppance when Hannibal the Conqueror turns out to be a huge travesty or something. I don't intend to let myself get cocky over this.
Still, did people think that the only guys left who could carry action movies were Oscar-hunting method actors, quirky offbeat character actors, 60-year old men and Jason Statham? Really?
The most basic lesson from this is that Vin Diesel is probably going to get a lot more work, and Hannibal the Conqueror is probably going to get made. Of course, you never know, but it seems more likely at this point, which is great news as far as I'm concerned.
But more importantly, there are lessons here regarding how to confront the future, how to treat unexpected change in your own life, and how to think about the way the world works.
While my heart is far too out on my sleeve for me to be a true stoic, I think there is real wisdom in stoicism that can help with confronting and coping with any large, unexpected event. There is wisdom in lining up your expectations for the world – and heck, also your moral will, or prohairesis – with the way the world actually works. It leads to relatively fewer nervous breakdowns.
So, recognize that the world is crazy and unpredictable, and that F. Scott Fitzgerald was wrong when he insisted there were no second acts in American life. He probably insisted there were no fourth Fast & the Furious sequels either.
As in Zeno invoking the simile of Cleanthes, if you're going to be a dog tied to a cart, would you rather be trotting alongside it nicely, or be dragged?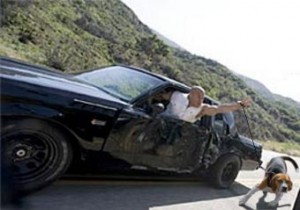 BONUS — The five stages of Diesel
If you happen to still be in the throes of grief because your worldview and personal identity rely on celebrity worship circle that doesn't invite Mr. Diesel into their number, here's your five-step prescription:
1. Denial — Pitch Black
2. Anger — Knockaround Guys
3. Bargaining — Boiler Room
4. Depression — Babylon A.D.
5. Acceptance — xXx
Seriously though, if you're sad, just watch The Iron Giant. I mean it.