Stokes, What Becomes of the Brokenhearted?
While I'm sure that my fellow OTIketeers have mentioned some wonderful songs, I'm willing to be that there's actually only one chord progression under discussion here, the classic "Cheese" or "Truck-Driver" modulation [update:  It turns out I was mostly right. Kudos to Bonnie Tyler for being original, and to Sisqo and The Foundations for supporting my argument].  I'm sure you know what I'm talking about, and if you don't there's a great description of it in this 1897 review of Also Sprach Zarathustra
"…At the end of the work, there is a modulation from the key of B to the key of C, that is unique, for the Gordian knot is cut by the simple process of going there and going back again.  If such modulations are possible, then the harmony books may as well be burnt at once."   — Louis Elson, Boston Daily Adviser, quoted in Slonimsky's Lexicon of Musical Invective
And they basically were burnt, as far as pop music is concerned, except for a few glorious exceptions, of which the Motown songbook is one.  When it moves from the verse to the chorus, What Becomes of the Broken Hearted goes from Bb Major to C Major, which is as cheesy a modulation as you could hope for.  But damn if the songwriters don't work for it.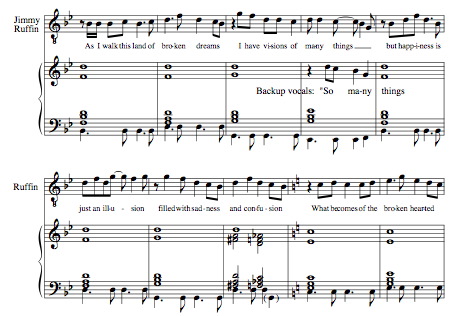 The basic structure of the verse is ingenious enough to begin with:  I->iii->vi->IV->V->I.  (Notice how much time it spends hanging out on the minor chords of iii and vi.  This is one of the saddest songs ever written in a major key.)  As it moves towards the chorus, the pattern changes ever so slightly.  After landing on vi, instead of going down a third to the subdominant, the harmony just reverses course and moves back to iii.  This is a totally orthodox harmonic move – root motion by a fifth is pretty much always allowed – but it destabilizes the harmony enough for the new key in the chorus to seem like an arrival, and not merely an extravagance.
Just listen to it.  Smooth as silk.
http://www.youtube.com/watch?v=8zCz8SKmGek
I guess I haven't actually talked about the modulation itself…  for what it's worth, iii of Bb is ii of C, so all they need to do is patch in a ii->V->I (or II->V substitution->I as the case may be).  But then, getting into a new key is always pretty trivial. The hard thing is getting out of the old key convincingly.