[Can you take me higher? Today, the Overthinkers enter the Think Tank to tackle the greatest key change in popular music. Read the four entries and vote for your favorite at the end. —Ed.]
Fenzel, The Thong Song
Pop songs often lie, and that's fine. There's something aspirational about pop music — it's escapist, and it hopes for a world much different from our own. In this world, Britney is a Slave 4 U, everybody gets to be immortal with the Oasis Brothers, and Whitney Houston will always love Kevin Costner. It's liberating, sort of. At the very least, it relieves us a bit of the mundanity of the real world.
But Sisqo gives us a special sort of delusion. At the peak of a mounting cascade of modulations that wails to the heavens with a fury and pathos no undergarment ever deserved, Sisqo belts out the greatest counterfactual in all of music.
"I don't think you heard me!"
That's right. After expounding deliberately, loudly, enthusiastically and shrouded in only the most halfhearted simile about his enthusiasm for "that thong" — after doing so in front of a full orchestra in a song with multiple choruses and verses piling layer upon layer (much like the multithonged women in the video) into a full oratorio of thong worship, Sisqo still thinks that you either literally can't hear him or figuratively don't understand what he's talking about.
This is impossible.
I love the behemoth key change in the Thong song because it is a world-killer, because it makes John Williams look like Phillip Glass (or John"ny" Cage), because it has all the sublime glory of Icarus ascending to the heavens just before his brief record career melts in the heat of a bethonged sun and crashes into the Adriatic Sea (or, for Sisqo, the Chesapeake Bay).
But I think it's the greatest key change ever because it does more than any other of its kind what all over-the-top pop song key changes aspire to do — it forces emotional significance on moments and lyrics that cannot bear it otherwise.
In that one key change, Sisqo demands, like Superman at his most absurd, that the world spin backwards. For a split second atop the tip top of what used to be the top of his shattered lungs and discarded dignity, I can feel it shudder a little.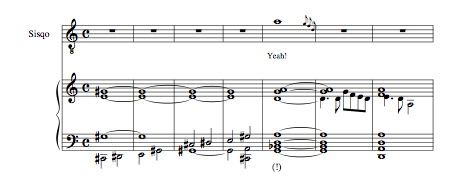 [Stokes' music theory korner: Fenzel's analysis stands up just fine on its own, but I just couldn't help myself.  The thing you have to remember about the Thong Song is that the basic loop starts with a dissonant chord. (i.e. the music for "Baby make your booty go/ Baby make your booty goooo" sounds much more anxious than the music for "Baby make your booty show/ that thong, tha-thong thong thong.") So the key change is from C# minor to D minor, but the actual cadence moves from C# minor to a G minor 9th, or something like that, which is crunchy as hell.]