What we want is a metric that shows how a movie grossed not in dollars, but in comparison to the other releases that year. To do that, we're going to look at the RANKS of nominees. For example, in 2007, No Country For Old Men won, and Box Office Mojo says it was the 36th highest-grossing movie of the year. Box Office Mojo also says that there were 631 total releases that year. That means that No Country outgrossed 94.3% of 2007 releases. The formula I'm using is:
Popularity = 100 * (1 – (Rank of the Film in Question / Number of Movies Released))
Do this for every year, and you get: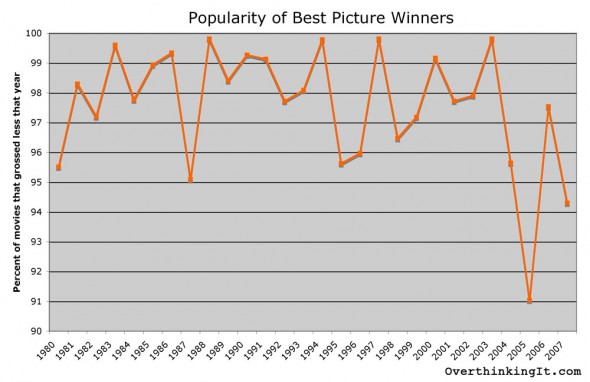 On the one hand, Crash was really freaking unpopular. On the other hand, it was still more popular than 91% of films that year. So when we talk about the Academy honoring less mainstream movies, it's important to remember that these movies are all pretty damn mainstream.
Now let's average all five nominees using our new formula. (NOTE: Box Office Mojo didn't have the total number of releases for '80 and '81, so I got them from Wayne Schmidt's page.)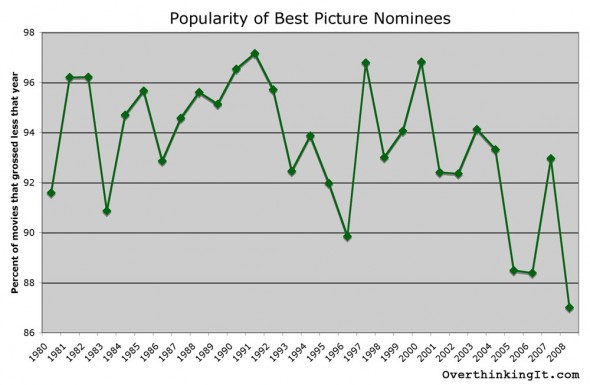 Take a look at 2008–it's by far the least populist year in Oscar history, going back to 1980. (Although once again, those movies are still in play, so the previous sentence may not be true in a month.)
One surprising result jumps out at me: 2007 looks a lot stronger when you graph it this way than when you graph it the other way. Here are the two charts, superimposed.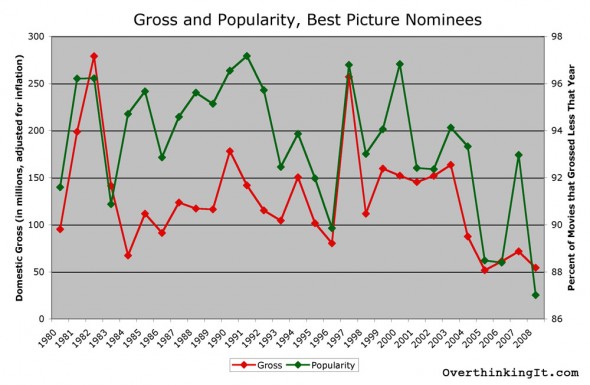 Here's what I think is going on. The size of the gap between the red line and the green line tells us how evenly distributed the popularity was between the five nominees. For instance, in 2006, The Departed grossed more than double any other BP nominee. But in 2007, no nominee ranked lower than 66th. So even though both years had similar box office totals, 2007 had a much more popular group of movies overall.
It seems likely, however, that 2008 will rank pretty low, whether you're looking at gross or our nifty little popularity formula. So it seems like the conventional wisdom is right: the Oscars are getting snooty.
Maybe.