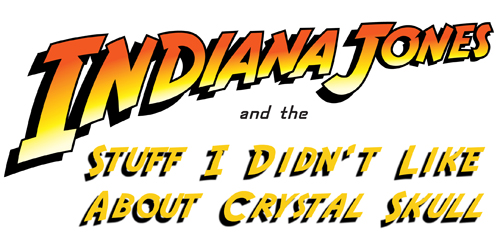 So we have no reason to believe Mutt Williams has any globe-trotting experience whatsoever. He's a motorcycle repair-guy/greaser. When he sees a scorpion in the cemetery, he reacts with an "I'm a city mouse" look of horror. Anyway, 45 minutes later, Indy and Company are trying to escape the Ruskies, when he and Marion get caught in quicksand. They tell Mutt to go find something to pull them back up. And what does he bring?
A giant, giant snake. Which he somehow knows is not poisonous.
Perhaps he once found a snake like that inside the transmission of a motorcycle, and learned all about it? Or perhaps his gang is known as "The Snakes," and each member had to research his own personal snake nickname (a la Kill Bill)?
Can you sense my disdain for this sloppy, sloppy film?
My guess is, they really wanted a hilarious scene where Indy is afraid of a snake, and they were too lazy to figure out a better way to do it. But it's okay, because the scene was so very funny. Oh wait, it wasn't. I'm going to go lie down.