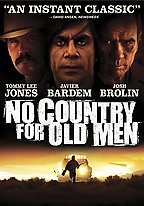 Oscar® week. *grunt* Six Words. *grunt* It's a beautiful landscape, but it's No Country for Old Men.
Belinkie
FYI: He does mind riding bitch.
Moral: Never bring wounded men water.
Honestly, who uses the word "caliche?"
This Oscar is really for Ladykillers.
Stokes
No country for young men, either.
This fall… death wears a bowlcut.
Fenzel
Like The Big Lebowski, only joyless.
Murder porn for film school aspirants.
We heart boxy 80s pickup trucks.
No music, no ending, no problem.
Sheely
A scary killer, a scarier haircut.
Tommy Lee. Coin flips. Batman Forever?
Wrather
Donny, you're out of your element.