iPad Pro, 10.5"
Look, I know that recommending an iPad in a gift guide is basic AF, but this particular model is just too damn perfect. I'm not saying this is for everyone. But it's for anyone who wants to be on the bleeding edge of technology at an imminently reasonable price. For just $650, you get a screen that refreshes at an astounding 120 frames per second and renders color better than virtually any display on the market. It runs faster than your laptop for general purpose web browsing and productivity. The combination of fingerprint sensor and password management software makes logging into websites way faster and more secure than whatever you're doing right now. And with the Pencil accessory, you can fulfill your mid-30's bougie ambition to draw New Yorker-style cartoons: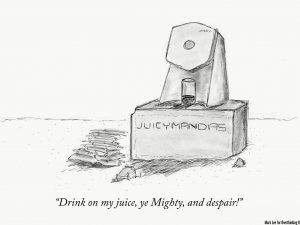 Trust me: you will feel smug as hell while drawing witticisms like this on your 10.5" iPad Pro.—Mark Lee
---
Nintendo Switch Console & The Legend of Zelda: Breath of the Wild Special Edition
It's safe to say by now that the Switch represents Nintendo's triumphant return to console supremacy. I haven't gotten one yet, but I have definitely felt the pang of its absence when I leave the house after shutting off whatever game I'm playing on PC (I'm consistently about three years behind on games, so my most recent plays have been South Park: The Stick of Truth and Wolfenstein: The New Order) and have to wait the whole rest of the day to get back to my game. The Switch, with its pick-up-and-keep-playing portability, seems like one of those things that you didn't even know you wanted until you knew it existed. And this new Zelda game, while apparently not exactly revolutionary in terms of storytelling, has been getting consistently rated all over the place as one of the best games ever. You can be pretty confident that no gamer on your list is going to be disappointed with this. (I wouldn't say no if you wanted to buy one for me, either. Just, you know, FYI.) —Richard Rosenbaum
---
Snipperclips: Cut It Out, Together! (Digital Code)
Alright, thanks to Richard, you've got your special someone the best video game console of the generation, and the game that half your friends are going to tell you is the best. Now it's time to get the game that's actually the best: Fenzel's undisputed Game of the Year: Snipperclips: Cut It Out, Together! for Nintendo Switch.
Snipperclips is a gleeful little puzzle game, where you and a friend play a pair of paper characters that look like guitar picks with googley eyes. Your character can change shape into a wide variety of forms, but only with the help of your partner to snip you like a paper snowflake. It's a master class in communicating about your own needs and your mutual goals without getting stressed out. No joke, this just might be the best video game ever made for people in relationships. Do not boss your partner around, but pass focus, approach the common task with love and joy, reward each other's clever ideas, be patient, and take frequent snuggle breaks. It just might be the most human experience with a video game you'll have in your life. —Pete Fenzel
---
Plantronics BackBeat Fit Bluetooth Headphones
I recommended this last year but I am re-upping because, in the intervening 12 months, I gained an even greater appreciation for this wonderful device. My wife and I welcomed a newborn into the world (congrats!—Ed) and I found that these headphones were every new parent's must-have item: babies like to sleep (so no loud music in the house) and they like to grab cords (so no wired headphones). On top of that, these are great for running: waterproof and durable as you could ever want.—Ben Adams