Update: The "Suns Out Puns Out" shirt is back for 2017. Check it out!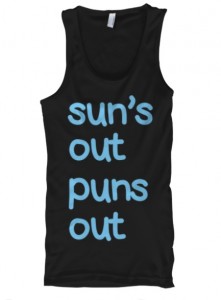 At Overthinking It, we have smarter fun together. That usually means in-depth analyses of your favorite movies, TV shows, and music.  However, the popular culture is a lot bigger than our beloved media properties.
This is especially true during the summer. As the weather gets warmer, we all spend a lot more time outside. Overthinking It's intellectual, tongue-in-cheek treatment of pop culture has never quite fully made the seasonal transition from the living room to the beach, the pool, or the jogging path.
Until now, that is.  Our limited edition Summer 2015 Overthinking It "Sun's Out Puns Out" shirt proudly puts the flex into reflexive.
You can get the shirt as either an American Apparel tank or a Bella Women's Fitted Tank.  And if you want tickets to the pun show, but not necessarily the gun show, you can get the same design on an American Apparel Crew Neck T-shirt or an American Apparel Women's Fitted Tee. Act quickly—this shirt is available only for a limited time as a flash sale on Teespring. The sale closes on July 21 at 11 PM EDT, so that we can get it to you while there is still plenty of warm weather left.
There are many places on the internet where you can get a "Sun's Out Guns Out" shirt, but Overthinking It is the only place you can get a shirt that balances your swag with a healthy dosage of self-awareness.  A quick search on Google's shopping portal reveals pages upon pages of "Sun's Out" designs. While these designs vary with respect to the degree of whimsy they display, nearly all of them ultimately take themselves very seriously.  Even if your tank top has a wacky font or a cartoon sun with biceps, the general message of a "Sun's Out Guns Out" shirt  is "I'm not joking about how awesome my arms are".
Our "Sun's Out Puns Out" shirt is a little different. It still participates in the discourse of the tank top, but then immediately undercuts that participation by not only making a pun, but by making a meta-pun about the process of making puns.  This shirt announces the wearer as someone who earnestly wants to participate in popular trends, but who also views the culture with a bit of humor and analytic distance.
For this reason, we think that Channing Tatum really should have been wearing one of our "Sun's Out Puns Out" shirts instead of the "Guns Out" variant that he famously donned in 22 Jump Street.  Tatum exemplifies the spirit of the "Puns Out" shirt: a keen understanding of the zeitgeist, coupled with a willingness to engage in the culture in a moderately silly and self-deprecating manner.
Think that this brief post is all the overthinking that you're going to get this week about suns, guns, and puns? Think again. Subscribe to the Overthinking It newsletter to get an exclusive edition of Matt Wrather's long-dormant Thursday Grammar column that takes on the grammatical nuances of "Sun's Out" vs "Suns Out".
Enter your e-mail address in the box below for exclusive access to Matt's column later this week.
In the meantime, buy your "Sun's Out Puns Out" shirt and spread the word to all of your self-aware tank top wearing friends!