[Enjoy this guest post by first-time contributor Maggie Lange! If you like it, put a ring on it. Or just let us know in the comments. – Ed.]
Pop superstar Beyoncé Knowles is a presence of tremendous control, equal doses of poise and power. While her live performances, like this year's Super Bowl or those captured in her HBO documentary Life is But a Dream, might not be particularly alive (there is little room for the unpredictable or the carelessness of being for Beyoncé), she is ceaselessly amazing, a testament to the human powers of dedication and vision.
Beyoncé's half-time antics at this year's Super Bowl boasted such astounding musical chops, pyrotechnics, saunter-dancing, and star power that it stole the thunder and electricity from the subsequent football game. Her latest entanglements with her own celebrity, this powerhouse Super Bowl performance and her HBO documentary Life is But a Dream, exemplify how a modern icon engages in the performative conversation in the age of digital reproduction. In this age, the contemporary icon must be immediately and readily available, but also removed from her audience to signify her importance. Beyoncé speaks to this dichotomy with an impressive, mystifying, and compelling mix of control and proliferation.
Beyoncé's half time show begins with an image of a massive, fiery silhouette of a figure, rising dozens of feet tall above the stage. Then, the performer herself, a little small and lonely, struts towards the camera. The camera scales to her level, letting the audience know that in the view of the camera, she is of the same statuesque proportions. Partway through the performance, a background screen suddenly transforms into a hall of mirrors – duplicating the singer into dozens of replications. In one moment, she becomes a Durga-esque goddess, with a tangle of dozens of arms. It is intentionally difficult to perceive who the real Beyoncé actually is. At some point two other (actual) dancers join her, but that doesn't matter: they are meant to be mirrors of Bey. It's hair-flipping-swirling madness, meant to be thoroughly overwhelming. There are a million of the icon, infinitely accessible for immediate cultural consumption, reproducible to fit the infinite demands, and at the same time, placed on a pedestal of complete removal as a perfect image. This performance is a statement of affirmation from Beyoncé, confirming her status as ideal/goddess/icon while also making herself available to the audience.
Beyoncé is a perfectly packaged example of icon production; she is constantly creating, producing, and enforcing a thoughtfully controlled image. Needless to say the Super Bowl gave her an audience and budget worthy of such an artistic statement. She's used this beyond duplication before, in December 2011, at her performance of "Run the World (Girls)" at the Billboard Music Awards.
Her music video to "Single Ladies" also plays with confusing placement of the real dancers at moments with creative staging.
Her carefully crafted documentary and this Beyoncé-times-Beyoncé show are her performative response to the audience's insatiable request for immediate access to icons–while asking them to be perfectly presented–something surely amplified by an ever-responsive fan-base blasting their demands on the web 24/7. Beyoncé, is of course, just one person and could not seemingly fulfill this request for constant availability; hence the duplication of herself. By making herself an image, she is making her performance self completely perfect – and infinitely reproducible.
She duplicates herself in a way that is in her control. "Control" is a word used a lot regarding Beyonce's celebrity (try to find an article about the performer that doesn't use that word). Her publicist immediately emailed BuzzFeed to remove a series of six "unflattering" photos from their site, reported Gawker. Anne Helen Peterson's brilliant essay Decoding the Beyoncé Tumblr notes analyzes her web presence as fulfilling the triptych of desires from celebrities (authenticity, intimacy, and conspicuous consumption) in a highly controlled manner. Jenna Wortham writes in her New York Times article "Digital Diary: Rihanna and Beyoncé Define the Social Web Spectrum", "Beyoncé, already a mirage of shimmering sequins and flowing hair, carefully maintains that distance from her fans, while still feeding their appetites for more personal insight and access to her personal life."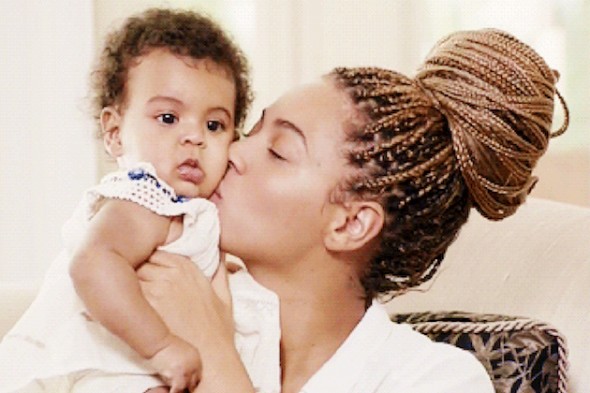 Control is part of her appeal; she is intentional. So her image is not a guilty appeal, in the way of Rihanna or Lindsey Lohan's never-ending train-wreckery. She has an obsessive archive of herself; GQ has an insane profile of her that talks about her "vault" of every single image of her, she also have a personal image director who follows her about like 14/7. She studies this archive to "improve" her own image (meta-mind-boggle: there must be footage of Beyoncé watching this footage).
Her Super Bowl performance is the complicated quintessence of how Beyoncé wants to represent herself: an impressive combination of "unattainable and aspirational." This image of Beyoncé is stressed in her performance. She oscillates between a "real woman" and this perfect image of a woman. This was a highly image-centric performance (lots of filmed images of Beyoncé in the performance), while also very present (lots of close-ups of her expressions, lots of guttural yells into the mic rather than practiced singing). This is responding to the notion that she be a real, authentic person as well as a removed, perfect, unflappable icon.
The staging also reflected this dichotomy. The stage is set up as a mirror image of two fiery face silhouettes staring at one another. This reflects the central oscillation at the center of Beyoncé's image, her two signature and memorable looks: one, the wide-eyed and disarming smile brimming with warmth and two, the narrowed eyes, focused brow, and pursed mouth of Sasha Fierce. Watch the close-ups of the filmed show and you'll see the two faces on display. Through this highly coordinated show, she is presenting a perfect example of exactly what audiences demand of our modern icons, celebrities, and their performances.
But even the queen of controlled icon presentation can slip up. Although her documentary shows her moments of vulnerability so carefully and gently presented, barely chipping her glossed visage, her Super Bowl performance featured a wince-worthy break. At the end of the show, she kneels over by a roaring crowd and begins to flip her hair into the mass of people. It's completely weird. It's intimate in this tactile way that didn't make sense. Too close, you can hear the pedestal cracking.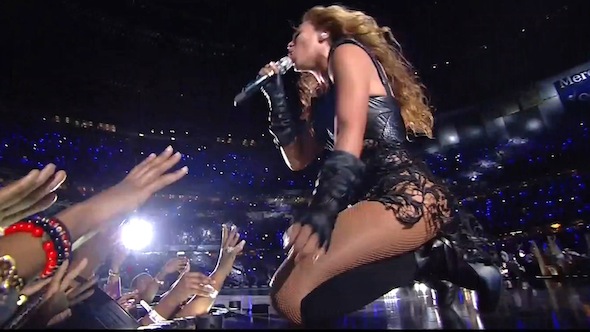 Maggie Lange is a writer and skillful parallel parker living in New York.  She writes mostly about movies, but will take on anything that catches her eye. She twitters @maggielange.