IN THIS WHITE HOUSE
Sam's humiliation on TV at the hands of a conservative writer gets compounded when Leo offers her a job. CJ panics over a slip of the tongue to a junior reporter. Toby and Josh coordinate a summit between the President of an African country and a panel of pharmaceutical CEOs on lowering the price of HIV drugs.
You wouldn't think a show this dense with plot, character and verisimilitude would need to pad out a script with fluff. But consider this exchange between Leo and Ainsley Hayes when he offers her a job:
AINSLEY
Yes, sir. I'll ask again: for what purpose was I brought here today?

LEO
So I could offer you a job.

AINSLEY
I'm asking because I do not think that it is fair that I be expected to play the role of the mouse to the White House's cat in the game of, well, you know the game.

LEO
Cat and mouse?

AINSLEY
Yes. And it's not like I'm not, you know… the fact that I may not look like some of the other Republicans who have crossed your path does not mean I am any less inclined towards…

LEO
Here it comes.

AINSLEY
Did you say offer me a job?

LEO
Yes. Associate White House counsel. You'd report to the Deputy White House Counsel, who reports to the White House Counsel, who reports to me.

AINSLEY
I'm sorry… A job in this White House?
I know that's Sorkin's attempt at being clever, but it just drags. It adds nothing to the narrative. We know, before the scene even begins, that Leo's going to offer Ainsley a job. We can guess, based purely on what we know of her character, that her feelings will be conflicted. There's no reason that this scene had to take three minutes. There's no reason it couldn't take 30 seconds.
This is one of my least favorite Sorkin tricks. It's his homage to screwball, the machine gun patter of Cary Grant comedies of the 30s and 40s, but it rarely works. I never thought I'd find myself missing the laugh tracks of Sports Night, but at least they gave a script room to breathe.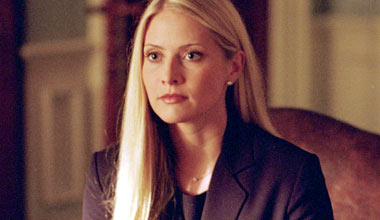 It's not purely a stylistic flourish, of course. It's important that everyone in a Sorkin script be smart. We see lots of characters who act as villains, or as obstacles, or as comic foils, but they're very rarely stupid. Ainsley may be confrontational, and she may be defending people that Sam considers reprehensible (gun owners), but she doesn't mouth hollow rhetoric. She has smart, or at least clever, rejoinders to every point he makes, rejoinders that she deploys with lightning speed in her Round 2 with Sam outside Leo's office.
You think because I don't want to work here it's because I can get a better gig on Geraldo? Gosh, let's see if there could possibly be any other reason why I wouldn't want to work in this White House? This White House that feels that government is better for children than parents are. That looks at forty years of degrading and humiliating free lunches handed out in a spectacularly failed effort to level the playing field and says, 'Let's try forty more.' This White House that says of anyone that points that out to them, that they are cold and mean and racist, and then accuses Republicans of using the politics of fear. This White House that loves the Bill of Rights, all of them – except the second one.
This works even with the pharmaceutical company CEOs, who make it out of "In This White House" without being painted as venomous lizards. Yes, they're stiff white assholes who are out of touch with the people their HIV medication serves – sub-Saharan Africans, who have a rate of HIV infection that makes the Black Plague look choosy. But there are legitimate reasons why flooding the nation of Kundu with HIV drugs won't work. The CEOs may be callous but they're not villainous.
No character in The West Wing, whether on the side of the angels or not, ever lacks for a comeback. This makes for stimulating dialogue and gives everyone depth, or at least the appearance of depth. But it can also make the conflicts fake and stagey. When all you have is Final Draft, everything looks like a monologue. No one expresses their feelings through a hurt look, or quiet reflection, or a wordless gesture, when there's an opportunity to rant.
"The Midterms" was a sharp, strong episode, because everything flowed into one theme: the merit of holding fast, even when it seems like your efforts are futile. Sam's faith is tried when he has to disappoint his friends; Toby's faith is tried when the FBI can't hunt down extremists. But everyone cleaves together because they believe that the system has merit.
In contrast, "In This White House" doesn't have as strong of a theme. Ainsley tries to provide one with her clunky capstone monologue – that, despite disagreements, the staff of the Bartlet Administration are "righteous." But where does CJ's adolescent evasion of a feared felony charge fit into that theme? Or the existentialist muddle that comes from trying to aid African politics? The moral of this story is …?