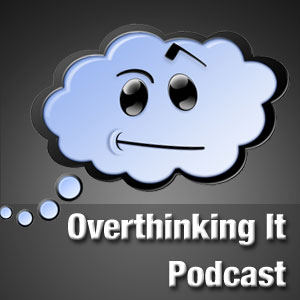 Matthew Wrather hosts with Peter Fenzel, Mark Lee, Josh McNeil, John Perich, and Jordan Stokes to overthink their resolutions for 2012, your personal Wikipedia vectors (and the strong Wikanthropic Principle), the difference between "eponymous" and "titular," and Naruto vs. The Girl with The Dragon Tattoo, and the male gaze. That's G-A-Z-E.
[audio:http://www.podtrac.com/pts/redirect.mp3/traffic.libsyn.com/mwrather/otip183.mp3]
Want new episodes of the Overthinking It Podcast to download automatically? Subscribe in iTunes! (Or grab the podcast RSS feed directly.)
Tell us what you think! Leave a comment, use the contact form, email us or call (203) 285-6401 to leave a voicemail.
###
Further Reading
The Gaze and Laura Mulvey
Christopher Plummer's filmography
Humpty Dance Resources at Looptid.com
A Hypervortex of Ezra Pound's Canto LXXXI at the University of North Carolina Greensboro
"Cut You Up with a Linoleum Knife," by Mastodon
More on the Recent Magnitude 7.0 Earthquake in Tokyo
This Week's Relevant Sentimetal Anime Fan Video, by LeandroShoiti