Dashing through the Thread / in an Open, snarky way …
It's the first Open Thread of December, Overthinkers! And that means Grammy nominations! Bon Iver, Mumford and Sons, and of course Kanye West get nods.
(Speaking of music, did you get the new Black Keys album, El Camino? Did you? If so, let me know if it's worth it)
In movie news, Roger Ebert's experimental self-produced show "At The Movies" is going on hiatus. Michael Fassbender is starring in an NC-17 movie about sex addiction, which I'm sure some of our female readers might find interesting. An enterprising student snapped a pic of Daniel Day-Lewis made up as Abraham Lincoln for the upcoming biopic; in shocking news, the tall, craggy actor looks rather like our tallest, craggiest President.
And finally, the book that made history, Action Comics #1, sold for $2,200,000 in an online auction this week. I hope the buyer knows that all of the content within has been retconned at least three times. (I had another joke in mind about how much of DC Comics you could buy for $2.2MM, but DC Comics is pretty valuable, at least as a battery of intellectual property for Time Warner, so the byzantine entertainment market has once again rendered my irony obsolete)
Can I get a mic check for a shameless plug? Wait, I'm the only one here? Then let's go:
John Perich's debut novel, Too Close to Miss, is available today as an Amazon Kindle download or a Barnes & Noble Nook download for the low price of $0.99! At that price, you can't afford not to buy it.
What's it about? We'll let the marketing copy do the talking: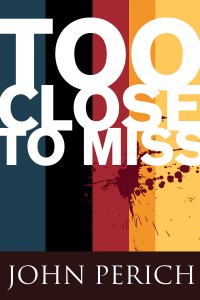 Mara Cunningham knew that sleeping with a married man was a bad idea. But when her lover shows up in the hospital after his wife and son are murdered, the rumors about Mara turn dangerous. Now she's the prime suspect in a double homicide, and the real killers will stop at nothing to silence her. Mara's race against time takes her from the dense heart of Boston to the dark woods of New Hampshire, from gritty streets to the halls of power. Before she's through, she'll learn just which of her friends she can trust – and she'll stare death in the face.
Buy it for yourself! Give it as a gift to an Overthinker or a fan of gritty thriller novels! And if that's not your speed, don't forget our other holiday gift ideas! We serve all kinds.
Could Daniel Day-Lewis survive if he were falsely accused of murdering the Black Keys on the mean streets of Boston? Or is there something we missed? Sound off in the comments, for this is your … Open Thread.