Netflix must have known it's my birthday next week, because they made an announcement last week that sounds like it was made just for me:
"House of Cards," the much-anticipated television series and political thriller from Executive Producer David Fincher and starring two time Academy Award-winning actor Kevin Spacey, will debut exclusively in the United States and Canada from Netflix, the world's leading Internet subscription service for enjoying movies and TV shows.
A critically acclaimed director and an enjoyable, talented actor adapting one of my favorite BBC series to American television? Why make it a press release? There can't have been more than nine people in the U.S. who were clamoring for House of Cards to be remade – why not just shoot us all a text?
The obvious first reaction to this announcement is "why Netflix?" What business does a distributor of digital content – either real DVDs or streamed media – have producing obtaining exclusive rights to a TV show? But the more considered follow-up is "why not Netflix?" Where else would such a niche show belong?
Answering that question answers a lot of others – including questions about Arrested Development and Firefly.

Arrested Development has long been considered a show that didn't get a fair shake by Fox. Critically acclaimed, laugh-out-loud funny and densely plotted, it broke ground for a new generation of sitcoms. It chugged along for three good seasons (though some of the final episodes were phoned in (though who can blame the writers, given the day-by-day uncertainty over the show's fate?)). But none of that was enough to save it.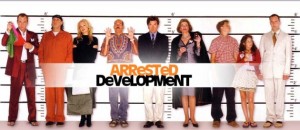 What doomed Arrested Development? Mitch Hurwitz had a column in the Guardian last month where he outlined a "Guide to Getting a Sitcom Canelled."
Have a confusing title
Come up with an unwieldy title that perhaps comes from the realm of psychology, so that the title of your show is almost instantly forgettable. […] If you call a show "Arrested Development" it's confusing and sufficiently disorientating [sic] to guarantee that a wide audience never discovers the fruits of your labour.

Audiences love fast cars and exciting vehicles
So see if you can put in some heavy machinery like a stair-car, that isn't easily associated with speed or sex appeal.

Try to do too much for a 20-minute programme
If in your particular medium an audience is used to a simple plotline or maybe one or two stories, see if you can get eight in there, and find a way that they somehow intertwine.
And so on.
It's an equal blend of self-effacing humor ("try to do too much") and sour grapes ("audiences love fast cars"). Hurwitz acknowledges his show's Pynchon-esque ambitions but treats them as equal part blessing and curse. This sort of tone doesn't draw a lot of sympathy from an impartial audience.
Plus, as it happens, Hurwitz is wrong. There is an audience for this sort of show. They're all watching FX.
FX, Fox's cable entertainment network, is the home of shows like It's Always Sunny in Philadelphia, Archer and Louie. These are edgy comedies, depicting unsympathetic characters doing terrible things to each other. They feature intertwining storylines and dense cultural references. Archer in particular packs in references to obscure cultural figures with a casualness that belies their dark tone. When a strung-out Woodhouse jokes about shooting a pina colada off the head of William S Burroughs' wife in Mexico (S2E3, "Blood Test"), I nearly choked from shocked laughter.
It's easy to say that "audiences weren't ready for a show as smart as Arrested Development." It's harder to say that when there's a cable network that airs shows like that all the time.
(Sunny, Archer and Louie all post-date Arrested Development, of course, so it can be argued that they're following a trail that Hurwitz blazed. But it can also be argued that they're avoiding Arrested Development's mistakes)
Firefly, another show that Fox canceled too soon, was a space western produced by Joss Whedon, who had risen to prominence with shows like, wait, do I even need to gloss Firefly for this audience? You know all the details, right? Okay, I'm just going to skip to the analysis.
Sci-fi is always a tough sell for a conventional audience. Sci-fi that plays with the tropes of sci-fi – western trappings instead of shimmering costumes – is tougher still. And Whedon's particular brand of melodrama can be a very hard pill to swallow. With all these elements working against it, Firefly seemed doomed to failure. While it's perhaps surprising that Fox pulled the plug after only 13 episodes, it's not surprising that Fox cancelled it so young.
Fox took the brunt of audience furor for this call. "The networks aren't willing to give shows like this a chance," fans said. Except networks are.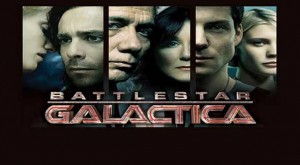 Battlestar Galactica is set in a universe that, confusingly, looks a lot like 21st century Earth, only with starships. But it's not Earth. In fact, it's the last survivors of a genocide, who are fleeing across the galaxy to Earth. They're pursued by robots that either do or don't look like humans, depending on which ones you encounter. In the close quarters of a huge ship, they deal with intertwining personal relationships, political tension and questions of identity. Oh, and there's mysticism at play as well.
(And that's just the first two seasons – when it was still making sense)
That'd be a hard novel to sell to an audience of sci-fi fans, much less a television series. And yet it found a devoted group of followers, critical acclaim and pop culture presence for four seasons on the Sci-Fi Channel.
So why did BSG succeed when Firefly failed? Why is It's Always Sunny in Philadelphia entering its seventh season when Arrested Development struggled for three? What's the element that those successful shows had in common?