[Enjoy this guest post by Steve Case! – Ed.]
The question upon which a religion was founded, upon which wars have been fought, upon which Thanksgiving dinners have become disasters, can be answered by the BBC and its sister companies. Was Jesus Christ the Son of God (Christianity), a prophet with some high connections (Islam) or just a nice guy with some good PR (Judaism)?
What if the answer is none of the above?
Jesus Christ was a Time Lord. Yes, as in Dr. Who: hopping about in time and space, writing wrongs, squashing alien rebellions, and nudging people of historical importance toward their greatness. Jesus Christ may be the basis for one of the longest running science fiction television shows in history.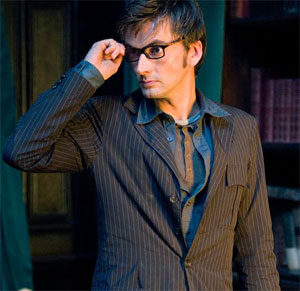 According to the creators and current writers of Dr Who, both in the BBC and in Big Finish Productions, Time Lords are from the planet Galifrey. They travel through time and space in a ship called a TARDIS (Time And Relative Dimensions In Space). They usually travel with a spunky girl assistant in a short skirt. This simple notion expands like a TARDIS interior to answer many of the great questions of the gospels.
Does God have a plan for my future? Well, yes and no. God, like a Time Lord, does not exist on our timeline. The scriptures tell us that Jesus said "I am the alpha and the omega. The beginning and the end." and also "With me, time is no more." In addition, we learn from the beginning (as in THE beginning) that the Trinity was present before there was a way to measure time at all.
In the episode "Blink," the Doctor explains that time itself is not linear. "It's actually a big ball of wibbley-wobbley-timey-wimey, uh, stuff." Perhaps not as eloquent as the rabbi from Nazareth but the idea is same. In the Psalms David writes "With you a thousand years is but a day." How else could this be possible unless we were talking about a being that operated outside the rules of time and space – a being who simply "was"? When Moses asks for God's name the Creator of all things simply responds "I am." God says that he exists "now" and with God that's all there is: an eternal now. This is later repeated by Jesus before Pilate when questioned about his identity. Jesus the miracle worker exists in the eternal now.
How did this "miracle worker" feed five thousand people? How did he walk on the water? How did he do all those amazing things? The answer to these questions may be found, quite literally, in his time machine. From the earliest episodes of Dr. Who, we see that the TARDIS is actually "bigger on the inside than the outside." It has an extensive library, a pool, and one would assume a massive kitchen. Traveling in time would allow Jesus "companions" to go forward in time, collect food for thousands, and bring it back to the exact moment they left. In the 2010 episode "The Pandorica Opens," the TARDIS provides an "air corridor" enabling a woman from the Doctor's past (and future) to pass through outer space. Surely this same technology could support a man wishing to walk upon the water because the boat and left without him.
What about the big one: the resurrection? Why was the tomb empty? How did Jesus appear to the disciples in the upper room? How could Mary confuse Jesus with a gardener after traveling with him for nearly three years? Answers to these questions lie in the very nature of a Time Lord. Time Lords have a way of "cheating death." It's called Regeneration (perhaps a more socially acceptable way of saying Resurrection).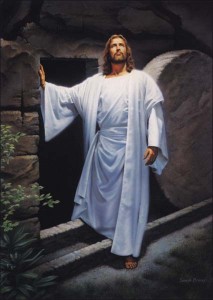 When a Time Lord reaches the end of his lifespan – by age, falling off a giant antenna, absorbing massive amounts of radiation, or poor ratings – the Time Lord does not die. He regenerates into a "completely new person with all the same memories." Doctor Who Magazine describes this as having every cell of your body change simultaneously. When this happens, a complete physical transformation takes place. A Time Lord can go from being a short tramp-like professor into a tall skinny bloke with spiky hair and a trench coat.
Regeneration is accompanied by a tremendous amount of pure energy, which, if uncontained, can shake the world around it. Enough to move a giant bolder from the mouth of a cave? Enough to send Roman guards running for the hills? Enough to burn the image of a man onto a burial shroud? As the 10th incarnation of the Doctor puts it: "a completely new man goes walking away."
No wonder the disciples on the road to Emmaus didn't recognize Jesus until he began to pray with them. It should be noted here that many of the Doctor's female companions could see the old man in the new simply by looking in his eyes. In the episode "School Reunion," the Doctor (now four or five generations later) says "Hello Sarah Jane" to a former companion and only then does she recognize him. Similarly, when Jesus stands in the garden Mary assumes he works there. Only when he says her name does she see his true self.
It is often asked how Moses could have written the first five books of the Old Testament when he wasn't there for the first part and was supposedly dead by the end of Deuteronomy. Yet one of the great moments of Jesus' life is when his companions saw him in conversation with Moses and Elijah. It's possible that the man we think of as Jesus of Nazareth has been returning again and again.
Time Lords meeting their former selves is an ongoing theme in both the television show and even more so in the audio adventures of The Doctor (produced by Big Finish Productions). While there is much debate about the number of times a Time Lord can regenerate, how many messiah-types have we seen? Moses? Elijah? Jesus? Gandhi? Dr. King?