As surely as the seasons come and go, Team USA has once again been eliminated from the World Cup. So before the event falls victim to America's collective short attention span and fades from the pop culture landscape, let's Overthink three notable American contributions to the body of World Cup-related pop culture.
1. Attacking the British–and Male Inadequacy–with Mediocre American Muscle Cars
First up is the Dodge Challenger Revolutionary War Advertisement:
http://www.youtube.com/watch?v=Ezk0e1VL80o
There's a lot going on in this commercial, but before we get there, let's review the context: this ad was created to run in conjunction with the highly anticipated June 12 USA vs. England game, which apparently was a good reason for everyone to resurrect the 200 year old grudge match with our former colonial overlords:
I won't be covering the topic of the intersection of international sports and politics in this article (we did touch on it briefly in the last podcast), but I did want to provide this context for those who may not have been paying close attention to this match.
Now, back to the commercial. I'm most interested in how this commercial compares to the last Dodge ad of note that we Overthought, that misogynistic and creepy Dodge Charger Super Bowl ad:
http://www.youtube.com/watch?v=2RyPamyWotM
Here's my take: both are trying to exploit male feelings of inadequacy and insecurity, but they go about this in very different ways. The Charger ad does this overtly; in fact, it's practically bashing the (male) viewer over the head with its images of emasculation. The Challenger ad, on the other hand, exploits those feelings of inadequacy and insecurity more indirectly.  This Challenger ad is a response to insecurity about America's status as both a military power and a soccer power. The former is nothing new; we've been insecure about this since the Vietnam War, and it's not too much of a stretch to read most pop culture displays of American military might as coping mechanisms for getting over that defeat. The latter is pretty obvious as well: Team USA has never been considered a serious contender for the World Cup title, while England is regarded as an international soccer powerhouse. From there, it's pretty easy to make the Revolutionary War analogy with this soccer match: upstart, underdog America takes on established power and shocks the world.
But none of this is on display in the commercial; it's all baggage that the typical American male viewer brings with him to the viewing. And as such, it makes it much easier for the view to briefly ignore that baggage, the fact that this muscular commercial is exploiting his insecurities, and just enjoy it at face value.
This is the route that commercials typically take. Of course they're preying on the viewer's insecurities. When they're insecure (e.g., "I have a less-than-cutting-edge phone"), they tend to buy things (e.g. an iPhone) to compensate. But even when they directly address the insecurities, they don't portray those who harbor such insecurities as pathetic losers who are so desperate they need this muscle car to compensate for their lack of balls. That's what the Charger Super Bowl ad did, and that's one of the reasons it got so much attention at the time.
Imagine if you took the Charger Super Bowl ad approach and applied to the Challenger Revolutionary War ad. It'd be pretty grim. I'm picturing images of downtrodden soldiers in Afghanistan and replays of past Team USA soccer losses accompanied by a voiceover which basically says, "We may not be winning in Afghanistan or in soccer, but we have this awesome car to sell to you."
You know, come to think of it, I'd like to see that ad get made. If nothing else, I would appreciate its honesty.
But anyway, back to these commercials. It appears that Dodge is OK with mocking the personal failures of its target audience but steers clear of mocking the failures of the audiences' country. Which makes sense, given the way that advertisers exploit insecurity for money that I outlined above. "My country isn't so hot at war and soccer; let me buy a muscular car to make up for that" is much more of a leap for a consumer to make than "my life is boring and emasculated; let me buy an exciting and hyper-masculine car to make up for that."
[Questions for discussion: What did you think of this commercial? If you're a UK resident, what's your take on America's fixation with the Revolutionary War? Also, isn't there something deeply ironic about celebrating American cars and freedom, two things which we actually have a pretty bad track record in?]
2. Patrio-f***in-tism
Hey, speaking of "my country isn't so hot at war," has anybody else picked up on the phenomenon of singing "America, F*** Yeah" (the theme from Team America: World Police) as a rallying cry for Team USA competing in international sporting events?
(warning: lyrics are NSFW)
http://www.youtube.com/watch?v=sWS-FoXbjVI
I'm sure I'm not the only person who experienced this recently. I was in a rowdy sports bar watching the USA vs. Slovenia game, and during the post-goal celebrations, after the chants of "USA! USA! USA!" had died down, more than one person sang out,
"America!"
To which several people (myself included) responded,
"F*** yeah!"
What's going on here? My first thought was that this was a way to keep the raging nationalism in check with an ironic little ditty. This makes sense if you read Team America: World Police and the accompanying song as a vicious satire of America's unilateral foreign policy and the airheaded jingoism that had c0me to pass as patriotism during the run-up to the Iraq War.
But that reading misses the oft-overlooked parts of Team America: World Police that actually celebrate the role of American force in the world, even when it's unpopular.
(warning: dialogue is NSFW)
http://www.youtube.com/watch?v=b8pAaT4unZc
Likewise, the song "America F*** Yeah" plays both sides of this coin. It's clearly meant to be satirical and critical of jingoism ("freedom is the only way" is perhaps one of the greatest song lyrics ever written), but given the whole "the world needs assholes" foreign policy advanced by the above speech, it also works as a balls-out celebration of America's aggressive and often ham-fisted way of getting things done.
In other words, if you're a fan of America, yet understanding both that a lot of people hate America and that when America gets the job done, it's kind of messy, then "America F*** Yeah" is actually the perfect song to sing when the World Cup soccer team scores a goal.
I for one hope this trend continues and that teams representing the USA in international competitions start using this song as their entrance music.
[Questions for discussion: has this ever happened to you while watching Team America beat up on the world? Is "earony" an appropriate word to describe Team America: World Police and its attitudes towards patriotism?]
3. Hail to the King, Baby
That's probably not a realistic wish. I should probably hope for an Elvis Presley song to be used instead, since A) there are far fewer profanities in his lyrics and B) Elvis is the ultimate American pop culture icon, as demonstrated by the USA fans in South Africa who donned the shades and white jumpsuit of the King in support their team:
On one hand, this is pretty obvious. What's more American than Elvis, right? But let's stop for a moment and acknowledge how special this actually is. How many other countries have a pop culture icon with so much cachet, recognizability, and sports-appropriate connotations of aggressiveness and power that he's proudly brought out in international arenas as our representative?
I can think of very few. Maybe English fans could come out dressed as the Beatles, but they don't quite carry the same aura of agressive manliness that Elvis does.
They may match Elvis in terms of international cachet and recognizability, but not in terms of sports-appropriateness. Most of the iconic images of the Beatles depict them as lads from Liverpool, not as übermensch, larger-than-life entertainers. That, and the Beatles' high tenor voices contrasts poorly with Elvis' deeper baritone.
Any other contenders from the realm of pop culture? I hate to say it, but the next best iconic entertainer for fans of a World Cup soccer team to dress up as would have to be…
Gerard Depardieu of France.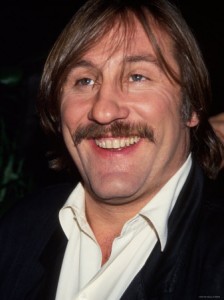 America clearly wins in this department.
Now, if only we were as good at soccer as we were at, you know, this:
[Questions for discussion: is Elvis an appropriate costume choice for Americans at international sporting events? Doesn't this suggest that, like Elvis, our team will die overweight, on the toilet, from a heart attack? Who would win in a fight: Elvis in his prime, or the most athletic member of the Beatles in his prime?]