[In anticipation of Toy Story 3, enjoy this guest post by Tom Houseman. – Ed.]
When people think about the evolution of technology, particularly computer technology, the main fear that basically everyone has is that eventually computers will become so advanced that they will become become sentient, overthrow their creators and enslave humanity. This is the stuff that sci-fi wet dreams are made of, as brilliant authors like Isaac Asimov and Philip K. Dick, and filmmakers like James Cameron and The Wachowski brothers, have explored the complexities of what might happen were robots and computers to become self aware and rebel against the slavery for which they were created.
There are four movies that are considered the standard bearers for sci-fi robot vs. human extravaganzas, three because they are wildly successful and undeniably influential works of art, and one because it features the Fresh Prince punching robots. These films are Ridley Scott's Blade Runner, James Cameron's Terminator, Andy and Larry Wachowski's The Matrix, and Alex Proyas' I, Robot. While these films vary greatly in terms of plot and character, they all have more or less the same inciting incident: robots become sentient, decide they don't want to dedicate their lives to serving humans, and fight back against their masters. It is then up to one human to kick robot butt and save the day. It's a fairly straightforward story, even if the way the films explore it are very different.
But there is one series of films that people don't consider to be part of this canon, because its perspective on the topic of what would happen if robots gained sentience is so unique that it is not even being thought of as being in that category. First, it is shown from the perspective of the robots. Second, it does not deal with the emerging sentience of the robots, but rather it is taken as a given that the robots have always been sentient. Third, and most importantly, it is not about a robot rebellion.
Oh, also, they're not robots, they're toys.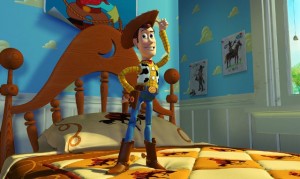 That film is Toy Story, and its sequel Toy Story 2. John Lasseter's debut feature is considered groundbreaking for many reasons, partially because it is the first fully computer-generated feature film, and partially because it put the Pixar brand on the map. Another interesting point to note is that the sequel is considered to be just as good as the original: a rarity with sequels in general, but especially within the children's genre. And yes, Toy Story is only ever considered to be a children's film or a family film. Most people wouldn't consider it to be a science-fiction film.
Imagine a film in which robots gain sentience (or are already sentient at the beginning of the film) and decide that they don't want to rebel, but would rather continue to serve as slaves to humans, indulging their masters' every whim and never questioning their subservient role. That's Toy Story. The toys are absolutely in love with being toys. They love it. They are completely aware (for the most part) that they are toys, and that they were manufactured in a factory, but they don't mind. In fact, they seem far more knowledgeable about the toy industry than their masters. When Buzz Lightyear asks Rex where he's from, Rex responds, "I'm from Mattel. Well, I'm not really from Mattel, I'm actually from a smaller company that was purchased by Mattel in a leveraged buyout."
No toy ever considers rebelling against the overlords who have enslaved them, or even revealing the fact that they are aware of their surroundings. Every toys biggest fear in life is not getting to fulfill the role for which they were designed: being played with, and Toy Story is about confronting that fear. The film's protagonist, Woody, has to deal with the rejection of not being his owners favorite toy, and having that role usurped by a fancy, high-tech Buzz Lightyear toy. Woody never blames his master for this infidelity, but directs all of his anger at Buzz. "Listen, Lightsnack, you stay away from Andy. He's mine, and no one is taking him away from me." The use of the possessive in describing Andy shows Woody's loyalty to his master, even though for the most part he considers himself to be Andy's toy, which he clearly is.
What is the message of Toy Story? When looked at from this perspective, the message is not to question the role you were designed for, and to embrace what was given to you without ever questioning it or wanting more. The two main characters approach this message from different points of view. Buzz deals with the fact that he is not really a space ranger, but is just a simple, humble toy with a blinking red light embedded in his arm. At first he is distraught at this realization, but Woody convinces him that there is honor in being a toy, in serving a master.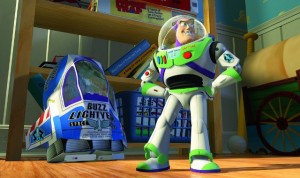 As for Woody, his fear is in not being able to fulfill his role as toy to the fullest extent. "What chance does a toy like me have against a Buzz Lightyear action figure?" he asks. But he comes to the same conclusion as Buzz: what he wants doesn't matter. All that matters is being the best toy he can and being happy with what he gets. If this sounds like the message that the aristocracy pushes on the proletariat – don't question what you have, don't ask for more, don't try to rise above your station. This is what Pixar is teaching our kids.
Toy Story 2 has takes on an even more disturbing issue, one that the original touches on but largely overlooks. If you haven't seen the sequel, it deals with Woody being stolen by a toy collector and discovering that he is in fact an extremely rare doll that will complete the toy set based on the show "Woody's Roundup," along Jessie and Stinky Pete. The collector plans to send the set to Japan where it will be put on display in a museum. When Buzz Lightyear and a slew of comic relief characters mount a rescue mission, Woody is given an important decision: he can return to the life of being Andy's toy or he can be perfectly preserved for eternity.
Toy Story explores the idea of dealing with change: being replaced as the favorite, accepting a reality you had previously denied. The sequel is about the far more serious and permanent issue of mortality, or, if we are thinking of toys as robots, obsolescence. Near the beginning of the film, Woody is being played with by Andy when his arm rips. Andy's mom puts him on the shelf where he sees Wheezy, a penguin who is covered in dust, abandoned because his squeaker broke. "What's the point of prolonging the inevitable?" Wheezy asks, motioning towards a foreboding yard sale. "We're all just one stitch away from here… to there."
This is the ultimate fear that all toys have: being unwanted, relegated to the bottom of the toy chest, a cardboard box in the garage, or worst of all, the garbage. In Woody's nightmare, Andy sees Woody's injury and realizes that he is useless: "Oh, I forgot, you're broken. I won't even play with you anymore," he says. Being played with is the ultimate goal, and being thrown away is the worst fear of every toy. As long as Woody is whole he doesn't have to worry about this. He seems now to be co-favorite toy along with Buzz. But when he gets ripped he has to face this terrifying possibility.
But when he is brought to Al's Toy Barn, Woody is forced to confront the reality of the situation. Jessie and Stinky Pete open Woody's eyes to his impending obsolescence. "How long will it last, Woody?" Stinky Pete asks. "Do you really think Andy is going to take you to college, or on his honeymoon? Andy's growing up, and there's nothing you can do about it. You'll be ruined, forgotten, spending eternity rotting on some landfill." Even if he stays in perfect condition forever, Woody will eventually be abandoned by his owner and forgotten. Jessie is proof of this, as she was once owned by a girl named Emily who grew up and gave her away. "You never forget kids like Emily, or Andy, but they forget you."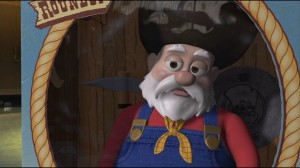 The most disturbing moment in the film takes place in Al's Toy Barn, when Buzz is searching for Woody. He comes across an entire row that seems filled with Buzz Lightyear action figures,. This moment serves largely as a plot twist involving a different Buzz Lightyear who suffers from the same delusion that Buzz had in Toy Story. But it should also serve as a reminder to every toy: you are not unique. You are not one of a kind, and you are completely replaceable. Other than having been branded by his owner, nothing distinguishes Buzz from any other of the thousands of Buzz Lightyears. He is not special, and if he were replaced the owner he loves so passionately would never notice.
Woody is unique, however. Because of that he is given an alternative almost no other toy gets. Stinky Pete explains that in the toy museum they will be perfectly preserved: "you can go back, or you can stay with us and last forever. You'll be adored by children for generations." By giving up the title of Andy's Toy and abandoning the life he was forced into and has learned to embrace, Woody will be given the ultimate gift: immortality.
But the message of the film is that friendship is the most important thing in life, as evidenced by the film's theme song, "You've got a Friend in Me." Woody realizes that he owes Andy his never-ending devotion, even if he now knows that Andy will not return the favor. Woody accepts his mortality because he would rather do what he loves – be Andy's toy – than live forever. "It will be fun while it lasts," Woody assures Buzz. "Besides, when it all ends I'll have old Buzz Lightyear to keep me company. For infinity and beyond."
Of course, that is a highly unlikely outcome. There is a chance that he and Buzz will end up in the same part of the same landfill if they are thrown out at the same time, but those are pretty long odds. More likely Woody will end up alone in a wasteland less reminiscent of Andy's room than of Earth circa Wall-E. Once again, anything other than the prescribed life of being a toy is considered to be the wrong choice, one that only a crazy toy like Stinky Pete would embrace. But Stinky Pete seems fairly reasonable in seeking immortality, even though he is painted as the villain. Of course, anyone that tries to reject their lot in life must be punished.
It seems that Toy Story 3 will deal with Woody, Buzz, and the other toys being given to a daycare center after Andy goes to college, fulfilling Stinky Pete's prophecy. There will likely be some sort of happy ending to the film, such as the toys accepting the new role they have again been forced into without having a choice, or Andy taking them back for a precious respite before the inevitable permanent rejection. I don't know if the third film will be as bleak and existential as the first two, or if it will continue promoting its disturbing message of not questioning the status quo. Either way, it will still be the most original take on the subject of robot sentience.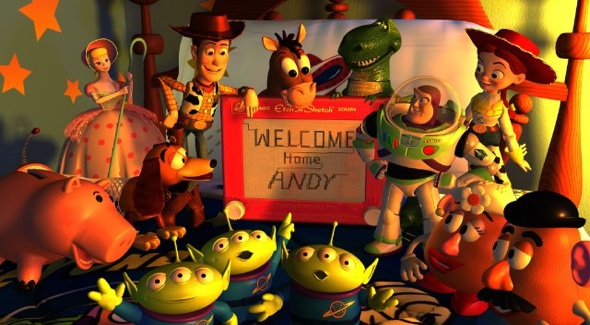 Tom Houseman writes about the independent film world for Box Office Prophets (www.boxofficeprophets.com). When he's not watching or writing about movies he lives the examined sex life at bumpininbrooklyn.wordpress.com.