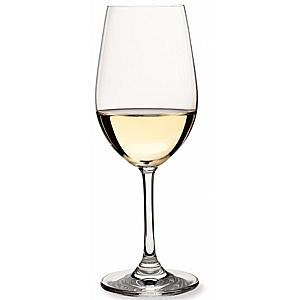 [I posted this on my Facebook page on May 6, 2010, soon before deleting my Facebook account. It's a little off-topic for OTI, but I've had some requests to post it here. Feel free to "Like" it and bask in the irony. —Fenzel]
Back when I waited tables, I did something wrong to a customer. It was a slow shift on a Saturday afternoon. A woman came into the near-empty restaurant to have lunch by herself. She asked for a glass of white wine. She didn't specify what kind.
I was frustrated, I was bored, I was worried about not making any money, so I tried to get away with something. I brought her a kind of fancy glass of white wine. Oh, it wasn't a fancy restaurant (it was a family chain restaurant, actually), so it wasn't a big difference – a $7 glass of wine instead of a $4 glass of wine.
When the woman finished her meal and looked at her check, she was upset, and understandably so. When you order a glass of white wine and don't specify what kind, you expect the house wine – usually the most affordable wine in the restaurant. While she had enjoyed the wine, I was now asking three extra dollars for it that she never agreed to. And I was making it very awkward for her to say no.
It hadn't seemed so bad when I had done it, but I was trying to rip her off, and she did me a favor – she decided not to stand for it. She yelled at me and dressed me down in front of my manager. I realized what I had done and was horribly embarrassed.
I apologized, and the manager gave her a free meal. This was the first big thing I'd done wrong at that job, so I was let off with a warning. If I'd done it more than once or twice, I'd have been fired.
… today, I'm firing Facebook.

Except in rare cases, taking something extra from a customer without their permission and without giving them a fair chance to say no is wrong. Employees should be ashamed to do it, and customers shouldn't stand for it.
This is what Facebook has done with "pages" and "connections" systems, with the increasing difficulty of keeping your conversations with your friends from popping up on random pages, and with their systems to send your personal information to third-party websites automatically when you visit them so that they can sell you stuff – and worse, sending these companies your friends' personal information through their link to you without asking them or you if you're okay with it.
They'll say they're adding features, and they are; they're giving you marginally fancier white wine – but they're doing it without asking you, and they're taking away something valuable from you without giving you a chance to say no – your privacy, your personal information, even your conversations among your friends. They're putting your job at risk by making it very hard to exercise discretion and keep up boundaries around what you say online. They're tricking you into thinking nothing is happening. And then they're selling that to people.
To whom? We assume it's companies selling stuff, but it could be anybody. The government. Somebody else's government. A political group. Your old boss. Your new boss. The boss that won't hire you because you said something bad about his favorite baseball team three months ago that got aggregated to a page. You don't get to find out, because you have no control over where your stuff is going to end up. And they've proven they can't be trusted.
Now, I mention all this because some people care a lot about keeping things secret, but I don't really care much about my privacy. I'm an adult – I know what happens when I post things on the Internet. I'm a very public, social person, and I don't censor myself much. I use and will continue to use other social networking tools that are much less private than Facebook – like Twitter.
What I care about is ethics. Doing the right thing. And Facebook has not been doing the right thing.
The right thing to do when you make a deal or ask somebody to trust you with something is to keep your word. Facebook used to promise they wouldn't share your information with anyone who wasn't connected to you through your friends — ever. They "revise" their promises fairly frequently nowadays.
The right thing to do is to give your customers control over whether or not they use your services. When you take something from somebody, consent is very, very important. Do not force them, do not trick them, do not silence their objections, do not lead them into goose chases and lie to them and tell them it is all for their benefit when it is clearly for yours. Have you learned nothing from America Online?
It's not even these changes that really bother me – it's that Facebook keeps doing it, keeps making everything opt-out and hiding the button – with no signs of regret, maturity or responsibility for their actions. Their lies about their intentions are baldfaced and transparent. There is every indication they will keep pushing it and pushing it until the government sets a line and makes some part of it illegal.
You can't trust Facebook anymore, and it's become clear they're Bad People. Capital B, Capital P. The good ones aren't speaking up enough to keep the bad ones in check, so the place we once loved – still love – has gone rotten on us.
So, as useful as I've found the site – I mean, I've really loved Facebook, there's a reason I left other social networking sites for it and have more than 1,000 friends – I'll have to say "no thanks" the hard way.
You'll still see work from me on here from time to time – Overthinking It can't afford to leave, and my improv groups are still on here, but as soon as I finish saving all my photos, my personal participation here is done.
If they roll back these changes and offer a meaningful apology for it, maybe I'll come back, but I'm not holding my breath.
To all my friends, you can e-mail me at fenzel at overthinkingit dot com or find me on Twitter.
I don't want to lose touch, but there's only so much we can put up with before we really have to say enough is enough . And I'm not going to be held hostage out of fear that my friends and family won't be able to find me. We did fine before Facebook, and we can do fine after it.
Maybe I'll go back to Friendster.