The celebrities! The glamour! The inexplicable robot dance to the soundtrack of UP! Since everyone loves Monday morning quarterbacking, we're giving you an opportunity to share your approval, gripes, jokes, and opinions here, in a special 2010 Oscars Open Thread.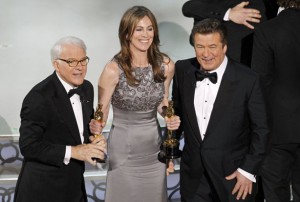 Question 1: The night's clear winners were Kathryn Bigelow and The Hurt Locker, a perfectly creditable film by any standard, but essentially a glorified buddy-cop picture. Did the winningest picture of the night deserve all the accolades heaped upon it—writing, directing, and best picture? How do you think it managed to beat out Avatar for all of those?
Question 2: If there was a loser, it was James Cameron. Though Avatar picked up a few little men, none of them went to Cameron, and they were for technical categories—visual effects and cinematography—nothing to do with storytelling and artistic achievement. Did Avatar get what it deserved? Or was it robbed?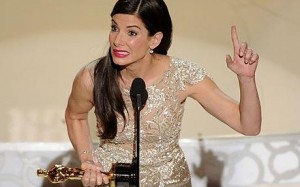 Question 3: In the Streeps/Bullock stakes, the victor was Sandra Bullock. Hope you won your Oscar pool with that one. What, exactly, do you think was being honored here? The actress? This particular performance? The longevity and diversity of her career? (By all of those measures, doesn't Streep have the edge?). Hey, we're not snobbish—as listeners to our podcast know well, at OTI we are a fan of actors who work. We just wonder if this Oscar was really for Demolition Man.
Bonus Questions for Overthinking
What did you think of Steve Martin and Alec Baldwin as hosts?
This year's ceremony largely moved along at a brisk—sometimes even a breakneck—clip. Did it lack in character what it gained in speed? Or were you happy that they kept it to a relatively zippy three and a half hours?
Seriously, what was up with that robot dance to the soundtrack of UP!?
By what stretch of the imagination is Twilight a horror film? And what was that montage doing there in the first place?
Nothing Oscar-related is off limites, for it is your… Open Thread!