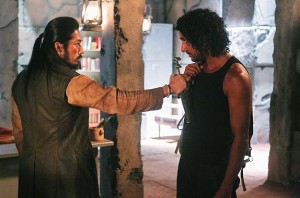 I'm not quite sure why I didn't love this episode.  All the dramatic pieces were there, but for whatever reason they didn't click together for me.  Anyway, due to that, and due to the fact that I didn't see anything new, theme-wise, in this episode, this is probably going to be my only Lost-related post this week.
But look!  Questions!
Question 1: So, what's the deal with Sayid's accent?  Is he slipping into his Brit-tongue accidentally, or is there some story-related reason for it?  Or is he just angry about what the show is doing with his character?
Question 2: When Un-Locke asked Sayid, "What if I told you you could have anything you wanted?" was he talking about the Island, as in, "This Island is a mystery box that can give you whatever you want" –OR!!– was he referring to the alternate timeline, which he made or WILL MAKE later in the season?  After all, Sayid said he wanted Nadia, and in the alt-world, he got Nadia…
My favorite part of the episode was easily when Ben slooooowly backed away from Evil!Sayid.  Back away, Ben.  Back away.
Question 3: What do you think Ben's role is going to be in all of this?  I'm personally still holding out for a redemptive death, but hopefully it won't happen next week.  I need Ben with us until the very. last. episode.  For reals.
Question 4: Do you have any Lost-type questions you'd like me to overthink?  I'm stumped, people.