Last week, Fenzel wrote a thoughtful analysis of the song "Tik Tok" by Ke$ha. In the resulting discussion in the comments, OTI reader "Brimstone" had this to say about how the song furthers Ke$ha's image as a "skank":
I don't listen to much modern pop but I've been a rock fan for ages, and male fans 'glamorizing self-destructive behavior' goes back as far as the blues, if beyond. The author of this piece is right – she's doing the rock star persona thing, which ties into the Mick Jagger line. And that's cool! Guys have been writing songs like this for decades… Nothing wrong with a girl doing it.
Brilliant observation, Brimstone. And to further illustrate your point, I've taken the liberty of re-recording a bit of "Tik Tok"…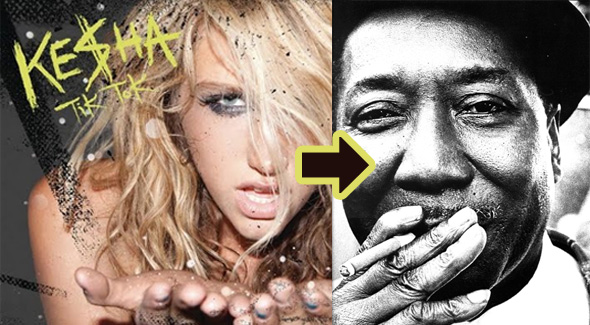 as a Muddy Waters-esque old school blues song.
[audio:http://www.libsyn.com/media/mwrather/Tik_Tok_Blues_Version.mp3]
→Download Tik Tok (The Blues Version) [MP3, 2.6 MB]
Try listening to it. Thematically, it makes sense (well, except for the pedicure part) and isn't nearly as weird as the picture above suggests.
More tellingly, the sum total isn't that far removed from a Muddy Waters tune along the lines of "Hootchie Coochie Man"…
…or B. B. King's "Let The Good Times Roll":
Readers: what do you think of this unholy combination? Have you gained a new appreciation for Ke$ha? Or did I only succeed in sending Muddy Waters spinning in his grave? Sound off in the comments!
Update: Love the song? Digg it here.