5. A society of billionaires is doomed anyway. As Oliver Platt explains, the ark plan needed to be funded privately–otherwise, too many people would learn about it, the secret would get out, and complete anarchy would ensue. Actually, I think he's got it completely backwards. If you want to keep something secret, fund it via the government. Would anyone really know if all that stimulus money and bailout money really went to build a big boat in Tibet? But if you start telling thousands of private citizens, there's no way it stays a secret. In any case, in order to raise one trillion on the down-low, the ark people sell tickets to plutocrats for one billion euros a pop. As far as I can tell, these rich people make up the majority of what's left of the human race. That means we're all as good as dead. Do you think being a successful businessman (or the trophy wife of a successful businessman) prepares you for post-apocalyptic survival? Most of these people don't have a single practical skill, and haven't done a day of manual labor in their lives. Not to mention a lot of them are pretty old, and therefore pretty useless. We don't need oil sheiks on that boat. We need blacksmiths, doctors, and farmers. We also need a lot more women…
So I wrote this whole section about how the ark appears to be entirely populated by the ultra rich. This is true–the movie gives you the distinct impression that only people who could afford the one billion dollar ticket price survive. But then I had a brainstorm: there are less than 1,000 billionaires in the entire world. And of course, not all of them are going to go for this crazy scheme. All in all, I'd say there are no more than 500 billionaires on those arks, tops. Considering they carry hundreds of thousands of people, it turns out that billionaires are only a tiny part of our new human society.
Of course, that raises the question of who does get to be on these arks, if not paying customers. President Danny Glover mentions at one point that only 12 people in the whole US government know what's happening, so you'd figure that bureaucrats will not take up a lot of those slots. Oliver Platt very briefly alludes to people being selected on the basis of their wonderful genes, but who the hell knows what that means? Maybe they all have perfect pitch or something.
6. Where are all the ladies? At the end of Dr. Strangelove, the titular doctor spells out his plan for preserving the human race in a series of mineshafts:
With the proper breeding techniques and a ratio of say, ten females to each male, I would guess that they could then work their way back to the present gross national product within say, twenty years.
I'm with Strangelove: any serious plan to preserve our species from extinction has to be centered on sex. We must all be Jon and Kate Plus Eight. But more like Jon and Kate and Katie and Katherine and Caitlyn Plus Thirty. After the apocalypse, we're down to our last 300,000 people (supposedly each ark could hold 100k). That's not nothing, but it's a small enough number, concentrated in one small area, so that extinction is still a threat. We need to be fruitful and multiply. The human race needs uteri. But in the movie's final scenes, we see a bunch of crowd shots of the survivors, and they seem to be distressingly gender-balanced.
---
So the government seems to have wasted trillions of dollars and screwed up on every possible level. For somebody who's a hardcore Democrat, he certainly thinks like a Republican.
Luckily for everyone, I have a foolproof plan for saving the human race. Forget those arks. What we need is this Ark: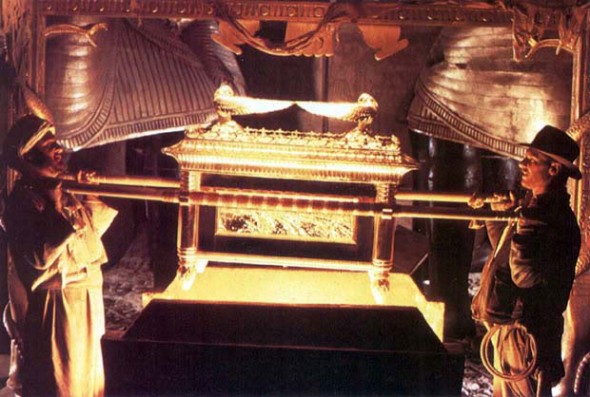 Think about it: an army that carries the Ark is invincible! Marcus said so! So all we need to do is draft everyone into a giant World Army, and then get the Ark out of its wooden crate. Problem solved.
You're welcome, President Glover.