Which brings us, finally, to ABC's new show, FlashForward, created by David Goyer (who, amazingly, wrote both The Dark Knight and Jumper), Brannon Braga (who wrote more than 100 episodes of the later day Star Trek series Enterprise and Voyager), and Robert Sawyer ("The Dean of Canadian Science Fiction" who actually came up with this whole idea).
The basic premise of the show is that on October 6, 2009, the entire world blacks out for 2 minutes and 17 seconds. During that time, everyone has a vision of the future on April 29, 2010. Everyone sees through their own eyes the events of that one period of time. Presumably, many of the visions are mundane events (we know of at least one vision of time spent on the toilet), some people don't have visions (and are presumably going to die in the intervening six months), and some people see visions of the future that seem improbable, impossible, or life changing.
***SPOILERS***
Regardless of the nature of the vision, this vision of the future has a profound effect on how people live. In the show, this is focused primarily on whether or not the visions will come true. Will Joseph Fiennes backslide into alcoholism and will his images of an ongoing investigation into the cause of all this actually help in today's world? Will his wife be living with another man? So far, all of the visions have come true and the show seems to be about getting from here to there.
That is until the end of the last episode, in which an FBI agent who had received a vision of the future in which he was responsible for accidentally killing an innocent woman decides to kill himself, thus ensuring that his vision and at least one other will not come to pass. Suddenly, these characters, who already possess the godlike characteristic of being "outside of time," the power to shape their futures and, in this case, give life to others.
Earlier, that same FBI agent had casually played Russian Roulette, secure in the knowledge that his vision of himself in the future mean he couldn't die today. He does this to get into a basement full of people who didn't have visions and are clubbing their hearts out before the curtain falls. While the lack of vision has condemned them to mortality, the presence of vision has made the rest of planet immortal.
In short, the underlying premise of the show has changed. In giving every human being immortality along with the power to both see and shape the future, the 2 minutes and 17 seconds in FlashForward represent the apotheosis of mankind, and the question becomes, what if we were all gods?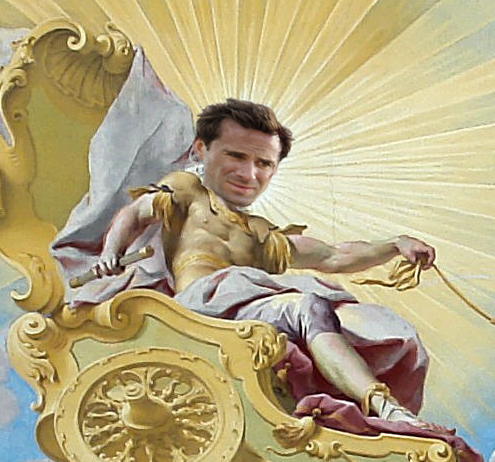 So what would you do?
According to the show, a world full of human gods is a sort of angsty place. Frankly, I think most Americans would act like me: check to see whether or not they've gotten really fat in the future, then eat really glorious fatty foods for six months. That's real godhood.
Given the chance to peep into your life six months from now, would you do it?
Would you hope for an interesting or dramatic vision, or are you cool with seeing 2 minutes and 17 seconds of the Lost finale?
Then again, if you were absolutely certain that you'd be alive on April 29, 2010, what would you do?

PS: On Firefox, in the google search box, start typing "free will." How sad that the first four options are about an unusually liberated whale.