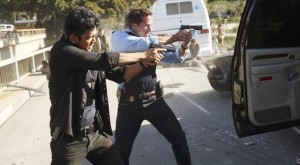 Since Aristotle (and probably before that), humans have asked themselves: Do we really have free will? ABC is currently attempting an interesting answer to that question with its new show, FlashForward. In doing so, they inadvertently make Joseph Fiennes a god.

From Schopenhauer to Neo to the creators of
Lost
, everyone has weighed in on this particular argument, breaking down into two camps: those who believe our actions are determined (by god, genetics, history, character) and those who believe that we have the freedom to choose our actions.
Religion plays an interesting part in this debate, especially when you're talking about an infallible, omniscient god, the Judeo-Christian version with a capital G. If God knows everything, then on February 13, 1929, God knew that the next day Al Capone was going to kill 5 members of a rival gang. Since God knew this and can't possibly be wrong, Al Capone had no choice but to give the order to kill those men. He may have debated the pros and cons in his head, but because God is infallible and all knowing, that mental argument was only the illusion of free will. The Valentines Day Massacre was going to happen and Bugs Moran was a goner. This is called Theological Fatalism.
The interesting thing about Theological Fatalism (or really, any of the fatalisms) is that it takes responsibility out of our hands. How can Al Capone be responsible for killing those men when he really had no choice in the matter? How can I be held responsible for getting this philosophical summation wrong when I got a D in freshman philosophy and still decided to write about this? Are Al and I morally culpable?
Obviously, in a religion in which morality plays a big role, it was important that someone jive the seeming double jeopardy of God determining your actions, then judging you for them. Saint Augustine, Aquinas, and a host of others have attempted to do so. For a full accounting of their arguments, click here, but it basically comes down to this: God stands outside of time, therefore his knowledge is not technically foreknowledge and Also, God can know what you're going to do because he knows everything about you and can predict your actions to a certainty without determining them.