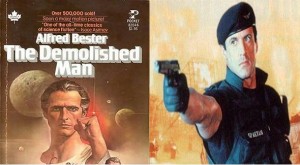 If a man's got talent and guts to buck society, he's obviously above average. You want to hold on to him. You straighten him out and turn him into a plus value. Why throw him away? Do that enough and all you've got left are the sheep.
– Alfred Bester, The Demolished Man
I'm a seamstress? That's great. I come out of cryo-prison and I'm Betsy-fucking-Ross.
– Sylvester Stallone, Demolition Man
Who Are They?
The Demolished Man – or rather, the protagonist of Alfred Bester's 1951 novel of that name – is Ben Reich, owner of interplanetary conglomerate Monarch Enterprises. Monarch has steadily lost business for the last decade to Reich's rival, the D'Courtney Cartel. Already plagued by insanity, in the form of waking nightmares where a Man With No Face tries to murder him, Reich hatches a plot to murder Craye D'Courtney.
The only catch: the Espers Guild, a professional association of telepaths that occupy all levels of industrial society. No one has successfully committed a murder for over seventy years. But Reich, a man of singular genius and willpower, finds a way around their powers.
The Demolition Man is John Spartan, a cop from 1996 Los Angeles who doesn't play by the rules but still gets results. When his takedown of longtime nemesis Simon Phoenix results in a massive number of civilian casualties, he and Phoenix are sent to the same cryo-prison. There they remain in suspended animation until 2032, when Spartan is revived to take Phoenix out.

Where Do They Come From?
The Demolished Man is set in the 24th Century. Interplanetary corporations control the solar system. A lucky few live in unimaginable opulence, throwing decadent parties at private estates. Many people live in the wreckage of an earlier nuclear war – like the West Side of Manhattan, melted into a three-dimensional maze of twisted glass and ceramics and turned into a "mega-brothel."
The presence of Espers also transforms society. "Peepers" are used both to ferret out secrets from rivals and to protect corporations from said espionage. Espers cooperate as a secretive Guild, envied by the rest of the world. Their ubiquitous presence makes the most serious crimes – like murder – unheard of. And when they capture a criminal, they sentence him to the agonizing process of Demolition (from which the novel takes its name).
Demolition Man takes place mostly in the year 2032. After an alluded period of anarchy in the early 21st century, Edgar Cocteau – a social utopian with unspecified authority – led the rebuilding of the ruined Los Angeles metroplex into San Angeles. Everything remotely harmful has been made illegal, including booze, caffeine, nicotine and sex. Few recognized corporations survive today, having destroyed each other in the Franchise Wars. The few police in San Angeles have little training in handling truly violent offenders.
Contrasting the blissful utopia of the surface world is the Wasteland of old Los Angeles. Its unofficial leader, Edgar Friendly, leads periodic raids on San Angeles to scavenge food and supplies. He wants to take down Cocteau's paradise so that his followers can live on the surface world and do whatever they like: eat greasy foods, drink light beer, smoke Cuban cigars, etc.