The new iPhone app, "I Am T-Pain," allows wanna-be T-Pains and Kanyes to apply a heavy Auto-tune effect to their voice and sing along to a backing track. I was about to write an analysis of this curious new form of music making when I thought, why not just sing it Auto-Tune style using the app?
Shawwwty!
Lyrics after the jump. Shawwwty!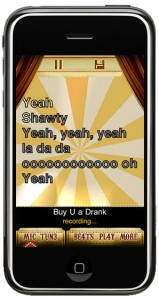 I've done some Overthinking of Auto-Tune before
when comparing its inventor to Les Paul
And though Dr. Hildebrand and T-Pain might not be remembered as musical innovators like Les Paul,
There is no doubt that Auto-Tune is hugely influential today.
And so it's big news when an iPhone app
comes out that promises to make you T-Pain
by integrating the auto-tune effect with some backing tracks
it allows even amateur musicians to sing like T-Pain.
But it's very important to note that this app requires
a basic ability to sing a melody.
With the notable exception of Auto-tune the news,
Auto-tune can't make something out of nothing.
Haters of Auto-tune may claim that this sort of app
only proves their point that Auto-tune is killing music
But I beg to differ. It can only do good
if it gets people to sing more than they normally would.
By removing barriers to making music,
Things like I Am T-Pain and Guitar Hero make music more accessible,
And that is something your violin teacher was unable to do.
So to all the haters and all the players,
I suggest you put aside your cynicism and give this a shot.
You'll be making music, and that's a good thing.
This has been Mark Lee for Overthinking It.
Shawwwty!