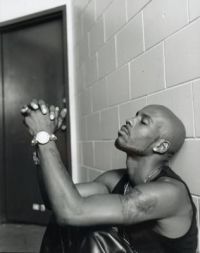 "You are all going to make me lose my mind.
Up in here.
Up in here.
You are all going to make me go all out.
Up in here.
Up in here."

— William Tecumseh Sherman, on his "march to the sea"

From Buchner to Buschemi, from Dickinson to DMX, the modern human is oft-beset by the specter of madness. Denied the comforts of microcosmic tradition and ritual, torn from the circadian rhythms of preindustrial life, and disarmed of macrocosmic rationality or consonance, the modern human is forced by exposure, education and experience to confront paradox, treachery, nihilism, contradiction and, above all, brutality, within a paradigm that does not admit to the existence, let alone prevalence, of these things.
In such circumstances, whatever the threat without may be, the true threat is within — that your own mind and body will reject reality and rebel against your self-control, plunging you into despair or insanity.
Perhaps one day you awaken to find yourself transformed into an enormous bug.
Perhaps you find yourself in a bank, responsible for hostages you have not taken — mistaken for a bank robber, when you have done no such thing — fired at by ground- and airborne sharpshooters for the crime of banking while black, even as you save the lives of the very men looking to take yours.
It's enough to make a man lose his mind.
Up in here, up in here.
Dog is a dog, bloods thicker than water
We done been through the mud and we quicker to slaughter
The bigger the order, the more guns we brought out
We run up in there, erybody come out, dont nobody run out
– Napoleon Boneparte on the invation of Russia
This post is about a music video. The song itself is pretty great, but it only becomes a Great Moment in Racial Discourse because of the video. Check it out:
http://www.youtube.com/watch?v=w9FHbP2-of8
A moment for context
The most obvious problem the video poses before it yields to analysis is that the lyrics of the song and the events of the video seem related mostly by coincidence. However, this post will at points lean on the relationship between the video and the lyrics. As someone who tends not to ascribe to the thesis of the death of the author, this is somewhat problematic — What is the intention of Dark Man X? — but considering his Dionysian tendencies – the gutteral, instinctual element to his creative energies –- it seems fair to at least speculate as to what the significance of this art object might be were it intended as it is.
Furthermore, why should we assume the director did not consider these combinations, these tensions? We should not.
Regardless of what we assume, we can then consider the elements in parallel to the qualities they exhibit upon close reading by their own structure and details.
Context is not everything. It is important in the practical exercise of art, even if not in its serious criticisms, the possibility of happy accidents — as well as the possibility that artists happen upon or even encourage these sorts of accidents on purpose, or at least through a legitimate, if not conscious, exercise of generative creative power.
Oh, you want to know why DMX is jumping off a bank, and what this has to do with racial discourse? Read on . . .