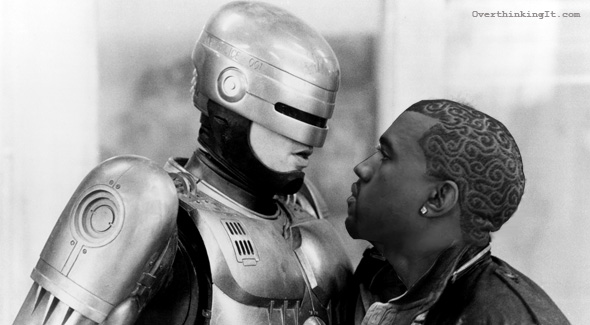 It has been a rough week for Kanye West.  First, South Park eviscerated him by skewering his egocentrism (and excessive use of autotune), then he went and proved them right by emptying his soul on his blog about his hurt feelings and sincere desire to be a better person.   Although I don't usually like to kick a guy while he is down, the whole series of events reminded me of a lingering complaint that I have had ever since Kanye's most recent album, 808s and Heartbreaks, dropped back in November:  I am fairly certain that Kanye West has never ever seen any of the three RoboCop movies, even though one of the songs on the album is named after the film franchise's titular character.
http://www.youtube.com/watch?v=9pP72Csi5rY
"RoboCop," like most of the other songs on 808s is an auto-tuned semi-ballad in which West sing-raps about his broken heart. Whereas many of the other songs on the album are exercises in musical self-flagellation, in "RoboCop" West turns his ire towards his ex-fiancee, Alexis Phifer, calling her a "spoiled little LA girl" and "drama queen," and comparing her to "that girl from Misery".  In the song, the main allegation against Phifer is that she was overly mistrustful, constantly trying to catch Kanye being unfaithful or dishonest, and using whatever evidence she could find to start fights and cause a scene.   It is precisely this behavior that Kanye points to when comparing his ex- to Paul Verhoeven's iconic cyborg police officer:
Up late night like she on patrol
Checking everything like I'm on parole
I told her it's some things she don't need to know
She never let it go, oh

Okay, you will never stop it now
You never stop it now
Okay, you will never stop it now,
You need to drop it now (Drop it, drop it)

'Cause I don't want no RoboCop
You movin' like a RoboCop
When did you become a RoboCop?
No, I don't need a RoboCop.
Beyond working as a clever diss on an ex-, the RoboCop reference and themes work exceedingly well with the sonic palette of the song. The robotic vocals and mechanical sound effects contrast starkly with the lush backing strings and mallet percussion, creating the aural equivalent of the lyrical tension between the cold, indiscriminate paranoia and uncontrollable emotionality.  In addition, the reference to one of the biggest cultural icons of the late 80s fits well with the album's evocation of both the music and fashion of that decade.  Many of the tracks off of 808s and Heartbreaks would have sounded right at home in the future-disco scene in RoboCop, and the neon-saturated cyberpunk aesthetic of the first two movies in the series has directly informed the aesthetics of Kanye's recent live stage set-up and music videos.
Except for one little problem… the reference makes absolutely no sense within the universe of the RoboCop films.  The central assumption that is embedded in the allusion is that policing by RoboCop is inflexible and indiscriminate, leading to the prosecution or killing of the innocent.  Yet, the entire point of the RoboCop series is that the title character is a cyborg—a human brain and face grafted onto a heavily-armored robot body.  In the first film in the series, the main motivation for the creation of RoboCop is that a prototype law enforcement robot–the ED-209—proves itself incapable of exercising the type of subtle situational decision-making necessary for effective police work, gunning down an unarmed corporate executive in a boardroom product demonstration.
In contrast to the failed ED-209, the part-human RoboCop was designed to combine the judgment and intuition of an actual police officer with the firepower of a robot cop.  Thus, by comparing his ex-fiancee to RoboCop, Kanye is actually undermining his own case that the failed relationship is all her fault. If she really was "on patrol" like a cyborg police officer, then the odds are he at least partly deserved any "deadly force" that he received, but if she really was the paranoid, unfair psycho that he makes her out to be, then would it have killed him to add another "t" to the title of the song?  It would have had less name brand recognition, but it would actuallly do much more justice to the source material. Similarly, it would have been harder to make "ED-209" fit into the flow of the song, but it would certainly have credibly signaled that Kanye holds more than a name-dropping interest in 80s pop culture.