THE SANCTION OF THE VICTIM
Even if we didn't have it from director Ken Levine's own mouth, we can see a clear connection between Atlas Shrugged and BioShock. But what does the one tell us about the other?
Is BioShock a commentary on John Galt's "mind on strike"? That's certainly a tempting approach—the video game starts in a cloistered city of inventors, descended into brutality and madness. But Rand didn't mean the strike depicted in Atlas Shrugged as a literal suggestion for followers of her philosophy (at least, not at first). She meant it as a symbol.
Society, she asserted, cannot survive without the creative efforts of rational people. Some of the most revered institutions of society—like the Church and the State—also contrive a lot of rules to harass, punish or limit creative people. If these creative people were ever to pack up and vanish—withdrawing the sanction that they give to their oppressors—society would wither and decay.
(This is a tough sell, because it's hard to think of billionaire industrialists as "oppressed." I'm just recounting her philosophy here.)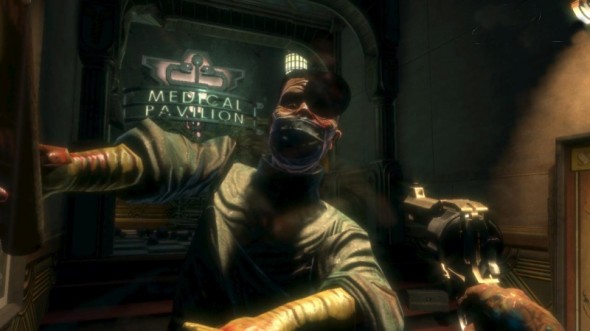 That being said, any social order left to its own will begin to stratify into upper and lower classes eventually. Even if everyone is rich, smart, creative and free, there must be some differences that separate them—differences of luck, of ambition, of good connections. And even the freest people are good at rationalizing rules for "the sake of security" or "just to deal with this one emergency"—even if they're the sort of rules they dropped out of other groups to avoid.
BioShock is not simply a critique on Rand's ideal society of pure reason. It's a critique of any ideal, "planned" society. Human beings don't form ideal societies. We can't step outside of our own bodies and debate social frameworks behind Rawls' veil of ignorance. We form patchwork societies, cobbled together from scraps of the Magna Carta, John Locke, imperial aspirations and some good old-fashioned Deism. Perfect on paper can never be perfect in practice.
I LOVE MR. RYAN, BUT I LOVE RAPTURE MORE
Atlas Shrugged gets unfairly pigeonholed as a Wagnerian clash between bold, uncompromising Nietszchean super-geniuses and sniveling, impotent parasites. That breakdown overlooks some of the more tragic characters in the novel—like James Taggart's wife Cheryl, or Dagny's subordinate Eddie Willers.
Cheryl thinks that James is the driving force behind Taggart Transcontinental, instead of his sister Dagny. She worships James until he shatters her illusions in a night of drunken self-loathing, laughing in her face as it falls. She runs, heartbroken, into a city night full of dishonest hucksters and cynical opportunists. In despair, she kills herself.
Eddie's a hard worker and honest (Dagny's friend Francisco d'Anconia has a paean to the Eddies of the world midway through the book), but he's not quite as creative as Dagny or the rest. He continues struggling to keep Taggart Transcontinental running, even as the rest of the creators abscond to Chicago. The last we see of Eddie is on the last Taggart train to leave New York, stalled due to engine failure. He slumps in front of it, weeping helplessly as the crew abandons it.
Rand included these characters to show that a society turned against creators and reason doesn't just hurt the lantern-jawed individualists. It also hurts everyone else—people who don't necessarily buy into the cycle of parasitism, but can't see what else to do.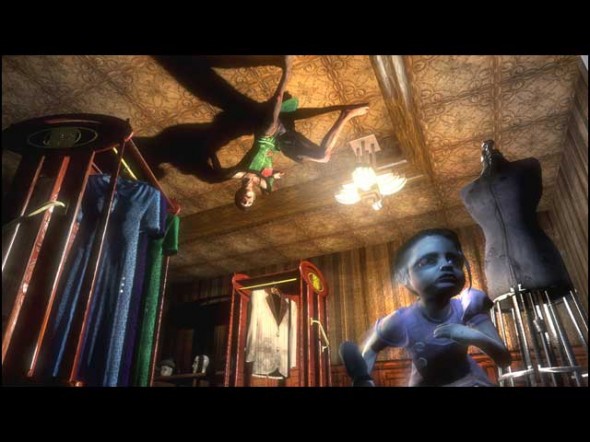 BioShock includes this sympathetic character in the form of Bill McDonagh, Andrew Ryan's chief engineer. He becomes enthralled with Ryan after working for him in the surface world:
"I met Ryan the day me and the lads were installing the bathroom plumbing up in his posh Park Avenue digs. 'Oi!' says he, 'what's with all the brass fittings? General contractor had me down for the tin.' 'Well,' I says, 'I supposed it's the contractor then who'll be bailing out your loo once a fortnight, is it? If it's price you're worried about, I'll be picking up the brass, so not to worry, squire.' 'And why would you be doing that,' says he? 'Well, Mr. Ryan, profit or not, no man bails water out of privies built by Bill McDonagh.' The next day I finds out, I'm Ryan's new general contractor."
However, the aftermath of the shootout in Rapture with mobster Frank Fontaine sours McDonagh. When Ryan seizes Fontaine's business holdings, rather than disposing of them officially, McDonagh sees it as more of the same-old mess that he fled the surface to avoid.
"Mr. Ryan, I believe in Rapture, but that doesn't mean we always win. Fontaine Futuristics is the biggest thing goin' in Rapture, so let me be plain. When we arrest that toe-rag Fontaine for his thieving and smuggling, we must make it clear that we won't touch his business interests. We sit on the council because these poor sods trust us… not because God gave us a chair."
Finally, as Atlas threatens the city with his guerilla sabotage—which is where you, the player, come in—McDonagh's messages to Ryan grow increasingly more desperate. McDonagh realizes that Ryan's betrayed his own ideals and has taken for himself the power that he despised. Further, in making ADAM freely available for his followers, Ryan's bred an army of monsters. McDonagh can't sit idly by:
"I never killed a man, let alone a mate. But this is what things come to. I don't know if killing Mr. Ryan will stop the war, but I know it won't stop while that man breathes. I love Mr. Ryan. But I love Rapture more. If I have to kill one to save the other… so be it."
Like Eddie Willers or Cheryl Taggart, Bill McDonagh is a poor casualty in the war between creators and destroyers. He's honest, he's loyal and he knows what's right. But that's not enough to save him.
IN WHAT COUNTRY IS THERE A PLACE FOR PEOPLE LIKE ME?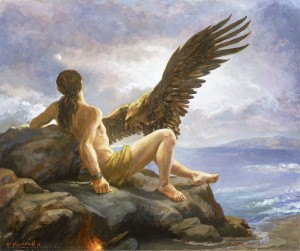 Atlas Shrugged speaks to everyone who's ever felt that he knows more of the answers than the world around him. It speaks to the fundamental desire to be left alone that all of us feel at times—to not owe anything to church, state, family or strangers. We all have the fantasy of friends or co-workers admitting how much they need us and begging for us to come back. Atlas Shrugged takes the fantasy one step further—a world that never realizes how much it needs us, until it's too late. We've already gone.
BioShock exposes the fantasy for what it is. Left to their own devices, the independent creators of Rapture resort to the violence, predation and parasitism that they decried on the surface. They readily make exceptions to their ideals when there's a precious resource—ADAM—on the line. The city of Rapture becomes just like the cities they fled: a detached elite waging war on an anarchic underclass. Only this one's darker, because there are literal monsters on both sides.
Email John at perich AT gmail DOT com.