[Today in the Think Tank, we tackle the Monster Ballad, so dubbed by the clever marketers at Time Life or wherever when they were trying to name their compilation CD. Google monster ballads if you want to find it; we're not dignifying it with a link.) You know the think tank drill: read the entries and vote for your favorite below—before Monday night! —Ed.]
"Don't Know What You've Got ('Til It's Gone)," Cinderella
by stokes
This is very nearly the platonic monster ballad. It has most of the classic signifiers:  the synth strings, the acoustic piano mixed waaaaay to the front, the guitar solo that's a little too classy for its environment, the delayed and portentious entrance of the drumset, and a general seriousness of purpose that never quite achieves a corresponding intensity of effect.  It's missing the all-important "cheese" or "truck driver" modulation, but we'll let that go in this case because of the music video, which supplies us with the following images:
Furthermore, Cinderella was a straight up hair band. When they were famous, it was for fast paced, aggressive metal. So although Cinderella is now known pretty much ONLY for DKWYG(TIG), at the time it was a chance for the bad boys of rock to show off their soft sides.
Now, whenever a hard rock band does a downtempo number, they must contend with the lead singer's voice. That singing which works belted out over blast-beat drums and detuned guitars does not work over strings and piano. Cinderella's particular solution was to have Keifer sing the way he normally does, and try to balance everything out with studio effects. Listen to it again: Keifer sounds like he's singing in the bathroom upstairs of the studio where the rest of the band is being recorded. It's actually kind of painful to listen to. But that tension–and even that pain–is to me a large part of what listening to a monster ballad is all about.
http://www.youtube.com/watch?v=nUA0ai0XxRU
"You're the Inspiration," Chicago
by Matthew Belinkie
Three years ago, stokes and I were contracted to write a book. It was an educational novel about a modern teenage girl sent back to Gilded Age Chicago. Neither of us knew anything about Chicago, the Gilded Age, or (as our high school girlfriends can attest to) teenage girls.
We found ourselves staring at some gaping plot holes the day before the deadline, so we armed ourselves with Snapple and Twizzlers and got to work. But around two in the morning, we found ourselves running out of steam with our heroine still stuck in the past, trying to hold off a mind-controlling alien while her fairy companion protected Eugene V. Debs (it's a weird book).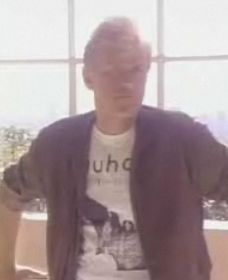 In desperation, I opened up iTunes and typed in the city we were trying to channel: Chicago. And that's when I heard it. Logically, I must have heard "You're the Inspiration" before that night. But in my exhausted state, it struck me as a revelation.
Musically, this hits every page in the Monster Ballad playbook. Choruses in perfect three-part harmony? Check. String section? Check. Key change? Two for good measure. And consider the embarrassingly-sincere lyrics:
You know our love was meant to be
The kind of love that lasts forever
And I want you here with me
From tonight until the end of time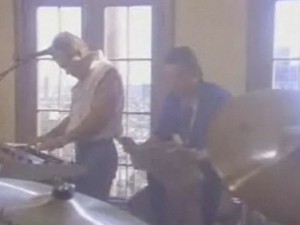 No man should talk like that unless he's giving his wedding vows. It's overwrought, overproduced, and over-the-top in every respect. And that, my friends, is the Chicago Way.
But I think Chicago is actually playing an elaborate musical joke on us. In the video, Peter Cetera wears a Bauhaus t-shirt (see above). That's got to be tongue-in-cheek. And there's one more telling detail. Chicago has a saxophonist, Walter Parazaider, but "You're the Inspiration" doesn't have a sax part. So Walter appears in the music video, reading a newspaper while the rest of the band plays (see left). It's self-parody. And that raises the possibility that the entire song is self-parody. How inspiring would that be?
Submitted for your approval, the valedictory monster ballad from the greatest of the monster balladeers, The Troubadour of Sayreville, Jon Bon Jovi. "Always" embodies, celebrates and mourns all that is beautiful about the monster ballad. Watch the deservedly monstrous video, which struck the first blow by introducing 14-year-old me to Keri Russell, lending the satin bra all the gleeful and forbidden sexiness it ever had.
As the opening lyrics hint, the song was originally intended as the pop single for the garbage-and-a-half Gary Oldman erotic thriller (that turned out to be as terrible an idea as it sounds) Romeo is Bleeding.
When Bon Jovi and friends saw the crapfest movie, they shelved the song, where it lingered until the greatest of all Greatest Hits albums rolled around a year or two later: Cross Road.
Bittersweetly, sublimely, "Always" is Bon Jovi hitting his vocal limit. As it makes its final vows to lost love, the soaring, effortless Spinto tenor of Slippery When Wet and New Jersey knows its weight. It's the last song that really shows Mr. Bon Jovi at the height of his powers. Despite being Bon Jovi's best-selling single ever (yes, "Always" was a bigger hit than "Livin' on a Prayer" ever was), it was only reliably and enthusiastically performed live for two glorious years.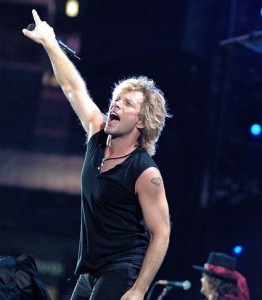 Cross Road was released in 1994. After the end of the band's tour in 1996, "Always" was pretty much removed from the catalog, as Bon Jovi no longer had the chops to sing it. You can get the crowd to sing along with "Livin' on a Prayer," but "Always," well, "when I die, you'll be on my mind," but you won't be on the set list.
The regretful lyrics echo with the sense of losses to come exceeding the losses already suffered – the knowledge that this might be the last big go-'round – and the resurgent furor that comes from fearlessly facing and carving it in giant letters on the musical equivalent of a five-story marble edifice.
This is where it captures everything good about the monster ballad – thematically, artistically, performatively. It's a song about a man driven mad by passion for a glorious moment – enjoying it and savoring it – imbuing it with what little permanence art can lend any of us at the same time he says goodbye.
Bon Jovi is still around, and he still rocks. Keri Russell is still around, and she's still beautiful. But "Always" is at once eternal and at once gone forever.
"The Banner of St. George," Edward Elgar, music; Shapcott Wensley, lyrics
by lee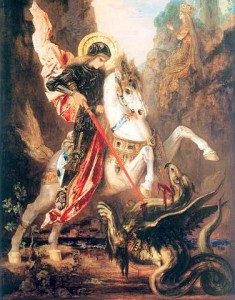 I fail to understand why my fellow writers all chose monster ballads without any actual monsters in them. To rectify this, I present "The Banner of St. George," an adaptation of the traditional English legend of St. George and the Dragon as "a ballad for chorus and orchestra." Written in 1897 by Edward Elgar and Shapcott Wensley, it predates every other monster ballad on this list by about 80 years. Clocking in at approximately 30 minutes, it outlasts even "November Rain," which runs a measly 9 minutes.
Full chorus? Check. Orchestra? Check. Monster? Oh yes. Not only is the dragon from the legend of St. George a, you know, dragon, it spreads The Plague across the countryside and devours sheep and children fed to it by the locals in a vain attempt to keep it appeased.
Is your lighter out yet? If not, prepare to do so upon reading these epic lyrics.
It comes from misty ages,

The banner of England's might

The blood red cross of the brave St George

That burns on a field of white!

It speaks of the deathless heroes,

On fames bright page inscrolled

And bids great England ne'er forget

The glorious deeds of old!
(I found these only after some extensive Googling. Apparently, Elgar & Wensley are somewhat less popular than other so-called monster balladeers Cinderella and Bon Jovi.) So add some English jingoism to the big pile of over-the-top that is this truly monstrous monster ballad. Lighter still not out? Listen to some clips here.
This is a monster ballad. The rest are just bollocks.
What is the most monstrous ballad of all?
November Rain (not in the article, but come on!) (46%, 19 Votes)
Always (17%, 7 Votes)
The Banner of St. George (17%, 7 Votes)
You're The Inspiration (10%, 4 Votes)
Don't Know What You've Got ('Til It's Gone) (7%, 3 Votes)
Other (leave a comment) (2%, 1 Votes)
Total Voters: 41
Loading ...