[This continues our coverage of NY Comic-Con 2009]
This was arguably the main event of this year's Comic-Con: Warner Brother was trotting out previews for three of its upcoming films: Watchmen (opens March 6), Friday the 13th (opens Feb 13), and Terminator: Salvation (opens May 22). Each preview was also accompanied by a Q&A session with select movie makers.
First up was the oh-so-highly-anticipated Watchmen.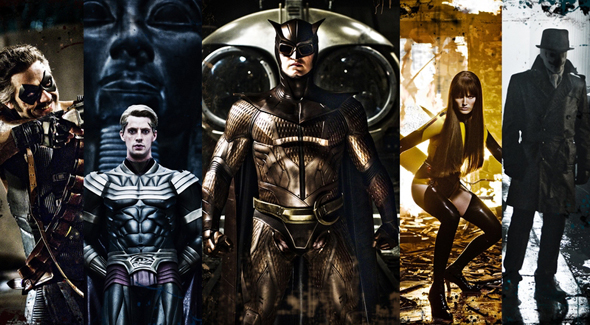 Spoiler-free first impressions of Watchmen, after the jump.
Dave Gibbons, the artist of the original graphic novel, came out to introduce the preview: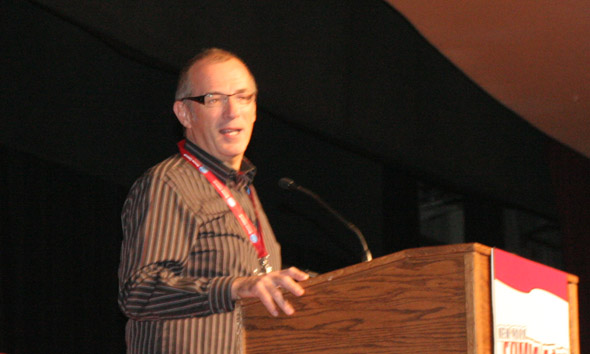 The promotional material didn't specify what the screening would be, so the audience was thrilled when Gibbons announced that we were about to see the first full 18 minutes of the film, as well as one additional scene. Too cool.
What was in that first 18 minutes, besides the first scene and the opening credits sequence?
Looooottttsss offfff slooooooooow mmmmmooooooottioooooooon.
Which should be no surprise to anyone who knows that Zack Snyder, director of 300, is at the helm of this piece, or for that matter, anyone who's seen the trailer. In case there was any doubt, let it be cleared up now: this is movie is going to be dark, loud, stylish, and heavy-handed. Don't take that the wrong way, though: those 18 minutes were exceedingly well done, but it remains to be seen if two and half hours of heavy-handed visual style will come together to make an effective film. Many would argue that 300 didn't, but at the least, I think we can be assured that Watchmen will be very nice to…watch.
The footage was also notable for how closely it hews to the source material. In the Q&A that proceeded the screening, Gibbons confirmed that the filmmakers were trying to recreate many of the panels from the graphic novel as closely as possible, and he did address head-on the allegations that the Watchmen is "unfilmable" by praising Snyder's faithfulness to the source and the attention to the little details that people will only be able to get when going frame-by-frame with their DVD remotes. He literally said that.
If you haven't read Mlawski's excellent article on the subject of the filmability of the Watchmen, I highly recommend you do so, because she essentially anticipates Gibbon's frame-by-frame argument by pointing out that reading a graphic novel allows you the time to absorb all of those little background details, whereas a movie keeps zipping along at the same pace.
So is Watchmen filmable or unfilmable? Well, it depends on your definition of "filmable," but I think people are really missing the point when they ask that question. Instead, they should be asking, "Does the film have the potential to faithfully adapt the graphic novel and tell its story in a compelling way?" I think the answer to that question is, yes, as long as slooooooooooooow mmmmmmmoooooottttiooooon followed by FRENETICACTION followed by slooooooooooooow mmmmmmmoooooottttiooooon doesn't get old.
Also of note: Gibbons did directly confirm an important detail of the ending which I won't reveal here; you can read all the gory details here if you're dying to know.
And lastly, Gibbons said that there's nothing stopping Warner Brothers from making prequels/sequels to Watchmen, which means that Watchmen Babies is still a possibility: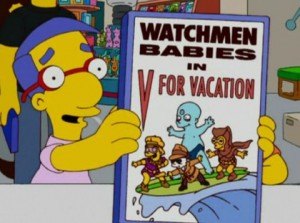 There's always hope…
Coming up next: McG comes off as far more articulate and intelligent than Charlie's Angels would have you believe. Oh, and new Terminator: Salvation footage!