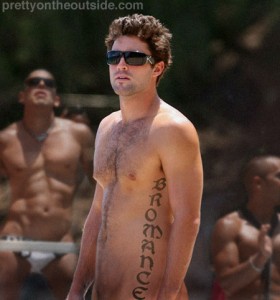 On the same night that MTV unleashed The City upon the world, the network also premiered Bromance, a reality competition show in which 9 dudes vie to be the new best friend of Olympian offspring/former Hillster Brody Jenner. The ostensible motivation for the show is the increasing visibility of bromances- male homosocial relationships characterized by reasonably high levels of physical and emotional closeness. Although the concept of homosociality itself doesn't imply anything other than a social relationship between two members of the same sex, a number of gender/queer studies theorists have argued that muted sexual desire has long been an intrinsic component of homosociality in Western culture, and that shifts in what kind of behavior society defines as "gay and therefore bad" have historically driven changes in the prevalence of homosocial romantic friendships.
Indeed, a number of mass media trend pieces have postulated that the recent surge in the amount of bromantic behavior depicted in film and television has been driven in large parts by the integration of a number of aspects of gay subculture into the mainstream, which in turn has lead to more widespread social acceptance of man-on-man affection.
Is the cultural moment of the bromance really indicative of increased mainstream acceptance of homosexual norms and behavior, or is it just the status quo in new, more homoerotic clothes?
Although MTV's Bromance purports to be about male bonding, it is absolutely no secret that the staging of the show is directly inspired by a long line of TV dating shows. In the earliest TV dating shows such as the Dating Game, Love Connection, Change of Heart, and even Blind Date, it was assumed that the contestants in the show were looking for love (or at least some kind of romantic or sexual relationship). During the reality-show explosion of the early 2000's this assumption was shattered by a variety of more cynical dating shows such as "Who Wants to Mary a Multi-Millionaire" , "Joe Millionaire", and "My Big Fat Obnoxious Fiancé" which added the promise of financial gain to the quest for true love. The quasi-celebrity dating shows (of which Bromance is a close cousin) offer a weaker version of this type of incentive: developing a relationship with someone who once used to be sort of a little almost famous, and the possibility of using that connection to jumpstart a career in music/film/television/inexplicable famousness. Some runner-up contestants from these shows, such as New York from Flavor of Love and the Italian dude from A Shot at Love with Tila Tequila have won the greatest prize possible in this arena: being large enough quasi-celebrities that they got to host their own quasi-celebrity dating show.
The effect of the strong non-romantic incentives built into this type of dating show is that both the love-seeking quasi-celebrity and many of the contestants go to excruciating lengths to emphasize how important finding true-love is for them. Throughout "Flavor of Love" and "Rock of Love", contestants frequently attempted to differentiate themselves from other contestants by claiming that they were "really there for Flavor Flav/Brett Michaels", and on numerous occasions Flav/Brett used evidence of "being fake" (usually either prior participation in other reality shows or an ongoing relationship with a supposed ex-boyfriend) as sufficient cause to eliminate the contestant in question.
This obsession with authenticity is magnified by the premise of Bromance. The setup of a straight guy holding a competition to find a close male friend is made possible by a pithy and pervasive social norm (which the show itself hasn't yet explicitly acknowledged): Bros Before Hoes. The assumption behind this "code" (which can be seen running through nearly all of the Urban Dictionary definitions of the phrase) is that male bonds are permanent, deep, and premised on mutual understanding and respect, whereas male-female bonds are capricious, shallow, and ultimately unfulfilling. Therefore if a man sacrifices his homosocial friendships in favor of a romantic relationship with a woman, he will be left in the lurch when she inevitably abandons, betrays, or tries to change ("pussywhip") him.
The most interesting aspect of Bromance is how closely the power dynamics at play between Brody and the "bro-wannabes" echo those in more explicitly romantic dating shows, no matter how much Jenner insists that he is looking for a trustworthy friend whom he considers to be his equal. Critical theorists (particularly in the world of feminist film theory) articulated the concept of "the male gaze" to describe common representations of gendered power relationships in film, in which the depiction of male sexual desire involves the visual objectification of a woman. Given that the main challenge in the Bromance premiere was for the contestants to recruit two sexy ladies to come to a Frederick's of Hollywood lingerie party hosted by Jenner , it shouldn't be a major surprise that the male gaze surfaced in full force. What is extremely surprising is that the primary objects of Brody's gaze were the male bro-wannabe contestants, not the "sexy lingerie ladies". The centerpiece of the lingerie party challenge was not the contestants joining Brody in evaluating the hotness of the female guests, but rather was each contestant delivering a toast to Brody, who observed the proceedings from a slightly elevated VIP section.
In this segment, shots of the contestants performing their toast were intercut with close shots of Jenner's face while he watches and judges them, along with with brief "confessionals" in which Jenner or individual contestants recap the challenge while talking directly into the camera. Although this type of confessional is a hallmark of this type of reality dating show (and can probably be traced even further back to the first seasons of The Real World), the differences between Brody's confessionals and those delivered by the contestants are worth noting. In the moments in which Brody breaks the fourth wall, it is usually to ridicule, undercut, or occasionally grant praise to something one of the contestants has done. In contrast, when contestants speak to the camera, they constantly express their desire to please Jenner and to receive his approval. To further hammer home the stark difference in status between Brody and the contenstants, the bro-wannabes have to deliver their anxiety-ridden soliloquies while sitting on the toilet (which some genius producer named the "can-fessional". Har har!)
These power dynamics also inform much of the sexual tension that permeates the show. As in many other hyper-masculine environments (such as fraternities and military units), both entry and exit from the group is marked by a fusion of bodily humiliation and homoeroticism. At the beginning of the episode, Brody hires security guards to roust the sleeping contestants from their hotel beds and drag them, hooded and in their underwear, to the "Bromansion" (the garish prefab frat house where they will live for the duration of the show). The dudes are then lined up on their knees and then the hoods are whisked off to reveal… Brody, in all of his shiny-faced heterosexual splendor.
http://www.youtube.com/watch?v=UNXepPe3bw8
The elimination ceremony is staged in a similar manner, but in a freaking hot tub, with all of the bro-testants lined up nearly on top of one another on one side of the tub, and Brody facing them on the other side, making them sweat while he reveals which of them still have a chance to win his favor and which ones have to go back to their hum-drum bromance-less lives.
With all of this near-nakedness, hottubbery, and rampant homosocial desire, what did Brody and his cronies consider the "gayest" thing that happened in the episode Well, of course it was when Michael, the one contestant who is actually gay, gave Brody a birthday card at the lingerie party. Although Brody feigned politeness to Michael's face, his comment to the camera tells the real story, "A greeting card? At a Lingerie Party? Really?". Later, Brody and his "right hand man", Frankie Delgado mocked the gesture, while Michael looked on in soft-faced sadness.
http://www.youtube.com/watch?v=LG8DnbjSDL0
As a result, in the world of Bromance, gayness (in the negative sense) is identified primarily with being needy and clingy; not surprisingly, these are the same qualities that are referenced as being typical of women in many of the urban dictionary definitions of "bros before hoes". Indeed this dynamic is precisely what characterized a lot of Brody and Lauren Conrad's tortured relationship/friendship on the Hills, and is in the background of Brody's assertion in the show's intro that what separates a bro from a female friend is that there is "no drama" and "no games".
More generally, what this series of events reveals is that bromance (both the show and the broader cultural phenomenon it may or may not reperesent) hardly represents a move away from homophobia, but is rather a redefinition of what constitutes appropriate heterosexual homosocial behavior, vis a vis deviant homosexual behavior. Michael himself recognized this dynamic for what it was, and became visibly more and more uncomfortable throughout the course of the episode,  eventually pulling Brody aside to tell him that he was quitting the show and going home. What the sequence of events leading to Michael's departure from the show indicates is that homophobia and heteronormativity have not disappeared in bromantic culture (and the broader popular culture in which it is embedded), but rather that these norms have mutated and fused with a particular form of misogyny. Alpha-dudes like Brody and company might now be going on man-dates, hugging it out, and sharing their deep feelings with each other, but that doesn't make their behavior any less brotesque.