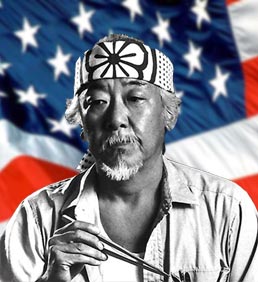 "Hey, wax on, wax off! Hey buddy, wax on, wax off!"
If I'd heard that all the time as a kid, I'd probably get pretty damned tired of it, too. Especially if I were hyper-aware that I was hearing it because I was an Asian kid. And not Japanese either, Goddammit! I'm not, but I sympathize.
There's no question that Kensuke Miyagi occupies a special place in the pantheon of Asian-American stereotypes, and that he's a locus of cultural antipathy, especially among Asian-Americans.
But that antipathy is unfortunate. Not just because it is born of pain, but also because Mr. Miyagi as he appears in The Karate Kid (and not as he appears in the larger cultural phantasmagoria, or for that matter, the latter Karate Kid sequels), is not nearly so narrow or offensive a caricature.
A defense of Miyagi, and more on why that defense is important, follows…
Proud to be an American
Mr. Miyagi is a guarded man, so most of what we know about his personal life comes from one stirring scene. Drunk on sake in remembrance of the anniversary of his wife's death, Miyagi recalls his days as a soldier in WWII.
He fought for the American army, an Okinawan against Japan. He shows his pride at his service without hesitation — when he urges Daniel to say "Banzai" correctly and with passion as he drinks, it reflects how seriously he takes these memories.
We learn the saddest truth of Miyagi's past — that, while serving overseas, his pregnant wife was shipped to an Japanese internment camp run by the U.S. government, and while there, presumably due to poor medical care, she and her son died in childbirth, leaving Miyagi a widower. He never remarries.
Cultures frequently lionize symbols of their oppression, persecution or suffering, but despite being the most famous (and perhaps only) American major motion picture character prior to 1990 to have suffered from anti-Japanese policies in the United States, Mr. Miyagi is scorned and rejected by the bulk of Asian Americans. A big part of this is — of course — that Asians are all not the same. Many East Asians of a variety of ethnicities don't have a ton of sympathy for the Japanese between, say 1933 and 1945. But I don't think that's all of it — Miyagi is rarely criticized for being Japanese; he's instead criticized for perpetuating a variety of stereotypes about Asians.
For the record, white people didn't care that The Karate Kid was startlingly progressive to tackle this issue. But the mid-80s were marked by paranoia over an encroaching economic and financial Japanese menace, and nobody noticed the injustices in Miyagi's backstory; they just noticed he was cool. These days, that fear wears a different foreign face, but still endures — I don't detect a lot of popular support for ideas of race in Don't Mess With the Zohan — but that's another story for another time. Like when I can watch it for free on late-night television and don't have to spend money to rent it.
The Other, from Another Mother
Mr. Miyagi's biggest cultural fault is that he strengthens the sense of Asian Americans as "the other" — they have a genetic inability to use articles in their sentence, they live on the fringe of society as lower class oddities, and they have magical karate powers. All these things are, of course, not true, but they resonate in our culture. And in our culture, collectively, they are a Bad Thing. They keep people from getting jobs they're qualified for, they keep new generations of Americans from integrating with society, they lead to frustration, disengagement, and a variety of other social failures.
But I don't think they're bad in The Karate Kid.
The Karate Kid is about being "the other." It's easy to forget just how old-fashioned (though not, I think, inaccurate) The Karate Kid is at treating this subject. As a >gasp< Italian from Jersey in Pasadena, Daniel Larusso is as much a victim of stereotyping and exclusion as Mr. Miyagi. There's some question that Ralph Maccio and Elizabeth Shue won't be able to date because of his race.
The point of the movie is that first, Daniel sees Miyagi as "the other" — the strange Chinese guy or what have you — but when he faces the problem of being "the other" himself, he recognizes Miyagi's strength and wisdom, accepts him as a mentor and surrogate father figure, and proceeds to kick the crap out of the Cobra Kai (spoiler alert!).
The Karate Kid is about getting past stereotypes and finding the strength to stand up against the maddening crowd. If Mr. Miyagi didn't exemplify these stereotypes, the movie wouldn't make any goddamned sense.
Furthermore,The Karate Kid touts a worthy value that contemporary culture finds far too underappreciated — that the opinions of the maddening crowd don't really matter. In our focus to fight for social inclusion, which is just and well-advised, we too often legitimize the complaints of people whose opinions should not trouble us.
Here's an example from my admittedly fairly lucky and free of prejudice life. I'll make it silly so as not to pretend to be a real victim of these things.
Contemporary solution:
Douchebag: Hey Fenzel, all you German bastards are Nazis! Why don't you go invade Poland?
Fenzel: Actually, a lot of people like me have German-American ancestors who fought for the Allies in WWII, and even if they don't, a lot of the people alive today are trying their best to create a new legacy of generosity and compassion to hopefully start again after such a cruel and gruesome past.
Karate Kid solution:
Douchebag: Hey Fenzel, all you German bastards are Nazis! Why don't you go invade Poland?
Fenzel: Stay out of my business, douchebag! (CRANE KICK TO THE FACE!!!)
The point of this borderline-offensive and Godwinning example? Why does Mr. Miyagi have to go to any sort of lengths to ingratiate people who have proven to him that they don't care if he or his family lives or dies? Why does Mr. Miyagi have to apologize for his penchant for gardening or for the way he talks? If people aren't willing to wait long enough to find out that Miyagi served in the U.S. Army and has a big collection of classic cars before decrying him as unamerican, why should he care what they say?
Why do we legitimize Miyagi's critics by insisting that he's wrong, when the people who look and act like that in real life bear no shred of common guilt for the prejudices held by a broad array of turdwads?
Admittedly, there's more than a slight resemblance between The Karate Kid and Uncle Tom's Cabin, but there are important differences. The white guy in The Karate Kid is also a victim of prejudice. Uncle Tom isn't exactly known for jump-kicking the establishment. Mr. Miyagi has a much nicer house. The montages are far superior.
No Menu at this Restaurant
In the quest to defend Miyagi from his assailants, like he so bravely defended Daniel in that random parking lot brawl, let's not illegitimize the problem. There is indeed a big problem with Hollywood.
Miyagi is pretty much the best Hollywood did in terms of Asian characters for a really long time — pretty much until Harold reached the White Castle and shattered the bamboo ceiling. In the 80s, it was pretty much Miyagi, "Data the Younger and Non-Robot," Short Round, and Long Duk Dong.
In failing to produce anything better (or, Hell, anything else), Hollywood in the 80s created and perpetuated Asian stereotypes that have a tight hold on the American psyche to this day (the ones from earlier on were much different — American WWII propagandists certainly didn't portray the Japanese as bookish or unable to hold their liquor).
But I think it's important to note that, internally, The Karate Kid isn't to blame, nor is Pat Morita. The Karate Kid was an attempt at pushing this issue forward, of inviting Asian Americans into mainstream American culture. Unfortunately, it turned out to be a local high-water mark (although Gung Ho! Probably pushed slightly higher), and I'd imagine that Asian people must have been hoping for more at the time.
And unlike so many sequels, Karate Kid: Part II actually does a better job of tackling social issues than the original. It doesn't pander, and it probably did more for any positive perception of East Asia Americans held between 198? and Crouching Tiger, Hidden Dragon than any other movie.
Sign On, Sign Off
So, I say to people who've been on the wrong side of a "Wax on wax off" in their day, sure, recognize and impugn the larger problem with Hollywood, but please give Miyagi a pass. He's on your side — struggling with the same struggle you are, and he has a variety of cool personal qualities if you get to know him as a character. The way that random jerks chose to interpret the movie isn't the only way the movie can be interpreted.
If you want to go down that road, there's one thing you can do that will help more than anything else. Like so many times when big blockbuster characters are blamed for social ills, the best way to see if the charges have credence is to actually watch the movie.
On a final, lighter note, here's my favorite Karate Kid-inspired YouTube video of all time (which I think I've already posted a bunch of times, but here it is again):
Let us not become the very Cobra Kai that we seek to jump-kick, for then we would only jump-kick ourselves.