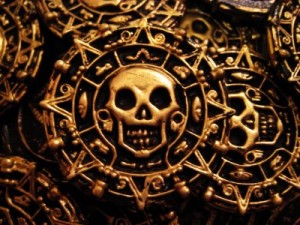 As much as I'd like to, I can't take credit for the nitpicky complaint that follows – it was pointed out to me years ago by an old co-worker of mine named Jory. And now it seems so glaringly obvious I can't believe no one making Pirates of the Caribbean noticed.
Specifically, I'm talking about the climactic duel in the first film between Captain Barbossa (Geoffrey Rush) and Jack Sparrow (Johnny Depp). Here's the setup: Barbossa and Sparrow are both cursed, and neither can be killed or even injured until the Aztec gold is returned to its chest, along with the blood of the person who took it. There are two pieces of gold still missing: one taken by Will Turner's father (currently turning into a crustacean on the Flying Dutchman, so Orlando Bloom's blood will do the trick), and one taken by Jack Sparrow right before the swashbuckling broke out.
Let's see what unfolds, shall we? Video after the jump.
http://www.youtube.com/watch?v=RGdBeZI_INY
Okay, here are the important events in what you just watched:
Sparrow cuts his hand to get blood on his coin, and then tosses it to Will.
Sparrow shoots Barbossa.
While Barbossa is trash-talking, Will cuts his own hand and bloodies the second coin.
Will drops both bloody gold pieces into the chest.
Barbossa drops dead.
Okay, are you all seeing the problem here? Barbossa gets shot BEFORE the curse is lifted. Therefore, the shot shouldn't have counted.
But perhaps damage inflicted during the curse becomes real (and therefore fatal) after the curse is lifted? A nice theory, but it doesn't explain this: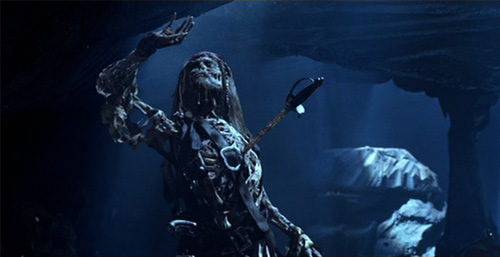 Earlier in the fight, Sparrow was impaled. But when the curse is lifted, he's peachy.
So here's my best attempt at explaining what happens. Zombie pirates have a "healing factor," a la Wolverine. You stab them or shoot them, and the wounds quickly disappear. However, if the curse is lifted before a wound heals, then the wound "counts."
Is anyone out there really happy with that? Yeah, me neither. So I decided to solve the problem by re-editing the scene myself. In my version, Sparrow waits until the moment the coins hit the chest, then fires:
Jory, if you're reading, that was for you. Arrr.
Bonus Nitpicking: When Barbossa falls backwards, an apple dramatically tumbles out of his dead fingers. But when, exactly, did this apple get into his hand? After the curse is broken, he drops his gun, and rips his shirt open with both hands. So presumably, he'd have to grab the fruit with his right hand while he says "I feel… cold." Which I guess isn't impossible, but seems unlikely, doesn't it?