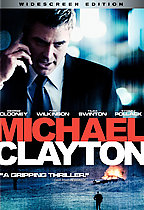 Oscar® week continues at Overthinking It with still more six word summaries of Best Picture nominees. I tried to tell the guys to write even if they don't know what the hell they're talking about, but a couple of them were scrupulous and couldn't help but admit (in six words) that they hadn't seen Michael Clayton.
Belinkie
Wait, lawyers are sneaky? Gee willickers!
Bizarro Erin Brockovich. (Only took three.)
Stokes
I did not see this movie.
Fenzel
I didn't see this movie either.
Sheely
Take Syriana; replace oil with lawyers.
Wrather
Greed bad. Clooney good. Oscar, please.