The Christmas Doctor
Hallmark
By Peter Fenzel
Watch a Hallmark Christmas movie for the first time this year and you too may discover that Holly Robinson Peete of 21 Jump Street, Hangin' With Mister Cooper, and For Your Love is a titan in a snow-dappled world you've never visited. She's starred in six Hallmark Christmas movies and her own Hallmark mystery series so far, including two new ones this year, filmed back to back during the Covid-19 pandemic.
It's easy to see why Hallmark has made Peete a regular; in addition to her generational recognition, her effortless onscreen affability transforms the classic Hallmark heroine from a stodgy-ish, distant career woman visiting a small town who might find something she never knew she was looking for, into a friendly, approachable, sympathetic career woman visiting a small town who might, just might, find something she never knew she was looking for.
Yes, the core Hallmark plot keeps ringing the changes. But were it not for Peete's ready ease with the genre, The Christmas Doctor might pull itself apart between its fantasies and realities.
The reality is medical. Dr. Zoe (Peete), the eponymous Christmas Doctor, works in locum tenens: rather than practice in any one place, she travels to care facilities and substitutes for doctors who are unavailable to practice or who otherwise require assistance. She does so because she is a military veteran with difficulty reintegrating into civilian life. Trauma haunts her: she lost a young patient she seemed to connect with and care about deeply and desperately wanted to save.
Dr. Zoe is hired for a job on Christmas, in no small violation of medical ethics, by a country doctor in the fictional upstate New York town of Willbrook who was this deceased patient's father. Nearing the end of his career, contemplating the end of his life via birdwatching, and in need of a long-delayed surgery, this older man seeks a connection with this woman who saved his son before she lost him. He leans on her in a pretty unfair way to do a whole lot of emotional as well as professional work, which Peete's character does with plausible compassion and generosity of spirit, suggesting, perhaps, that women of color are going above and beyond in the real world in the frequent incidence that they take on extraordinary emotional work for white people.
This movie includes a slide show about the arc of the life of a medical professional and a toast to healthcare workers and first responders that is a clear nod to the ongoing Covid-19 pandemic, though a nod made with a wink, as there is no Covid in Hallmark Land.
Then the fantasy. In this small town, Dr. Zoe meets Luke, a charming, handsome computer engineer and web developer who does most of the technical support for the town's private and public institutions. In a not especially shocking turn for Hallmark, he is a widower with a teenage daughter who has not been able to open his heart to love since the loss of his wife. In a shocking turn, he is not a foot taller than his love interest. In a more shocking turn, he is Black.
That's not to say that it is unheard of for a contemporary Hallmark Christmas movie to star two Black actors. Nor is it implausible that the two would fall in love – they are attractive and charming characters who are in the right place and the right time and have solid chemistry. But it strains credulity to the point of breaking that Dr. Zoe and Luke are two of the only Black people in this overwhelmingly white town in upstate New York, and they never mention it once.
And by "it" I don't mean the peculiarity of their situation or how they might connect or commiserate over it. I mean the words "white" and "black" are not used in reference to race even one time in this entire movie by anyone.
Of course I know why — even to the large extent that Hallmark Christmas movies are meditations on grief and loss for the old looking toward the young for hope and continuation, they are in the comfort business. Talking about race is the defining American discomfort. And surely there are many people who would immediately say it is fine and glad that it isn't discussed. And Holly Robinson Peete is thriving in this environment, so she knows more than I do about it.
But it leads The Christmas Doctor, I think, toward two misreadings.
First, that this town is a supernatural idyll. Many of the towns in Hallmark movies are overtly magical (such as Evergreen, VT, the setting for four of Holly Robinson Peete's other Hallmark Christmas movies). Maybe this one is too. Maybe, magically, race does not exist as a social dynamic in the same way. Hallmark could be showing us an aspirational vision of what we might be — we might have romantic movies where the leads are Black, everything else is the same, and it isn't a big deal at all. A modest dream as far as such dreams go, but appropriate for the occasion? Perhaps.
Second, and I think more interestingly, that racial dynamics are in play, but they are discussed only in private, even to the point that the audience can't see it. Early in the movie, the town's patients decline to see Dr. Zoe, looking instead for the familiar white male doctor. And that might be explained by their close relationship with him, but it is hard not to read the scenes as carrying an edge of "you're not from around here" toward the sinister sort.
And when Dr. Zoe saves a standoffish, blonde, alabaster-skinned patient from her heretofore unknown nickel allergy, the patient rushes in for a hug. The shift in intimacy is uncomfortable, with both the standoffishness and the intense friendliness suggesting a measure of curious disrespect.
I would have loved to have heard Holly Robinson Peete's take on the subject, but the only interview about the movie I found with her focused on the importance of locum tenens doctors and Covid-19 mitigation on movie sets, as well as her son RJ's new World Series ring (he has special needs and it was unclear if he could stay employed as an adult, but he has a job with the Dodgers and some new hand hardware from their victory, which is pretty awesome).
So perhaps it is art imitating life. Because if the press junkets for The Christmas Doctor laser-focus on physicians who go where they need to go and ignores the lead's perspective on the notable racial dynamics of being Black in a Hallmark world, then perhaps it is not a stretch at all that the movie does as well.
This is, by the way, the first Hallmark or Lifetime Christmas movie I have watched without an ornament decorating scene. It is serious about what it is about, both as a movie about doctors and as a well-made second-chance romance. It is not very Christmacy. I suspect if you want the latter, Peete's other movie this year, Christmas in Evergreen: Bells Are Ringing (a.k.a. Christmas in Evergreen 4) will have just what the Christmas Doctor ordered.
Magic: ★☆☆☆☆
Everything takes place with just that slight softness of rose-tinted unreality, but no actual magic.
Family: ★★★★☆
This is one of the few movies of this sort where the family makes multiple reasonable compromises to help the person with the career issue. Which is kind of nice.
Romance: ★★★☆☆
The romantically involved adult characters in this movie might conceivably at some point sleep with each other and enjoy it.
Self-awareness: ☆☆☆☆☆ or ★★★★★
No idea which.
---
The Lego Star Wars Holiday Special
Available on Disney+
By Mark Lee
Star Wars is complicated; Star Wars contains multitudes. What started as a fairly self-contained set of three beloved films has metastasized into a sprawling media juggernaut full of self-contradictions, warring fanbase segments, and a general sense that this has all gotten to be a bit much.
In this context, it's interesting to see Disney give Star Wars fans two holiday gifts in late 2020, both seemingly tailor-made to smooth over some recent rough patches. The first was the second season finale of The Mandalorian, which, without spoiling anything, managed to make pretty much everyone happy with its depiction of a certain familiar character. The second was the Lego Star Wars Holiday Special. This was never going to be a high-stakes affair like The Mandalorian, but it still manages to contribute to this Healing Moment in an important way: it shows that the studio knows how to have a little fun at its own expense.
As should be obvious with the Lego-based presentation, this is meant as an exercise in play and not as a canonical entry into the Star Wars universe. As such, it's full of digs at, shall we say, some lesser-loved moments in the franchise: Maclunkey, shirtless Kylo Ren, and of course, the existence of the original 1978 holiday special itself. The laughs provide some much needed catharsis after so many years of Star Wars taking itself very seriously, and its fans even more so.
And yet the holiday special misses the opportunity to go after the most controversial Star Wars story decision in recent years: the reveal that Rey was Emperor Palpatine's granddaughter in The Rise of Skywalker. Through Back-to-the-Future-esque time travel hijinx, the two actually manage to meet face to face, and yet this is never brought up. Meanwhile, Kylo Ren meets his grandfather and idol, Darth Vader, and this is farmed for plenty of laughs. The absence of any sort of Rey-ckoning is highly conspicuous.
So perhaps not all wounds are ready to heal just yet. Perhaps we'll try again next year on Life Day.
Magic: ★★★★★
Multiple characters travel through time and meet different versions of themselves without the space-time continuum collapsing, which is pretty impressive, even for the galaxy's most powerful Jedi and Sith Lords.
Family: ★★☆☆☆
Grandad Darth meets Grandson Kylo, and yet Grandpa Sheev is denied the joy of getting to know Granddaughter Rey? It was staring them right! In! The! Face!
Romance: ★★☆☆☆
I swear I am not making this up: Maz Kanata greets Chewie as she did in The Force Awakens–as her "boyfriend"–and then the two of them roll offscreen in a tight embrace. What happens after that is left as an exercise to the viewer.
Childlike sense of joy that can only be had by a crazy jumble of Legos on the living room floor: ★★★★★
Much like the first Lego movie, the Lego Star Wars Holiday Special captures that chaotic sense of play pretty well. It's not supposed to have any sense of logic or order; it's just supposed to be cool to slam these toys together while improvising a narrative to loosely tie things together.
---
Christmas Tree Lane
Hallmark
By Peter Fenzel
Watching this cluster of latter-day Christmas movies has taught me a lot. One such lesson: the title of a Hallmark Christmas movie may give you some notion of the premise, but won't clue you into its tone or quality. And so here near the end, Christmas Tree Lane, the one with the most disposable title, is the best and most interesting Christmas movie I've seen so far this year.

Oh, it has its absurdities, especially in where it pitches its political tent: a Christmas-themed retail district in Denver with a small-town feel is slated for demolition, to be replaced by "creative spaces for media and tech" (booo!!!)  Its only hope that the architect who discovered a grandfathered zoning exclusion can instead convince his board of investors (and his father) to preserve the retail space as part of a mixed-use luxury condo development (yay!!!).
If this sounds suspiciously like an actual plot, with conflict grounded in an issue with multiple perspectives and identifiable real-world stakes, it is.
And our career-minded woman hero's personal stakes are also much more grounded and reasonable. She is not visiting a place she's never been and waiting for things to happen to her – this is her neighborhood, and she is leading meetings to brainstorm solutions. And the b-plot loss of "Christmas magic" so common in these movies folds and resonates with all the other plots. As a small business owner who runs a small music shop and teaches lessons, she has over time given up on writing and performing her own songs, even as she is challenged by the arrival of this real estate development firm to own and make real the traditions she values, not to just rely on them being provided by others.
The male lead is not a mannequin for 50-length jackets either, he's a Capulet to her Montague, but sympathetically connected to her: the son of the investment firm president, who falls for Christmas tree lane, and for our heroine, and does his best to support her and it, to de-Scrooge his father, but all from within the real estate company. Is there ethical Christmas in capitalism? Can there be love? It's the question Christmas Tree Lane dares to ask.
The life choices people look to make are plausible. We're asking people here to live and work in Denver, not at a seasonal resort in the middle of the woods. But really three things made me fall in love with Christmas Tree Lane more than anything else:
The lead characters are good looking, but legitimately weird and awkward. Any story this invested in Christmas asks for a huge suspension of disbelief in the motives of the characters, and the performances here close an impossible gap. Alicia Witt puts in a tremendous acting performance here that I doubt will ever get the recognition it deserves, as a single music teacher who has checked out of her youth too early and is deeply, personally invested in a seasonal Christmas retail district with no feasible future business model.It is perhaps not a coincidence that Witt's credits include both the original and remake of Twin Peaks, as well as David Lynch's Dune, plus solid quality TV like Friday Night Lights, Justified and Orange is the New Black. It's nothing experimental, but it makes sense that this woman is so disjoined, as she is so off-beat. But so earnest and passionate as well. The other actors also imbue the story with a feeling of reality it desperately needs, but Witt is the star.
The Christmas activities in this movie make sense as things people of the ages represented would actually care about. There's no ad-hoc ornament decoration party, but there is a welcome motif of resisting "sugar" – a meet-cute spat about whipped cream in seasonal coffee drinks that comes back as a heartfelt discussion of traditional Christmas pastries. Holiday music and decorations are meaningful to the story. The Christmas atmosphere is a player in it all.
Most of these Hallmark movies involve a woman in adulthood approaching the next phase in her life (usually implied motherhood) looking to the older generation to understand how and why they did what they did. The stories have felt so dry and sad that I've assumed the older people must be the audience, and the younger people are surrogates or puppets to reassure them that they are cared about. But in this movie when the young people regard tradition, I really felt like they were looking for something that mattered to them, and reflected something they needed. It is not about old people remembering justifying themselves by seeing the young follow in their footsteps, it's about young people who have been looking for footsteps to follow and fighting for them.
Also, the chemistry and the music are solid.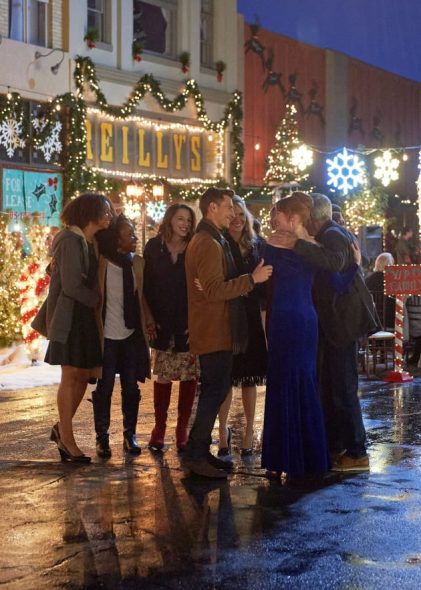 So yeah, if you're going to watch only one more Hallmark Christmas movie before this whole thing is over, I recommend Christmas tree lane. And please leave in the comments your take on this generation's George Bailey problem, and what to do to resolve the conflict and wishful thinking about the future of a big city retail district that apparently doesn't operate 10 months out of the year, and how the story might have been resolved if the big concert at the end hadn't…
Oh, but that would be unwrapping your present for you! You'll have to see for yourself.
---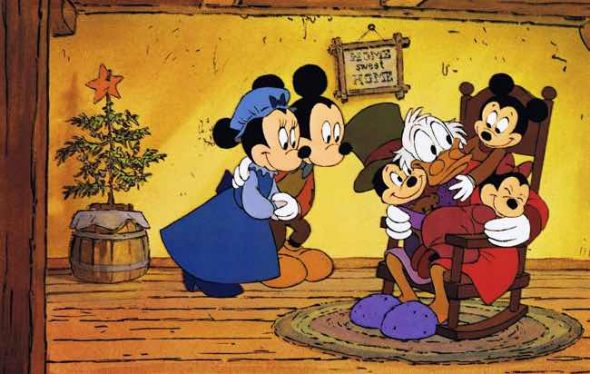 Mickey's Christmas Carol
Disney+
By Matthew Wrather
It's less than half an hour long, but you could make the argument that Disney's 1983 adaption of Dickens's 1843 classic is the canonical one for our time—all the more now that it's available on the streaming service that must, in a pure utilitarian calculation of entertainment per dollar, rank as the best of them. Mickey's Christmas Carol, Oscar-nominated as an animated short film in 1984, was the first time in three decades that audiences had seen Mickey Mouse on the big screen, as Bob Cratchit, the clerk (pronounced "clark," if you please) to one Ebenezer Scrooge. (TIL that Scrooge McDuck was not created for this cartoon, despite being named for Dickens's miser, and that he'd had a four-decade history before he came to portray his namesake.)
For what it's worth, this is the third adaption of A Christmas Carol I've watched this year; the second was A Nashville Christmas Carol, and I wrote about it in Part 3 of this series. #1, both chronologically and qualitatively, is Jefferson Mays's truly breathtaking and terrifying one-man rendition, which I saw live in 2018 and which is available via streaming through January 3. It is my favorite Christmas Carol and also my favorite one-man Christmas Carol, which is saying something, because I saw Patrick Stewart do it in the 90s. (Captain Picard was glorious and bombastic, but nowhere near as evocative or trenchant.) Charles Dickens toured his own one-man recitation of the novella for years during his lifetime; honestly, I doubt even his could have been an improvement. Scrooge-like, I wish I had an affiliate link. I don't. Even so, buy this thing and watch it.
In Dickens's text, Scrooge is the perfect industrialist. He has forsaken any human kindness or fellow-feeling for the black-and-white calculation of profit and loss. He is not unkind out of any relish for unkindness; he merely sees unkindness as the most profitable course. How surprising, then, in a children's entertainment, to discover that this Scrooge McDuck is more like a sociopath, or a sadist. He doesn't just grind, he cheats, and enjoys cheating in proportion to the destitution of his victims. "Those were the days!" he says with longing to Marley's ghost (rendered here as Goofy), when the specter reminds of him of how they used to stick it to the poor.
I realize that this is ironic, or at least intended as comedy; if there is a medium in which which you can put a hat on a hat, it's a Disney cartoon. Still, the story of a man who has forgotten his humanity is different from the story of a man (or duck) who has forsaken his. And it's harder going in a 30-minute adaption, because Scrooge's conversion (which already, let's admit, is a little thin) seems that much more unconvincing. There are some nice sequences of animated slapstick, but nothing particularly exhilarating or memorable. (With apologies to fans of The Great Mouse Detective, this was the fallow period  of Walt Disney Animation Studios; it would be half a dozen years until The Little Mermaid.) The "Christmas Future" segment is appropriately terrifying, with Peg-Leg Pete as the Spirit. Scrooge falls down into his own grave and is engulfed by infernal flames emanating from his coffin. Tiny Tim (a tiny version of Mickey) is adorable.
As the Holiday Movie Challenge draws to a close, I'm drawn to observe the one link this film has to the earliest days of Disney Animation: Clarence Nash performing Donald Duck as Scrooge's nephew Fred. He was at the time the only surviving voice actor of the original crew, and this was his last performance as Donald. Unrelated to the film, but related to the theme of old, legendary performers, in 2020 we lost actress Olivia de Havilland at age 104. One of my professors in drama school pointed out that one of the virtues of the community of actors is that we honor our elders. (Judi Dench. Christopher Plummer. Clint Eastwood, God bless his reactionary little heart.) And for every one whose advanced age we see and honor, there are dozens more whom we remember indelibly frozen in time but who have grown old unsung. One of the services provided by The Actors Fund, whose support was the main aim of this series—aside from cash grants (all the more important in 2020!) to those whose careers have not afforded them financial stability—is operating care homes for those in entertainment who have grown elderly or infirm. What better way is there to "keep Christmas," as Dickens writes, than to bring comfort to tho se who have brought us joy?
Magic: ★★★★★
One ghost, three spirits.
Family: ★★★★★
Cratchit and Fred have admirably boisterous Christmas celebrations with nary a racist uncle in sight.
Romance: ★☆☆☆☆
The Cratchits have a companionable marriage, but the cartoon follows the novella by being concerned with affairs of the soul, not the heart.
Last line of the novella, the cartoon, and this series: ★★★★★
God bless us. Every one.