Yesterday I saw two things. One was the most acrimonious presidential debate in modern history. The other was two guys dressed as Link meeting each other on the floor of the Javits Center and gleefully embracing. One of these gives me hope for the future.
Did I mention one of them had shaved a Triforce into his chest hair?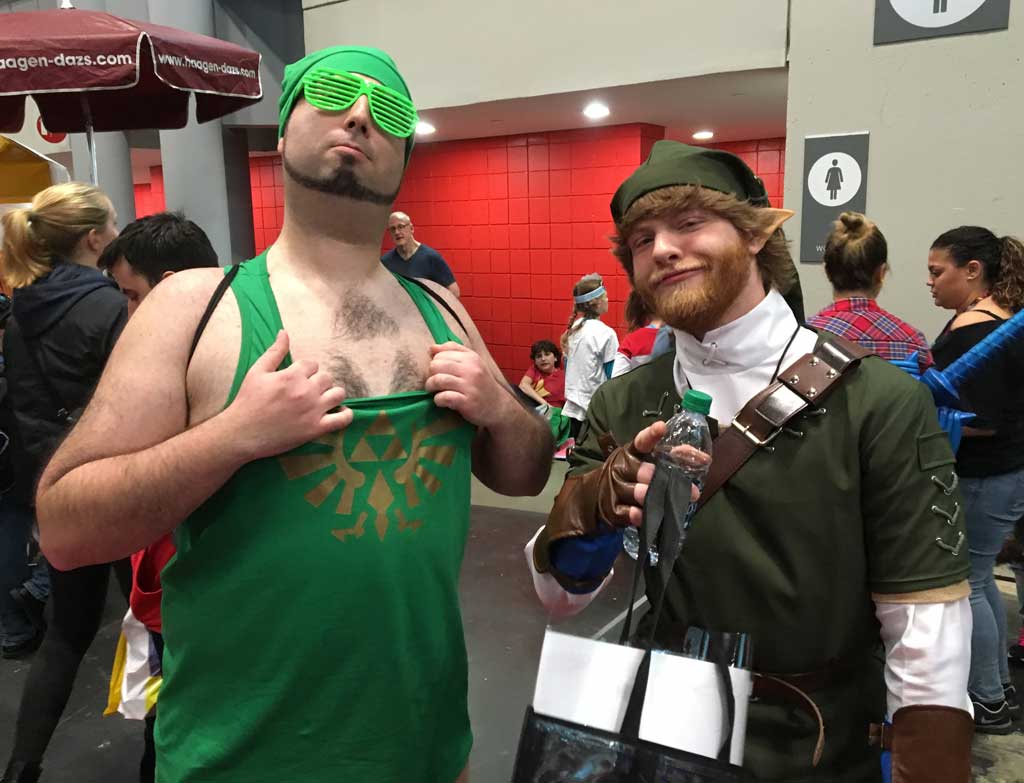 We are living in an angry, divided country, with the left and the right hurling not just mud but accusations of treason. But one of the reasons I love Comic Con is that it's a place where strangers become instant friends, united by nothing but a shared love of pop culture. It reminds us that we can choose to define ourselves not by what we oppose and fear, but by what touches and uplifts us. We dress up like the characters that embody the qualities we aspire to: strong, brave, confident, often heavily armed ('Merica!).
It's hard to describe the warm and fuzzy feeling I get from being surrounded by so much enthusiasm. But to give you a taste, here are some of the amazing costumes I saw at New York Comic Con 2016:
Strong Ladies
For starters, here's Lara Croft and Rey. These women came separately but ended up hanging out together, and I'd very much like to read some crossover fan fiction.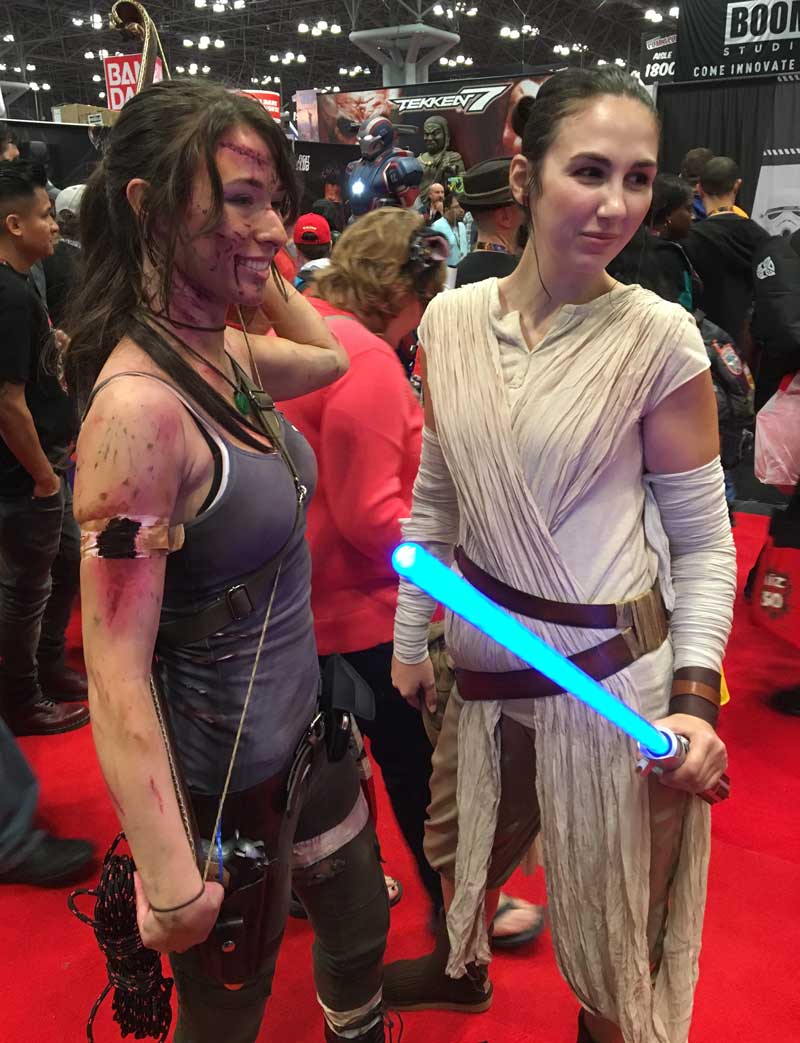 This woman combined physical strength with the special kind of strength it takes to commit to full body green paint. I would hate to sit on the subway after her (green paint smeared all over that plastic bench) but all hail the mighty She-Hulk.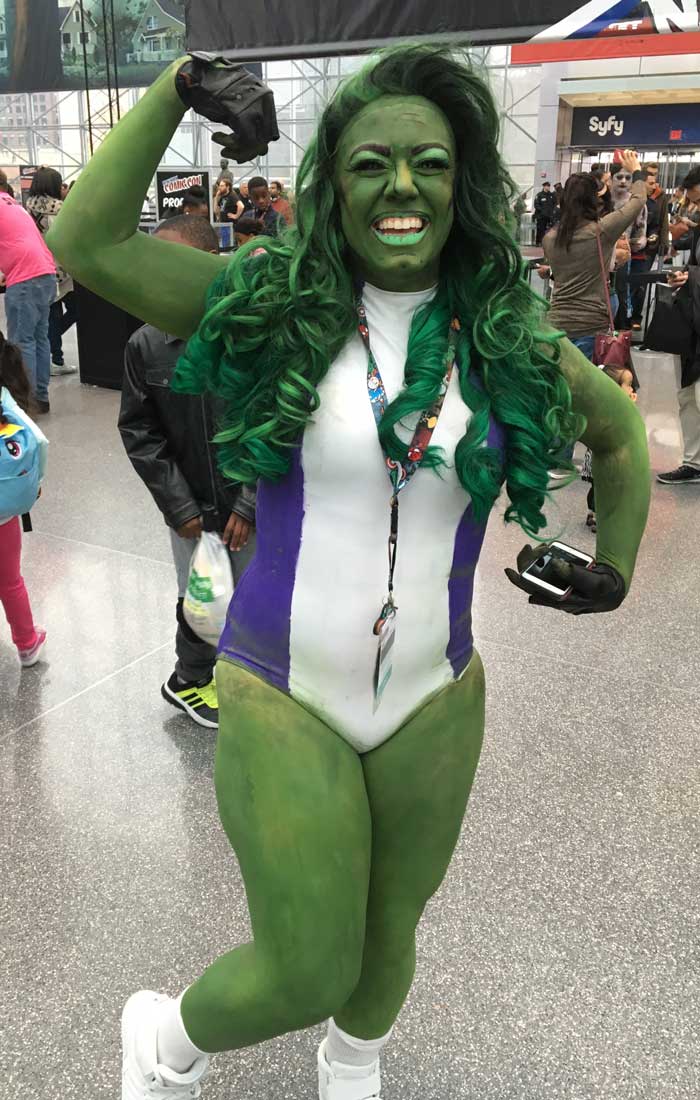 Harley Quinn is perennial cosplay favorite. This year, the traditional red-and-black Batman: The Animated Series outfit took a backseat to the new Suicide Squad design. At least something good came out of that movie.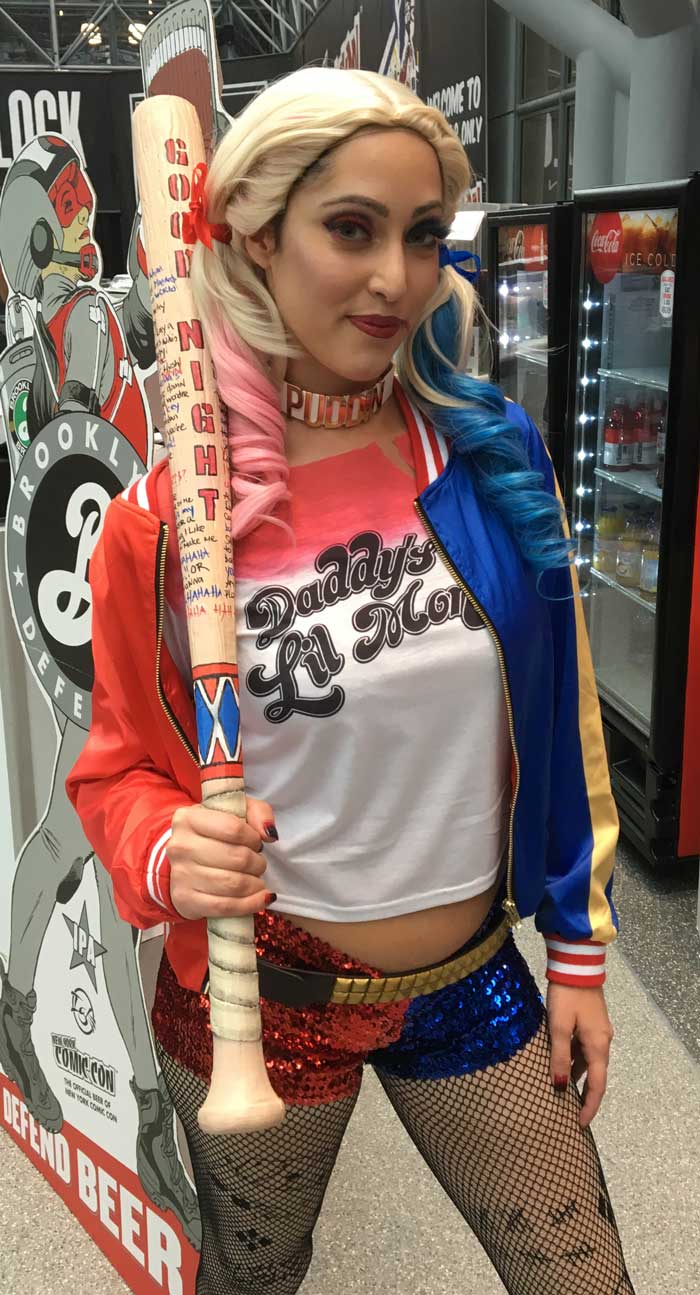 But of course, League of Legends fans will tell you that the new Harley is just a ripoff of Jinx.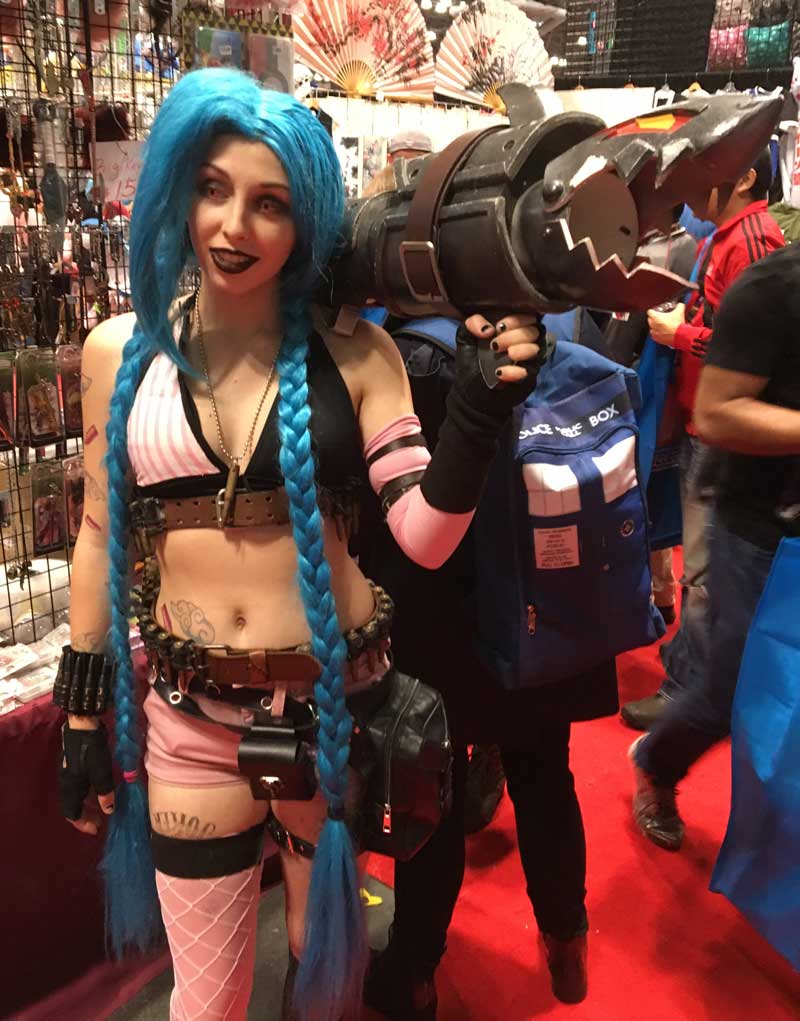 In 2014, Dinosaur Comics mastermind Ryan North was tapped to write a new series about the minor Marvel character Squirrel Girl, and it was an instant hit. See The Reading List for the details, and below for some sweet tail.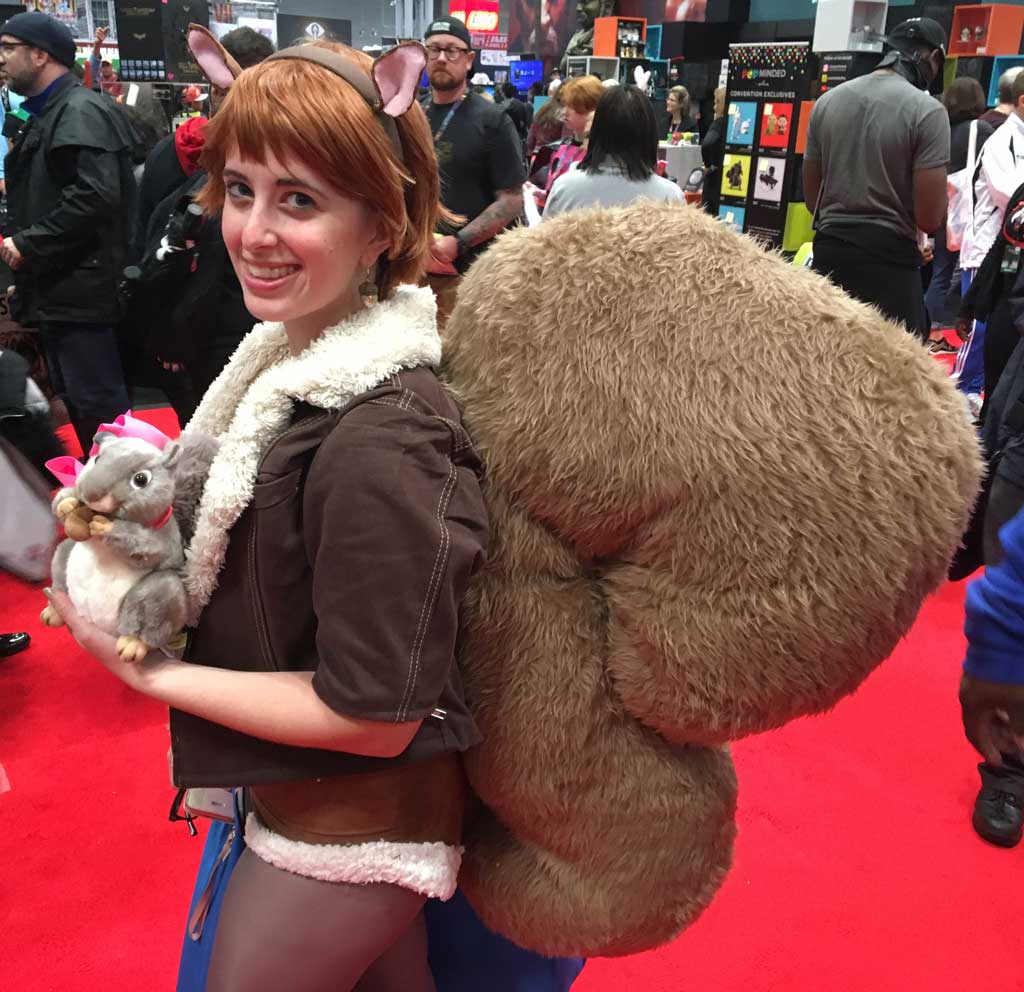 Absolutely no idea who this character is, or why she has a giant train full of rotting bones. But I'm intrigued!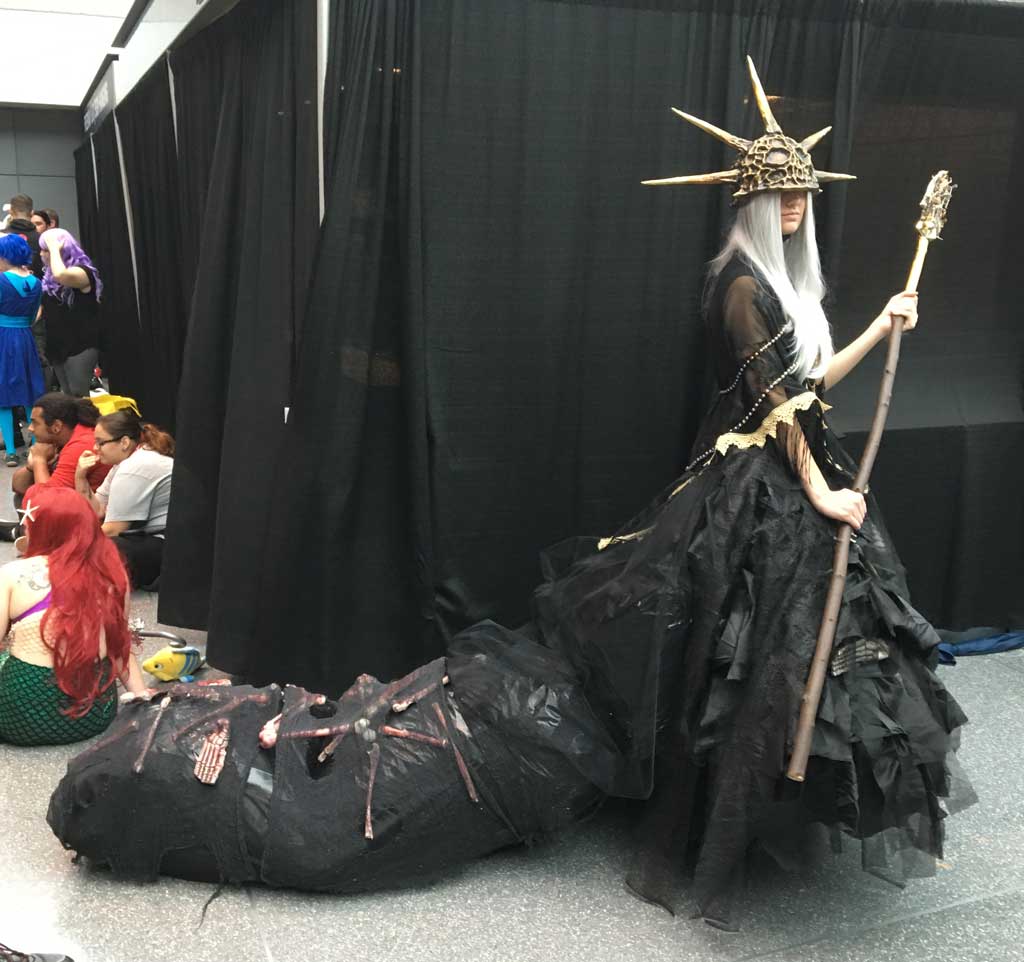 I'm not aware that Rosie the Riveter ever starred in a comic book, but she IS an illustration, right?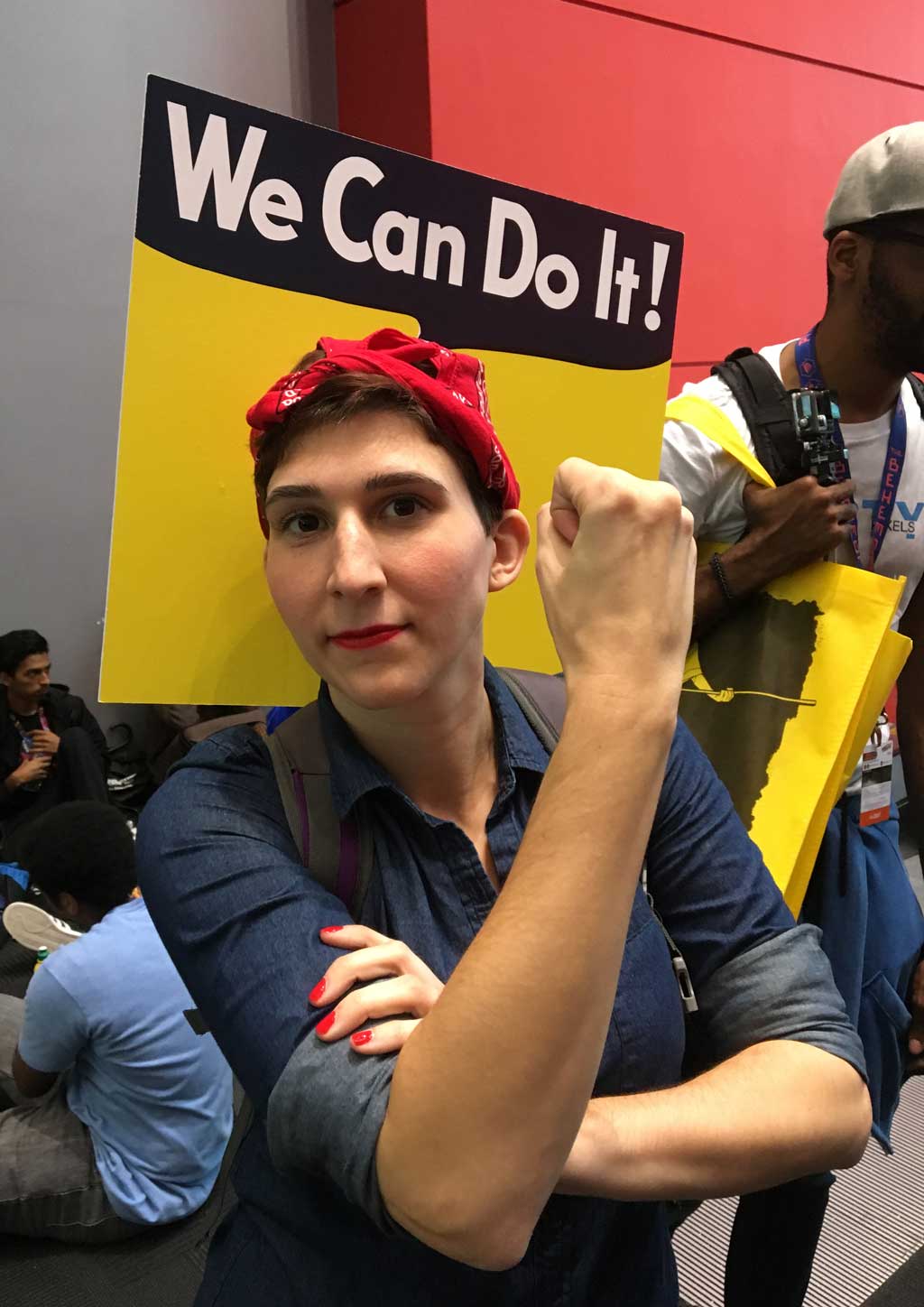 I asked her if the book was actually in French. She told me it was The Odyssey. Somehow that just makes me like the costume more. Off to the cupboard with you now, Chip. It's past your bedtime.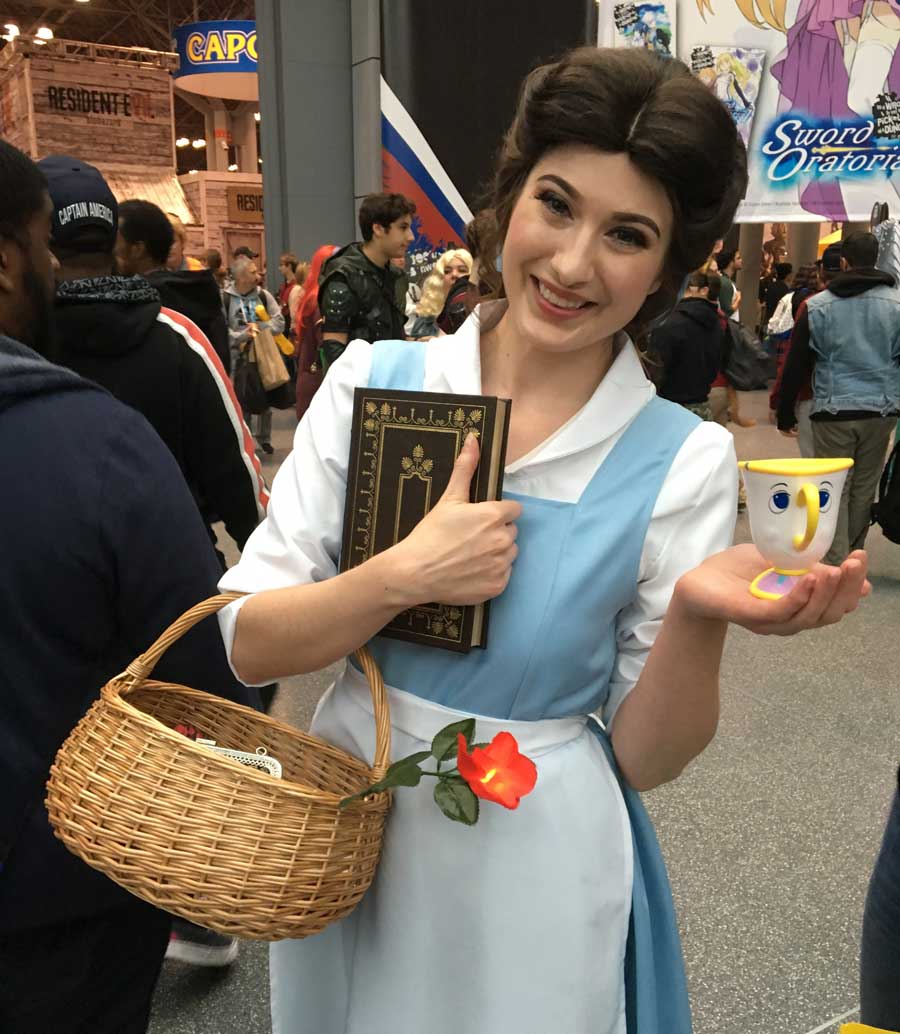 I loved these two. Anybody who really commits to Hellboy is a hero in my book. But check out her friend, who has a dynamite steampunk Pokemon outfit. She's even dressed up her Charmander too, with little goggles and an eyepatch with some needless brass. Baller.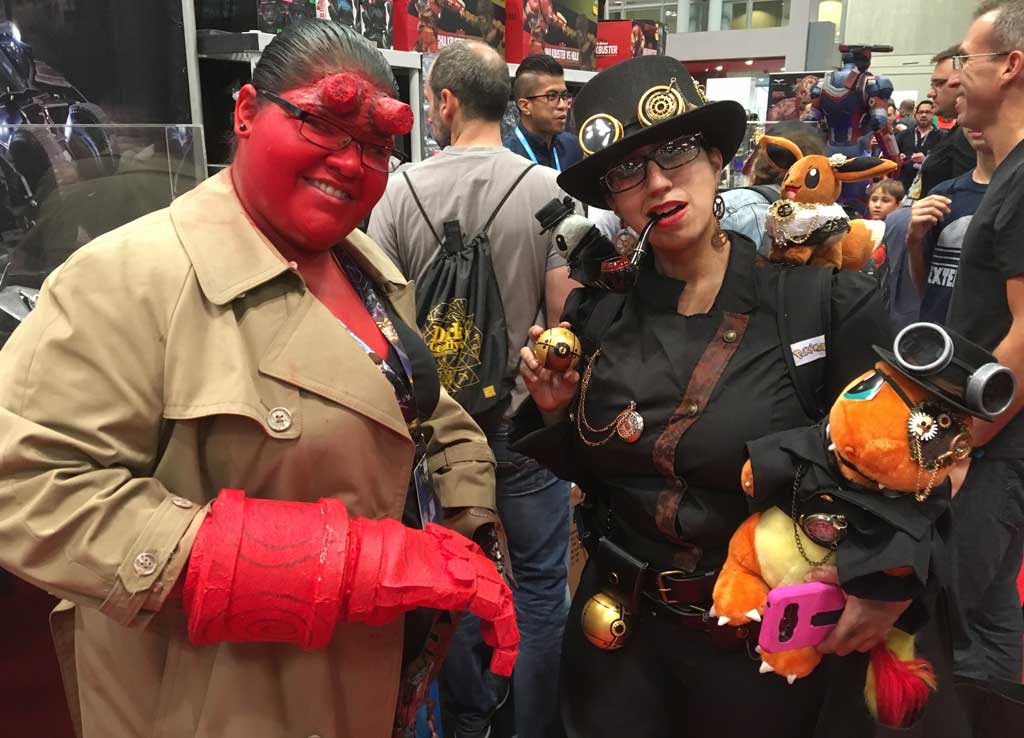 I hope this Steven Universe cosplayer found the She-Hulk cosplayer so they could give each other touch-ups.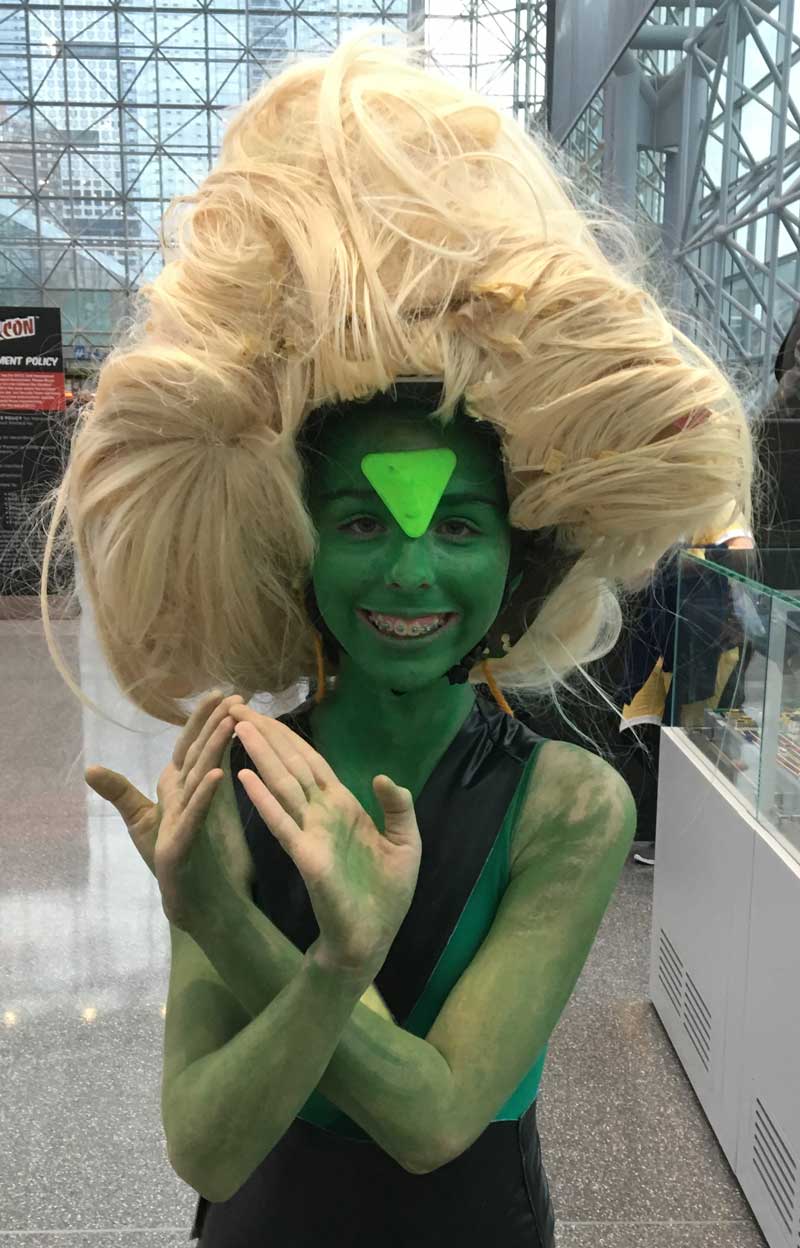 No idea what's going on here. She a shepherd, with fangs, a weird staff, and some of those colorful pointers that hover above the Sims? Help me out here.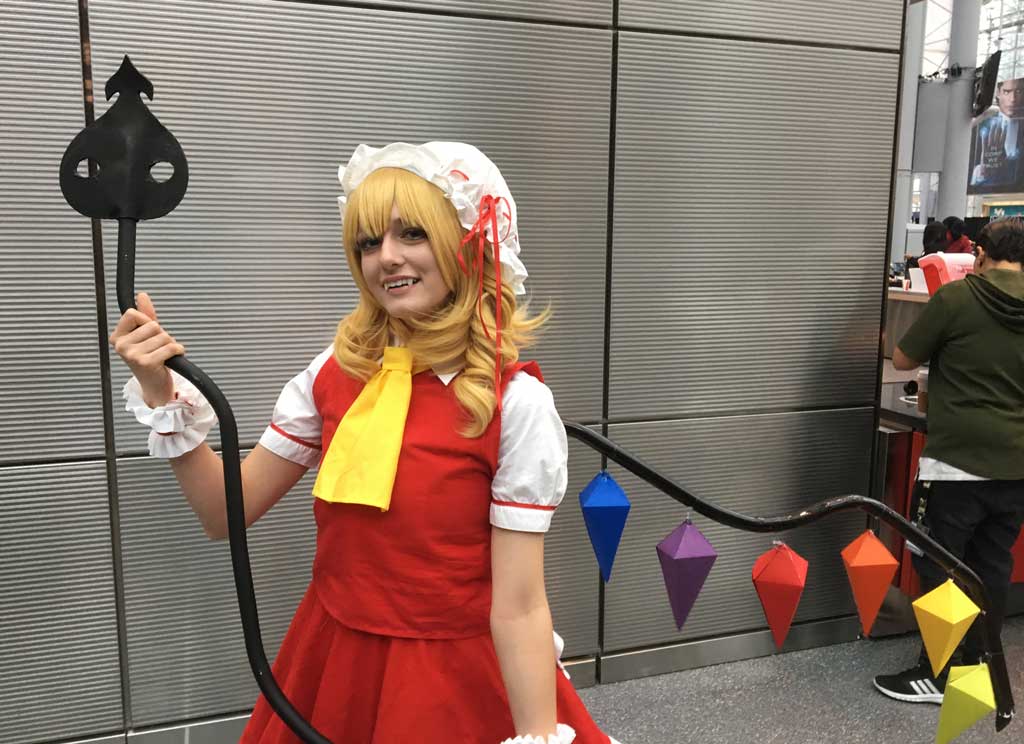 Family Costumes
First off, a tip of the tweed hat to this Henry and Indiana Jones. I wonder if the kid has even SEEN Last Crusade. But he will one day, and then he'll realize why dozens of people were taking his picture that one year.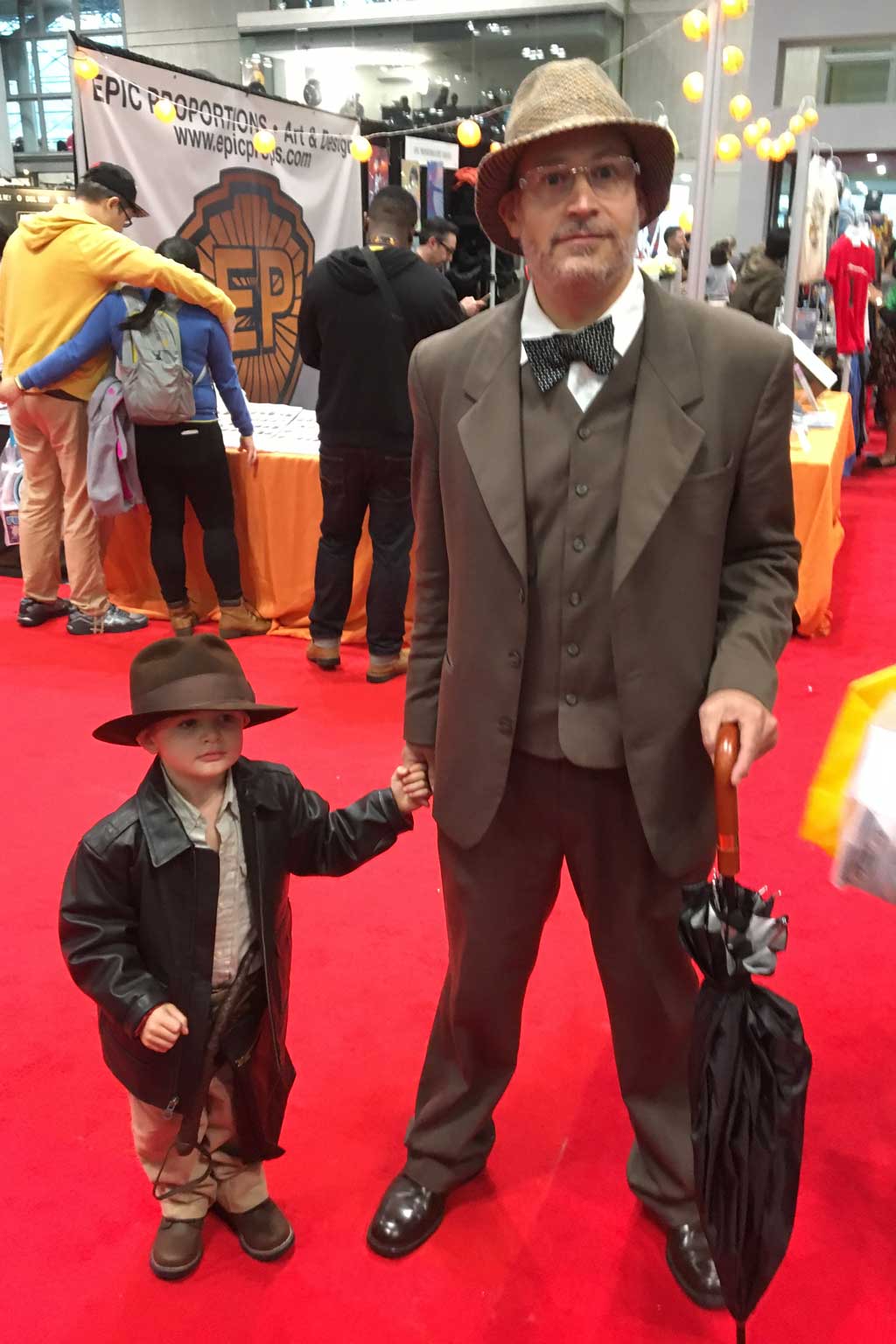 This adorable Star Wars family put a big smile on my face. Good old dad, sweating away inside Chewbacca, occasionally fishing out his wallet to buy the kids a Dr. Who t-shirt.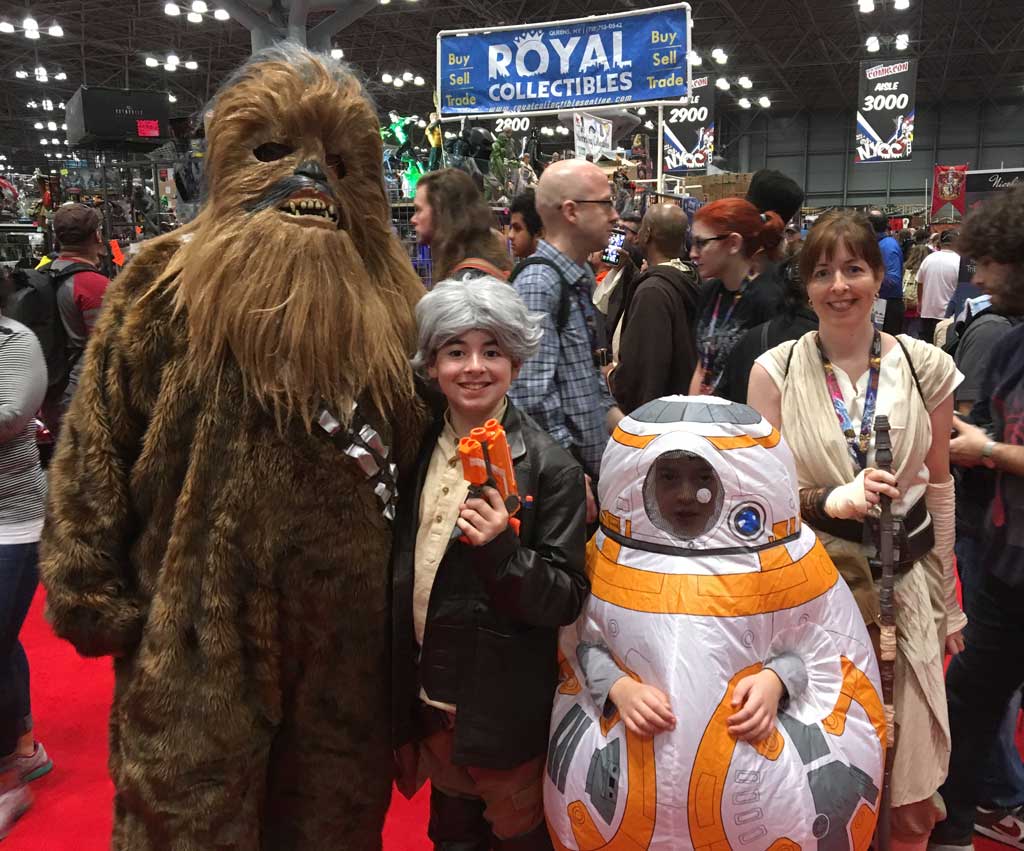 I like to think the kid went to pre-school the next day gleefully screaming "Off with her head!"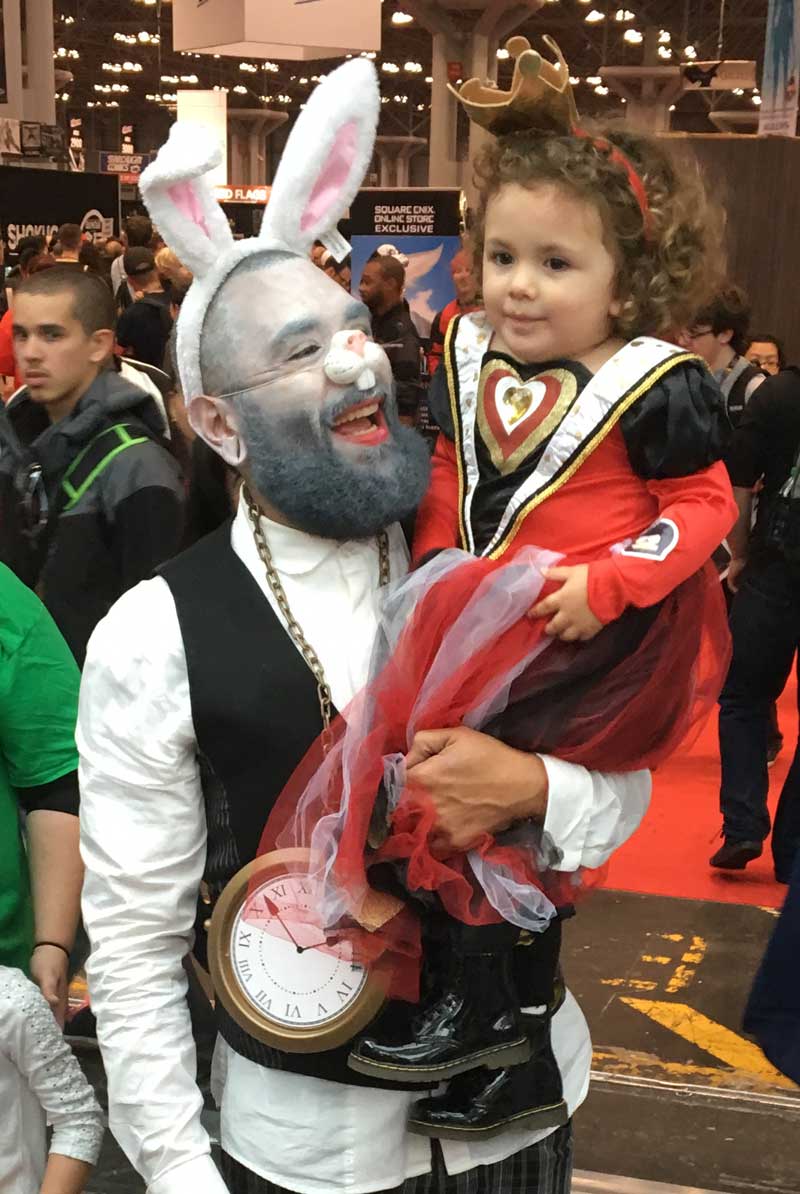 Cute Couples
Ice King finally got himself a princess! Good for him!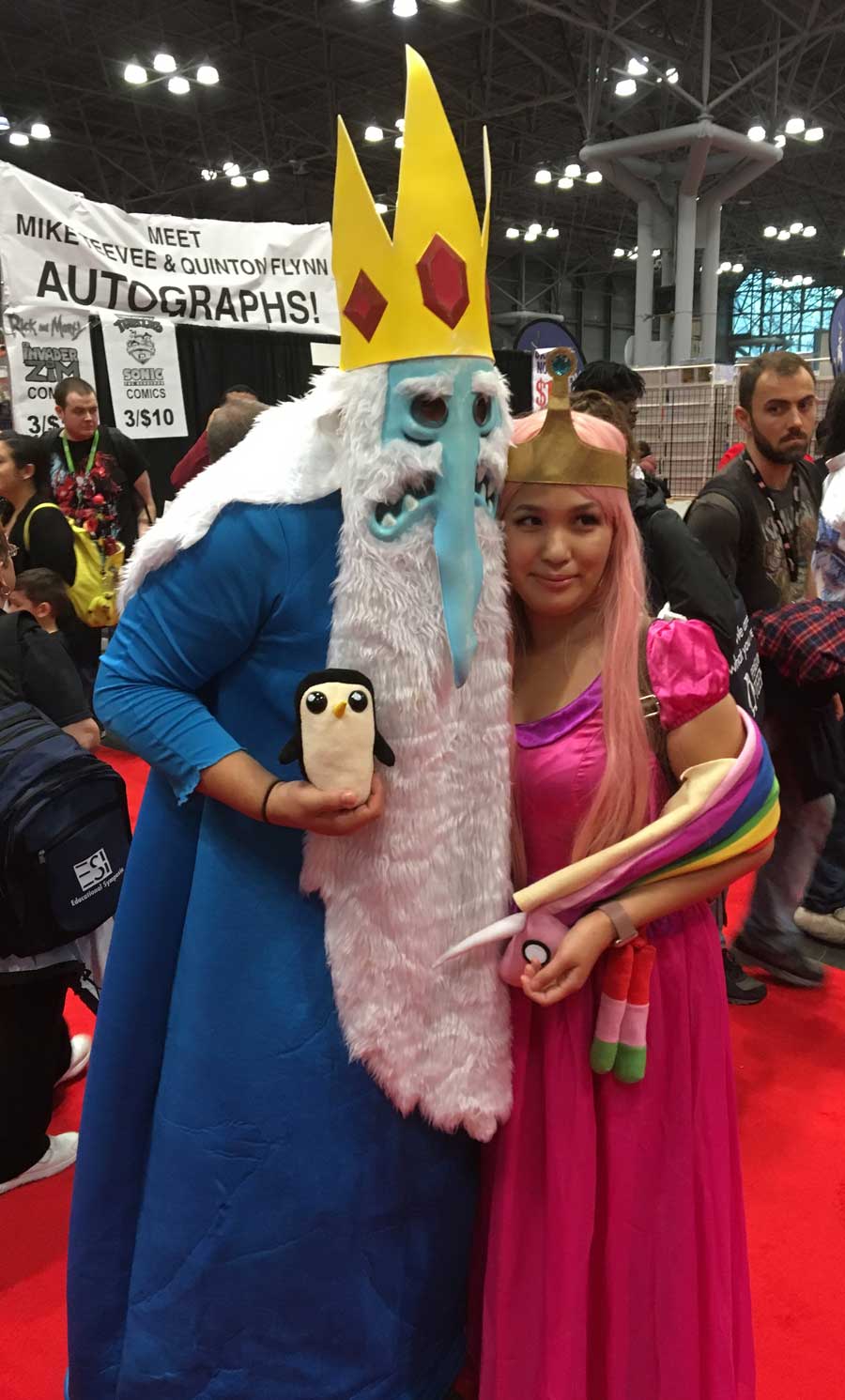 Spider-Gwen and Peter Porker! As far as I know they are both from different alternate universes, but love will find a way. Note how her black and white Geico bag matches the ensemble. It's the little touches.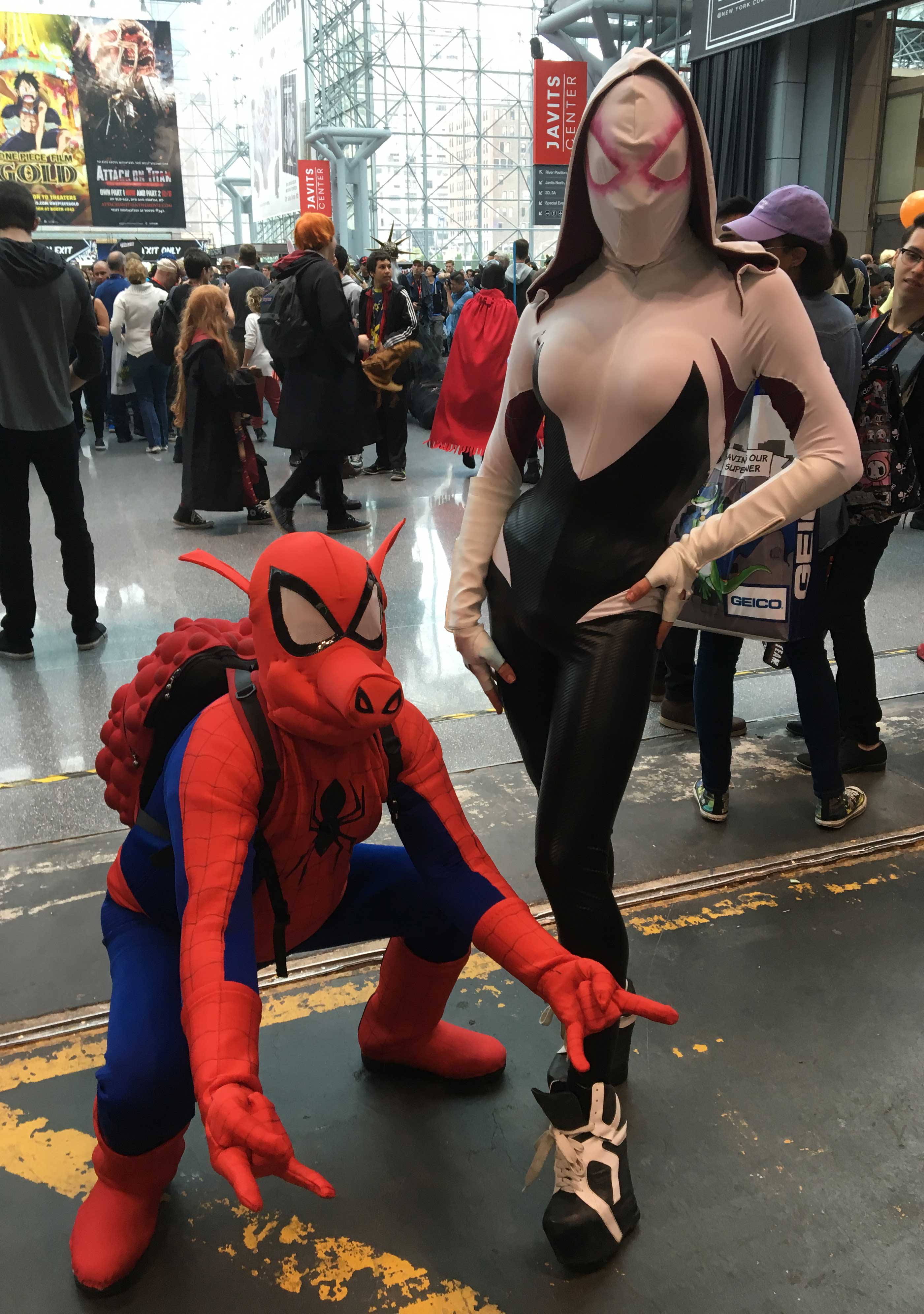 Tough Guys
This guy looked absolutely perfect as Robocop, and I like to imagine him up all night meticulously shaping every piece of that body armor, consulting the blu-ray for reference images. Totally worth it.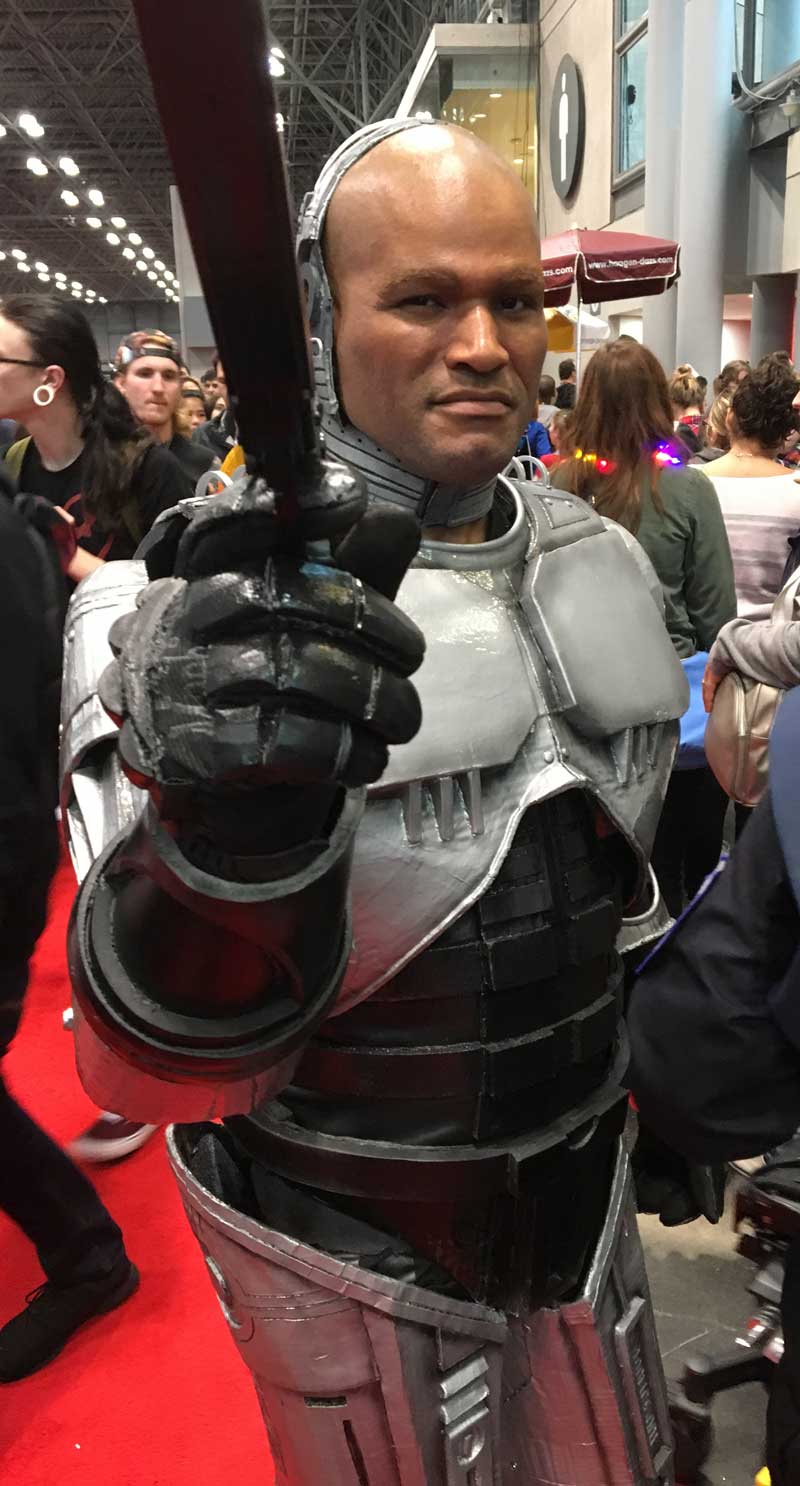 I didn't get to see this guy with the top on, which is a shame because it must really be something. I have to think you have to be a little Hulklike IRL just to be able to walk around in that for more than five minutes.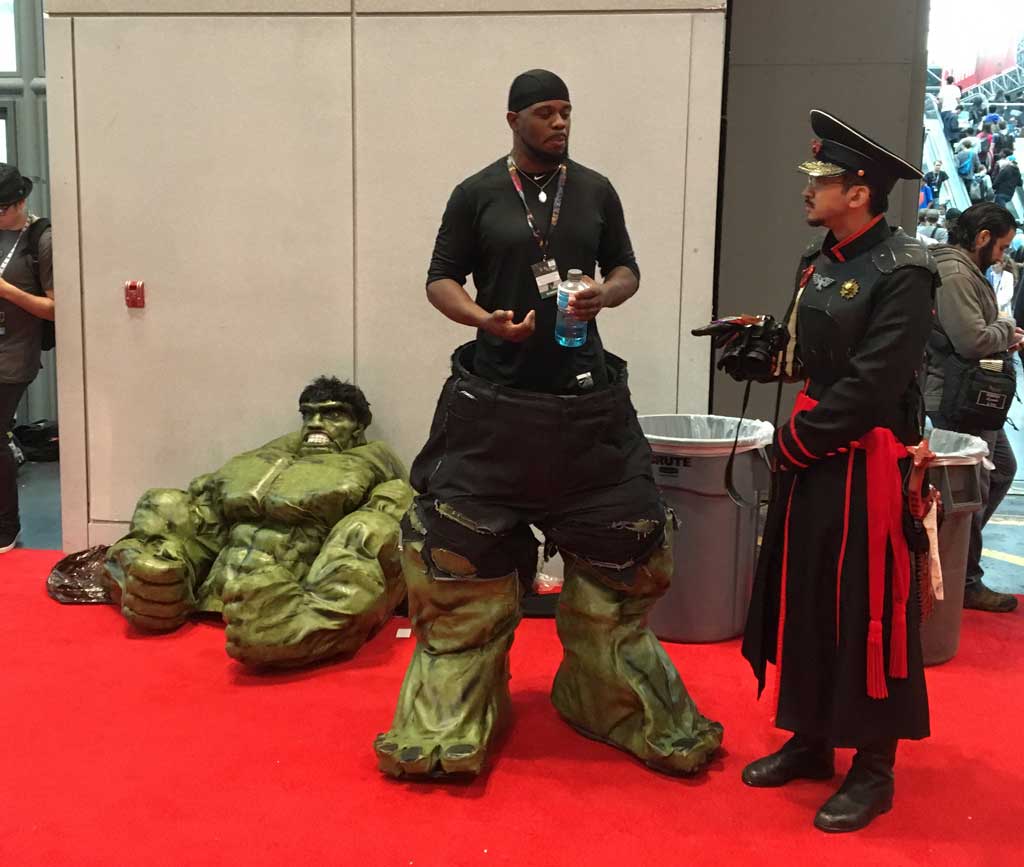 I assumed this was Halo armor, but now I'm not so sure. Whatever it is, the guy nailed it, from the light-up chest piece to the leather belt pouches.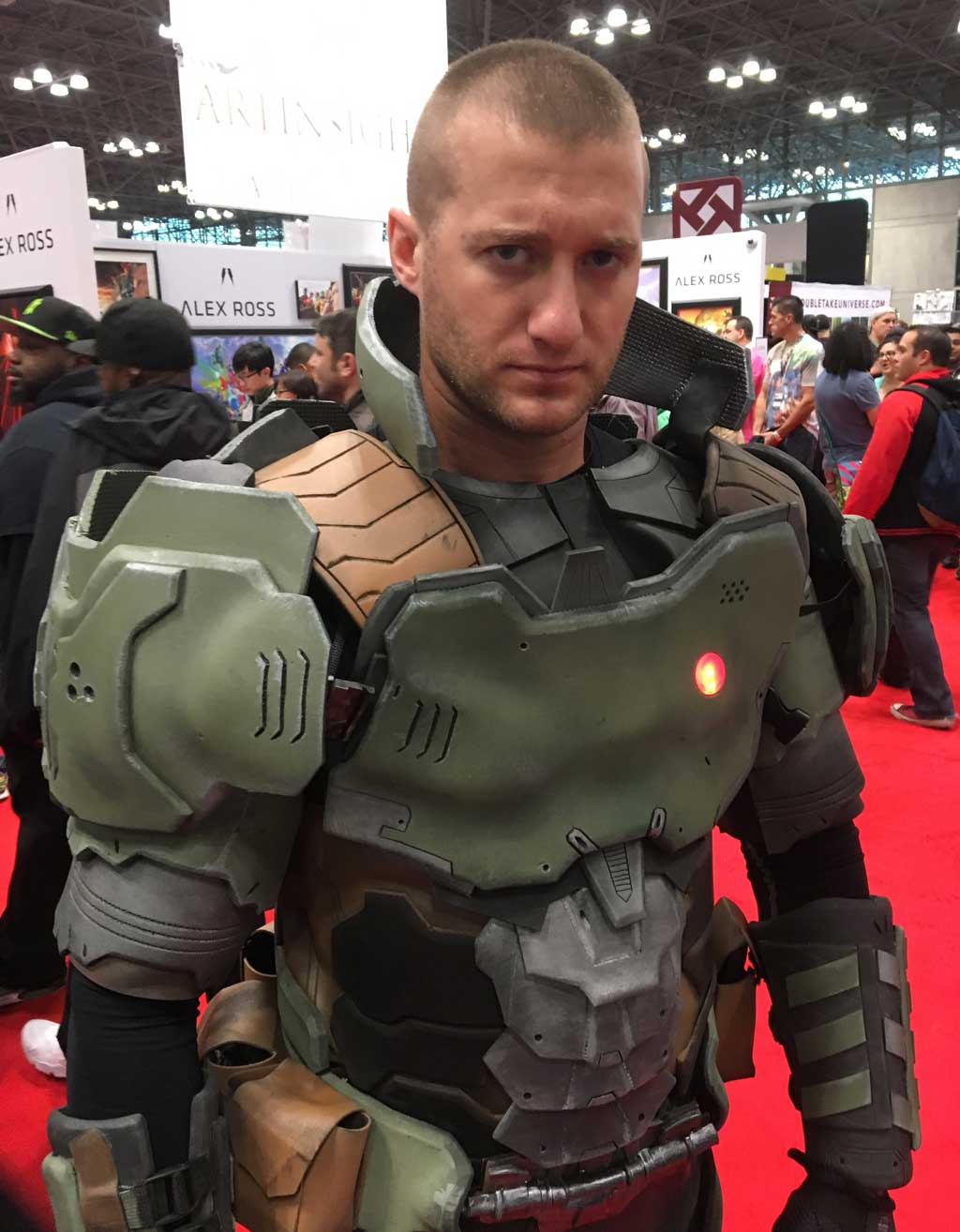 Paging Mark Lee. This was a relatively simple costume but I don't think I've ever seen anyone do it before. I can't promise I won't steal it someday, because the fantasy of being Robert Patrick is mighty appealing.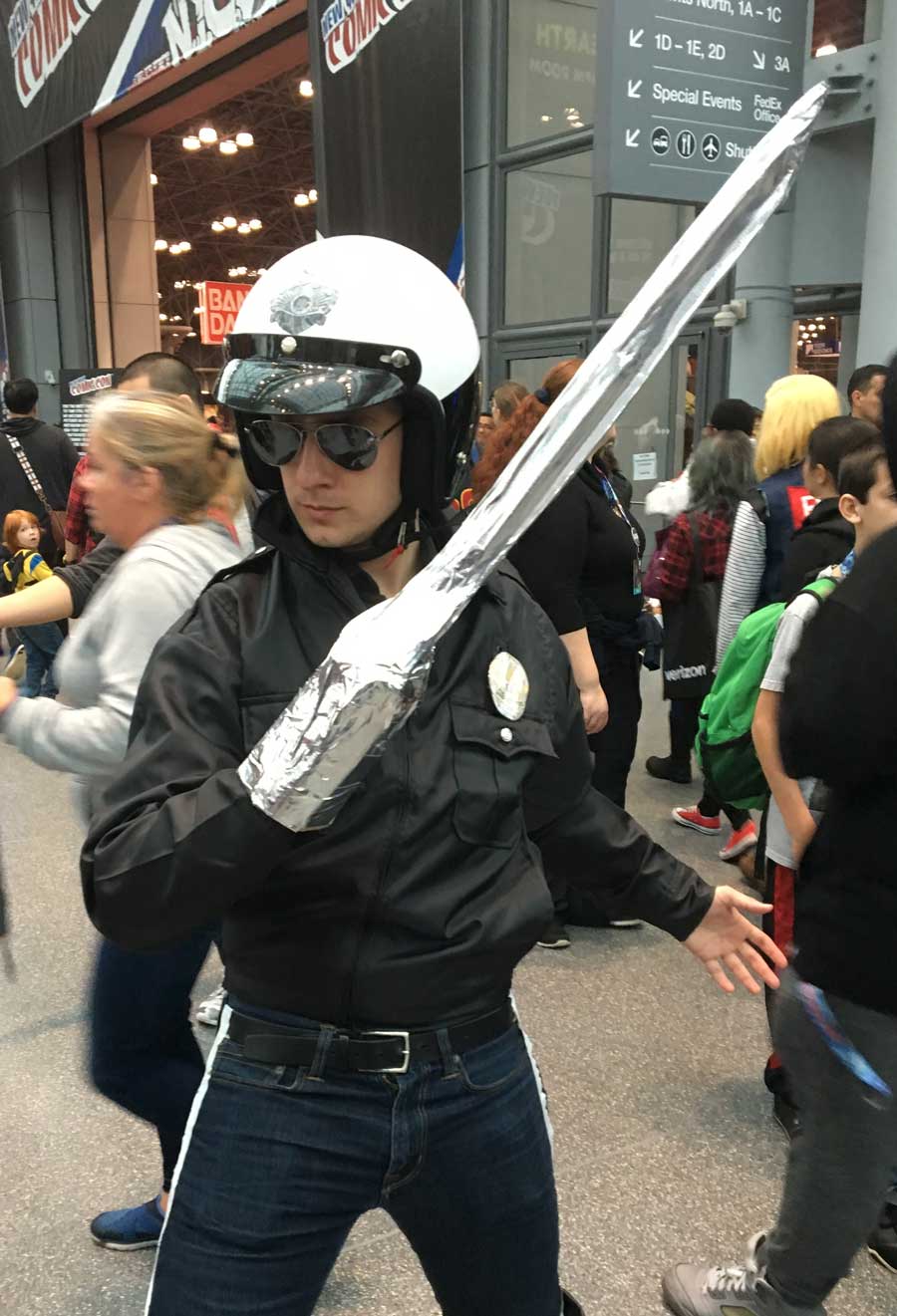 Did I wonder what exactly this Deadpool's deal was? I did. But long experience has taught me you should never ask a Deadpool a question unless you're prepared for a long and snarky answer. Half the reason people dress up as Deadpool is to give themselves an excuse to mouth off. I respect that but I had a lot of ground to cover.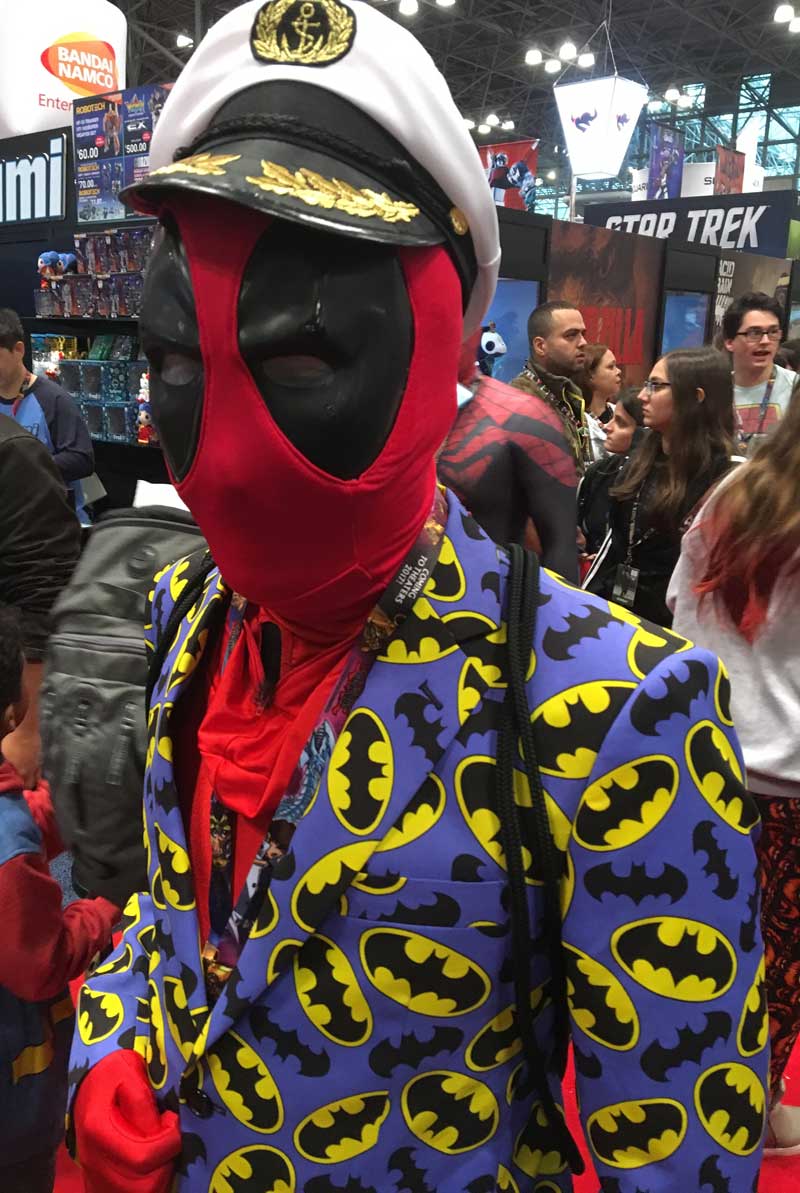 Pokemon Go definitely inspired a few outfits this year. This guy and I bonded because my buddy Pokemon is a Magikarp too. 280 candy and climbing.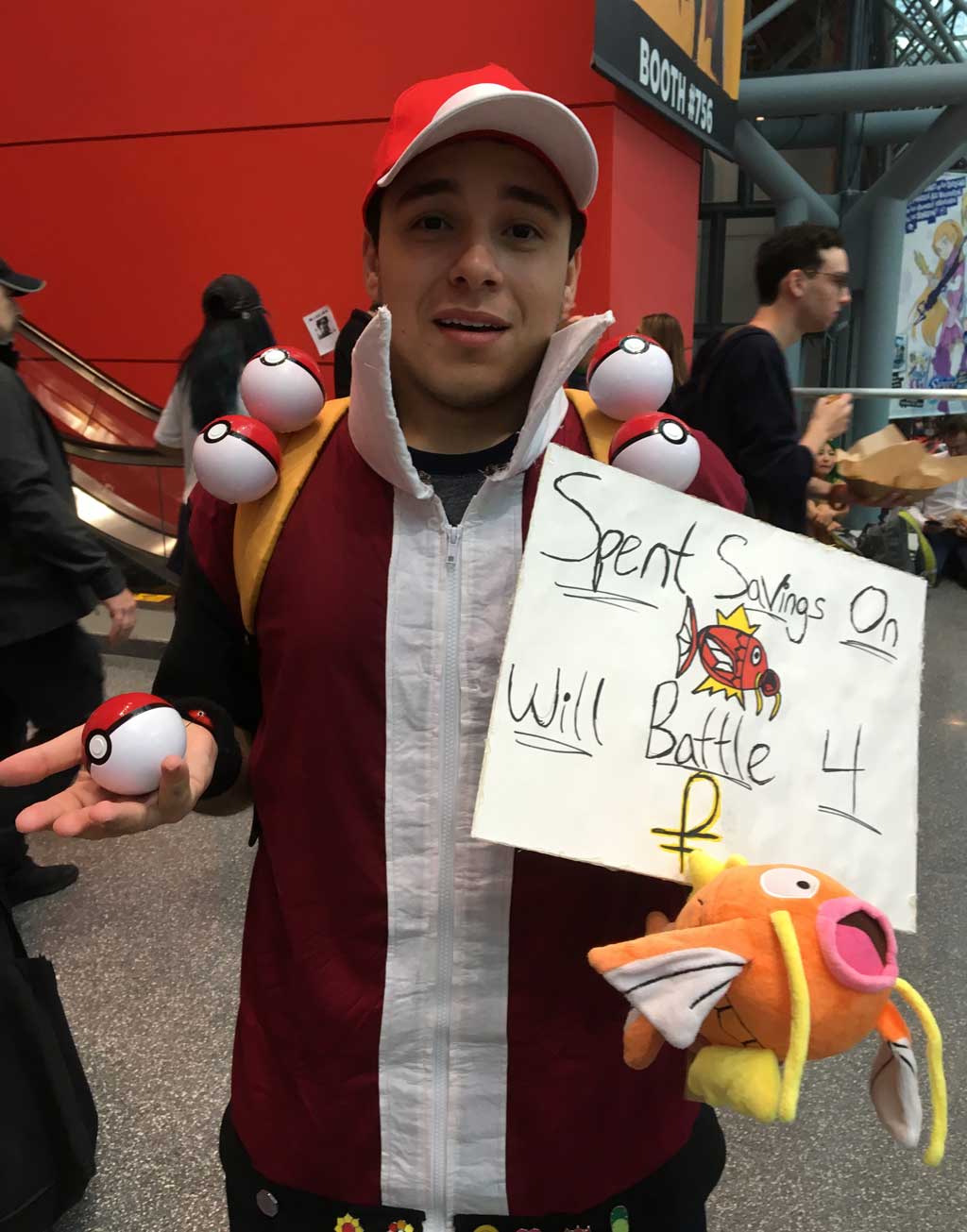 No idea who he is, but I was too intimidated to ask. I like to think that those runes on the sword were carefully copied out of some reference book and not just squiggles.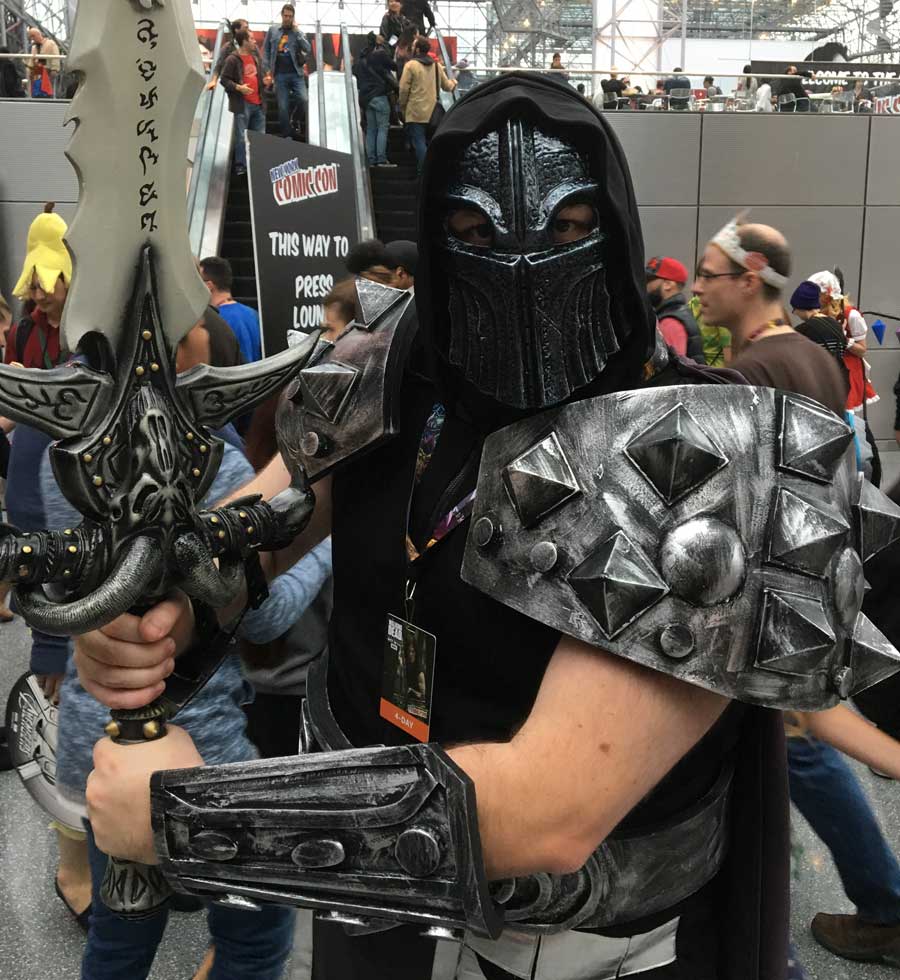 I saved one of my favorite images for last. This is two people dressed as Dragonball characters who patiently waited in line to play a Dragonball video game. It's like looking in a mirror, only not.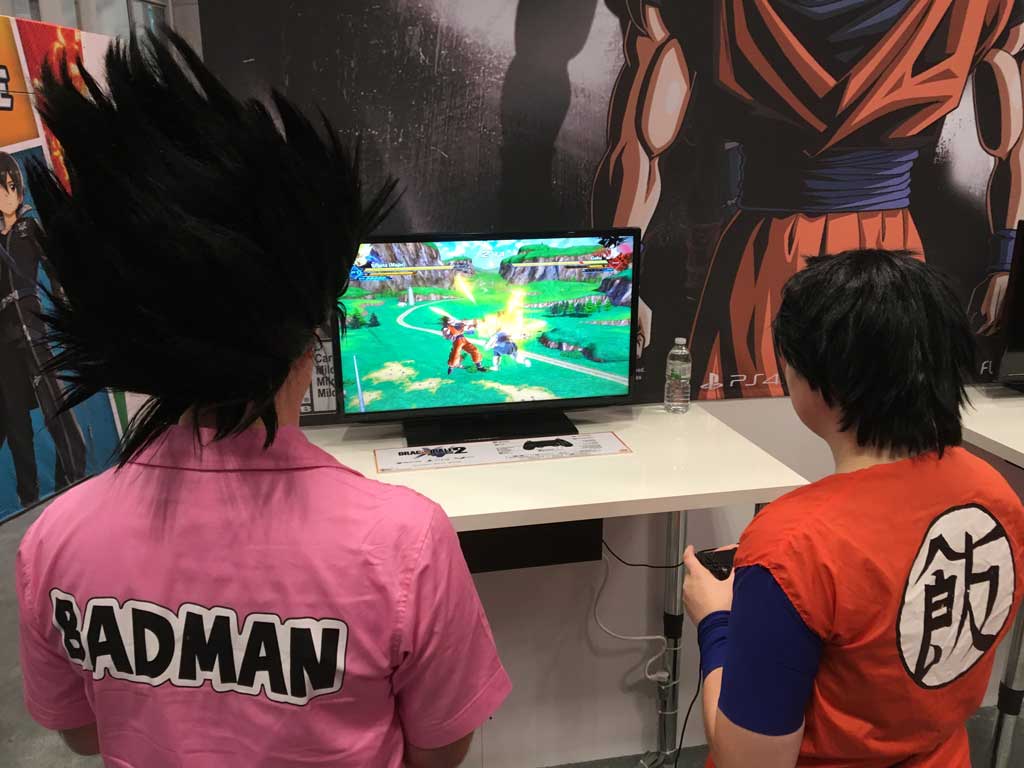 I'm making my annual vow that next time I'm going to get my act together early enough to wear a costume of my own. See you then.