Peter Fenzel, Richard Rosenbaum, and Matthew Wrather talk about how to make an adult children's film, about embracing the absurd, why Meghan Fox's performance is surprisingly good, and why less Krang is more Krang.
→ Download the Overthinking It Podcast (MP3)
Become a Member of Overthinking It
Support the site you love and get cool stuff in return, including free access to the latest editions of The Overview, on Teenage Mutant Ninja Turtles (1990) and its sequel.
Subscribe to the Overthinking It Podcast
Want new episodes of the Overthinking It Podcast to download automatically?
Subscribe in iTunes
Subscribe with RSS
Tell us what you think!
Email us
(203) 285-6401 call/text
Your Panel
The Overview: Teenage Mutant Ninja Turtles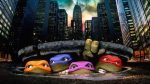 Get our downloadable commentaries on the 1990s "Turtles" film adaptation and its sequel, Secret of the Ooze. Check them out now!
Further Reading