This year, we're going to be putting our day-after observations about Game of Thrones into writing, in a series we call Game of Thrones Unlocked. In keeping with our tradition, these will focus on explicating one scene as an interpretive key for unlocking deeper interpretations of the episode's themes. These articles will contain spoilers through he episode under discussion. This week, Ryan Sheely tackles "Oathbreaker" (S6 E3).
At the end of "Oathbreaker," the newly resurrected Jon Snow hands his cloak to Dolorous Edd, giving up command over the Night's Watch and leaving the brotherhood. As he walks out of the gates of Castle Black, he justifies his decision by saying, "My Watch is Ended," the customary blessing that is used at funerals for members of the Watch.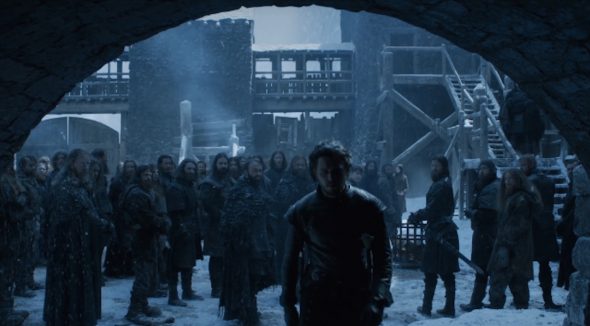 This line is the key to interpreting this episode, as the common theme running throughout nearly all of the storylines is the way that characters succeed or fail at finding loopholes and exceptions that get them out of the obligations created by oaths and promises. If the season premiere showed characters enacting new vows, this episode shows all of the ways that characters find ways to go on living their lives even after breaking those vows.
In Jon's case, when he took the oath of the Night's Watch, he swore that his watch would not end until his death.  His actions at the end of the episode indicate that he has chosen to believe that once he died, he is free from his obligations to the Watch.  Whether or not this is actually true from the perspective of the rules and norms governing the Night's Watch is beside the point.  What is important is that the "resurrection loophole" is the story that Jon is telling himself about why he is walking away from the Night's Watch. This circumstance makes it so that in his mind, he is not breaking his oath because the oath was already rendered broken by the circumstances.
This usage of exceptional circumstances as a justification for breaking oaths, promises, and laws pops up again and again in different ways throughout this episode. Earlier in the same scene, Ser Alliser argues that he faced a choice between breaking two oaths: loyalty to his commander or loyalty to the mission of the Night's Watch, and as a result, he chose the form of oathbreaking that he felt was more morally acceptable.
Outside of Castle Black, Lord Umber justifies his unwillingness to kneel in loyalty to Ramsay Bolton, by pointing out that Ramsay's late father had pledged an oath as Robb Stark's bannerman, and we all know well how that turned out for Robb. Instead, Umber says, "Fuck kneeling and fuck oaths. I've got a gift for you," before presenting Ramsay with Rickon Stark and Osha. In the Boltons' North, so many promises have been broken that the only way to actually build trust is through actions rather than words.
This theme of finding ways to rationalize behavior that runs counter to a promise pops up again and again throughout the episode, even outside of the language of formal oaths.  When Missandei and Grey Worm politely decline Tyrion's drinking game by saying that they don't drink, he retorts by saying "Until you do".  Sam amends his promise to go wherever Gilly goes by explaining that the real spirit of that promise was that she and little Sam would be safe, and that the best way to honor that original intent is to send them to live with his parents at Horn Hill while he heads off to study to be a Maester in Old Town.  While playing the game of faces with the Waif, Arya rationalizes not killing the Hound, by admitting that she was confused and ambivalent. This admission is part of what helps her to gain the upper hand against the Waif, helping her to earn her sight back.  In Mereen, Varys claims with a straight face that he would never harm a child, even though we see that his "little birds" are children who are lured into the high-risk world of Westerosi espionage with promises of candy.
This is not to say that these attempts to get out of oaths are always successful. Daenerys's rationale for why she did not join the Dosh Khaleen after Khal Drogo's death is essentially, "I am Daenerys, so the rules don't apply to me."  While she has been able to tell herself that story over and over again, the Dothraki are less convinced by that account. Will Daenerys be able to find a new discursive loophole that convinces the Dothraki that she doesn't need to be punished for breaking the fine print of her wedding vows?
The Tower of Joy flashback provides a bit of a clue about how characters are able to construct new stories that resolve conflicts between their vows and their actions. Bran looks on with horror as he realizes that his father didn't actually defeat Ser Arthur Dayne one-on-one, but rather only survived because Howland Reed stabbed Dayne in the back, flouting norms of honorable combat. To Bran, seeing this turn of events was unbelievable because he had heard Ned's version of the story "a thousand times". This repetition isn't just about passing an abridged version of family history on to the new generation of Starks, it is about Ned telling himself that he in fact did the right thing in the battle outside of the Tower of Joy, as well as during the events inside the tower that we haven't seen yet.
All of these different threads of this episode all come together in Jon Snow's decision to walk away from the Night's Watch in the final scene. Although oaths are central to the political and social fabric of Westeros, this episode reveals that they do not exist in a binary of being either intact or broken.  Instead, the promises that characters make are malleable and flexible, shaped and reinterpreted over time by what characters do and the stories that they tell about those actions. Like Ned before him, Jon has started to tell himself a story that justifies his decision break an oath. In the long run, this narrativization of his decision to leave the Watch may turn out to be just as consequential in shaping Jon's eventual trajectory as his death and rebirth.
What was your key scene in this episode? Let us know in the comments below.