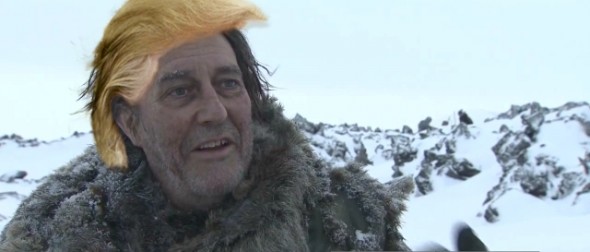 People come to me worried about the White Walkers. We don't have to worry about the White Walkers. I've been doing deals for a long time. I've been making lots of wonderful deals, great deals. And there's nobody bigger or better at the military than I am. So the threat isn't the White Walkers, it's the Night's Watch. When the Seven Kingdoms send people to join the Night's Watch, they're not sending their best. It is known. They're sending people that have lots of problems, and they're bringing those problems with us. They're bringing milk of the poppy. They're bringing crime. They're rapists. And some, I assume, are good people. But an extremely reliable source has called my office and told me that Joffrey Baratheon's birth certificate is a fraud. His father, Robert — very low-energy guy, Robert Baratheon — his father calls me a Wildling. Be careful, Lyin' Robert Baratheon, or I will spill the beans on your wife! There are things about Cersei that I don't want to talk about. Gilly over here can tell you about that — look at Gilly, by the way, she has a very nice figure. The only difference between me and Lyin' King Robert is that my women are more attractive. If Gilly wasn't my daughter, perhaps I'd be dating her!
I will be the greatest jobs King-Beyond-the-Wall that the Old Gods ever created.
Where was I? Oh yeah: point is, I'm going to build a great, great wall out of ice — nobody builds ice walls better than me, believe me, and I'll do it very inexpensively. I will build a great, beautiful wall on our southern border, right on top of the one that's already there, and I will make the Seven Kingdoms pay for that wall. Mark my words.