Though the latest installments in The Overview don't actually pit the Caped Crusader against the Man of Steel, we like to think that the implied competition between these films and this weekend's highly-anticipated (?) Batman v Superman: Dawn of Justice will be instructive.
Whether you use these two commentaries as a way to pregame for Zack Snyder's latest gritty entry in the ambitious DC world-building over at Warner Bros., or whether you decide to skip the multiplex entirely, save a bundle, keep your PJs on, and spend a satisfying evening listening to your online pals from Overthinking It talk them over, you can't go wrong letting us fly around the earth really fast and turn back the hands of time to 1978 or 1989.
Get each overview for $2.99, or save 16% and get both for $4.99 with the code JUSTICE.
Superman (1978)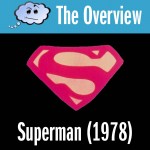 We trace the current trend of Superhero movies back to its wellspring in the late Christopher Reeve's portrayal of the Man of Steel. Featuring genre-defining feats of super-heroics (and super-villainy), the film opens strong before becoming truly unusual. Peter Fenzel, Josh McNeil, and Jordan Stokes fly around the world really fast to take you back in time to 1978, a gentler time—slightly less dark, slightly less gritty—where even Superman himself wasn't above a campy joke. ("Bad vibrations?")
Batman (1989)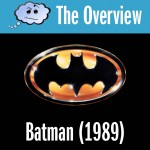 In 1989, decades before Christopher Nolan gave us a dark, gritty, realistic vision of Batman and Gotham City, Tim Burton gave us his own dark, gritty, yet wildly imaginative vision of this classic superhero story. Pete Fenzel, Mark Lee, and Richard Rosenbaum dive deep into the movie's genderqueering themes, find methods to the Joker's madness, and place this particular story in the context of the broader Batman mythology.
###
The Overview is a series of alternative commentary tracks from Overthinking It, where the we watch and discuss your favorite movies in real-time. The commentary is meant to be played while watching the movie, so get your own copy (or stream) of the movie and get ready to watch the video and listen to a MP3 of the track at the same time.