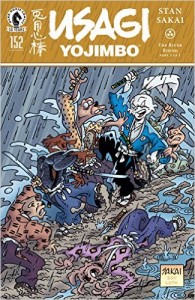 Usagi Yojimbo #152
Dark Horse Comics
"The River Rising," another in the series of self-contained, single-issue stories that Usagi Yojimbo has been doing for a few months now, drenches the reader in a torrent of urgency; this issue tells of a poor village on the banks of a river threatening to overflow and flood the whole region under the force of terrible downpour. With Usagi's help and direction, the villagers are managing – barely – to prevent the dike from eroding completely using buckets of mud absorbant straw mats, but the rain is showing no signs of letting up – and then, at the worst possible moment, bandits appear to raid the village's meager food supplies.
More than the plot, though, this issue really tackles you with its atmosphere – specifically, the pounding rainfall that overlays most of the scenes. Stan Sakai's style is more iconic than realistic, so the pouring rain is little more than while lines streaking through a black sky, and yet for the entire issue the feeling of being caught in the storm, the exigency and force of the situation is genuinely powerful. As I've mentioned before, Sakai's storytelling technique is simple and direct, but he always manages to make us feel sympathetic toward his characters, even the minor ones: in this issue that talent of his is absolutely on display, but it's the setting – literally the weather – that does so much of the narrative work here, and it's kind of amazing.
Where to Start: Usagi Yojimbo Book 1    Time commitment: 220ish issues.
Recommended if you like this: Lone Wolf and Cub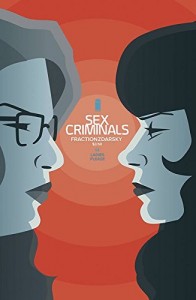 Sex Criminals #14
Image Comics
Rejoice! Sex Criminals is funny again!
Okay, Sex Criminals was never completely not funny. But for the last bunch of issues, the book has definitely been more focused on plot and character development than on the comedy. And while that gives us issues like the previous one, with its Asex Criminal Alix – who, to judge from the letter column in this issue, really resonated with a lot of readers (and it's true there probably has never been a more accurate or sympathetic depiction of an asexual person in any popular medium, let alone comics), for a long time I've been missing the feel that the first handful of issues had: it was dealing with sex and how totally weird sex is and all that stuff, but it was also absolutely funny as hell. And the book, while still good, hasn't been that funny for a pretty long time (with the exception of the letter column).
But this issue changes all that. It takes a pause from the plot to reintroduce us to Suzie and Jon and to batter us with laugh-out-loud ridiculous sex stuff on almost every page. Matt Fraction and Chip Zdarsky haven't lost their touch, no matter what you've heard (well, I mean, you'd have known that from reading any of the other books too). From the "Neighborhood Notes" newsletter (read it) to Jon and Suzie's filthy-emoji-infused text message conversation to the absolutely inspired bit of metafictional self-recrimination, this issue has everything that the best issues of the book have had that you might have been missing. Like, it's so good that I don't even want to spoil any of it. The humour is bone-shaking (get it?) but it's also an introspective take on judgmentality that these characters have desperately needed for a long time now.
Where to Start: Sex Criminals Volume 1  Time commitment: 13 issues
Recommended if you like this: Casanova Volume 1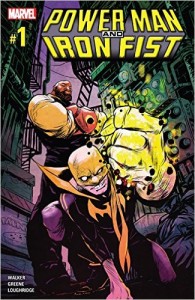 Power Man and Iron Fist #1
Marvel Comics
Before Luke Cage was a proud husband to fellow superhero Jessica Jones and father to a little girl who's sure to have some powers and some parental issues of her own sometime down the line, he went by the name of Power Man and was partner-in-crimefighting with Danny Rand, a.k.a. Iron Fist, wielder of the, uh, iron fist. They were Heroes For Hire, one part Blaxploitation and one part Kung Fu movie. But since then they've been doing their own thing.
This comic reintroduces the pair of them to readers, and to each other. Although they swear (well, not Luke – he's cleaned up his language since the little one started repeating it) that they're not "back together," the title on the cover says otherwise – and these two characters, under the guidance of writer David Walker, absolutely have chemistry. Their banter as well as their battles are a pleasure to see.
For just this one mission (sure) they've reunited; their old office manager, Jennie, has just been released from prison for the murder of her abusive superhero ex-boyfriend, Crime-Buster; she asks the boys to get her grandmother's necklace back from supervillain crime boss Tombstone, and Luke and Danny want to help her out however they can. Of course there's more to the case than it seems (this is just the beginning of this new series, after all).
It's an auspicious new beginning, but there have been a lot of auspicious new beginnings in Marvel Comics lately and they don't always last. I will be keeping my eye on this title, though. Luke Cage and Iron Fist are a couple of cool characters riding the wave up from the B-List thanks to the Marvel Cinematic Universe (Cage was a recurring character in the Netflix Jessica Jones series and will be starring in his own series next year, with an Iron Fist series to follow), and this is where their newly high profile is set to start out. It's a good start.
Where to Start:  Right here. Right now.  Time commitment: No commitment!
Recommended if you like this: Power Man and Iron Fist Epic Collection