[Enjoy this guest post by Molly Brenner. – Ed.]
"I'm just a sexual girl. I'm totally in control," sarcastically narrates Amy Schumer's character, Amy, in the beginning of the romantic comedy Trainwreck, directed by Judd Apatow and written by Schumer. Amy works for the men's magazine S'Nuff and gets assigned to write a profile of Dr. Aaron Conners, a sports doctor with whom she ends up falling in love. By the end of the film, Amy takes "control" over her happiness, but to do so, she has to tone down the "sexual" part.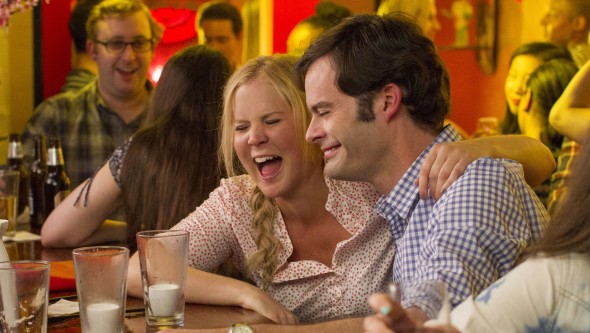 Not Just a Cool Girl
Trainwreck's opening is in line with feminist themes in Schumer's comedy. We see Amy in multiple facets of her life—with her family, working, having sex and dating—which can't be said for a lot of women characters. We first meet her as a child, getting lectured by her father about how monogamy is a lie. He is divorcing her mother, having cheated on her with other women. Amy and her sister, Kim, chant with him, "Monogamy isn't realistic!" Yay, a woman protagonist who has a back-story!
We first meet grown-up Amy when she is drunkenly hooking up with a man. He undresses, and she says, "That's your dick?…Have you ever fucked someone before? Where is she buried?" She then receives oral sex and immediately feigns being asleep. Yay, a woman protagonist asking for what she wants and getting laughs!
At a pitch meeting at S'nuff, Amy gets assigned to write the piece about Aaron. She responds with disdain, saying, "I just think that sports are stupid, and anyone who likes them is just a lesser person and has a small intellect." Yay, a woman protagonist who isn't a Cool Girl!
One of Apatow's Men
Trainwreck derives much of its humor, emotion and conflict from a reversal of gender roles. Amy is a commitment-phobe, and the men are romance-hungry.
In many ways, Amy's character aligns herself with men. S'Nuff, the magazine for which she works, teaches the "strong-willed man how to dress, drink and fuck." Article concepts include "You Call Those Tits?" and "You're Not Gay, She's Boring." She has a dude job!
Amy is the female version of her father. When Amy and Kim are cleaning out their father's house after he has moved to a nursing home, they find an old picture of their mother. Amy says, "Mom was so fuckable back then. She had such great tits." Kim says, "Dad was such a dick back then," to which Amy responds, "I don't see it that way." Amy defends her father and observes her mother like an ogling man would. She has a dude view on women!
Amy smokes weed and drinks a lot. She brings wine to a movie, to the dismay of her date, Steven, played by pro-wrestler John Cena. She leaves in the middle to smoke weed. She's a stoner dude!
There is a sadness to Amy's masculine characteristics. She is embarrassed of the work she has produced for S'Nuff. She knows her dad is flawed, and she's conflicted about her love for him. She knows her drinking and smoking habits are unhealthy. She IS the S'Nuff man: she drinks and fucks like a man, but it doesn't make her happy.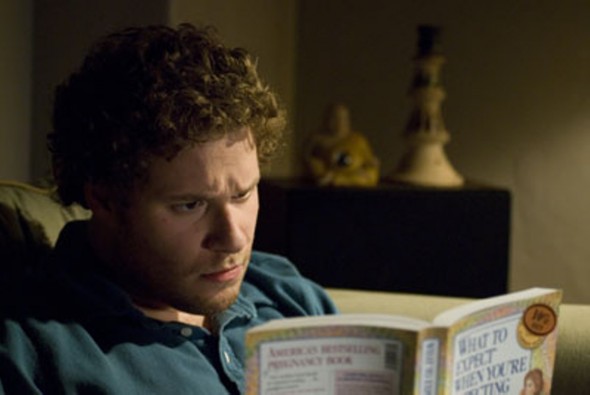 Is Amy just a woman playing a classic Apatow male protagonist? She shares traits with Ben from Knocked Up, a slacker and stoner who reforms and settles into a monogamous relationship. What is unique about putting a woman in a role often occupied by a man? To be happy, Ben has to stop smoking and get a job, which are pretty inarguably healthy things. For Amy to be happy, she has to stop sleeping around, which carries a sex-negative and anti-feminist weight.
Men Sure Make Admirable Women
Conversely, the men in the film are all soft romantics. Early in the film, Amy and Steven break up when he finds out she has been sleeping with other men. He shares that he had planned to propose and describes the family and future he had fantasized about for the two of them. Similarly, Aaron's good friend LeBron James expresses his love of Downton Abbey, and Aaron cutely tries to spoon with Amy after sex, much to her disgust.
When men are the romantics, they get the moral high ground. Aaron is a volunteer doctor with Doctors Without Borders, and James is an active defender of Aaron's heart, asking Amy, "What are your intentions with Aaron?" Steven even says to Amy directly, "You are not nice" as he breaks up with her.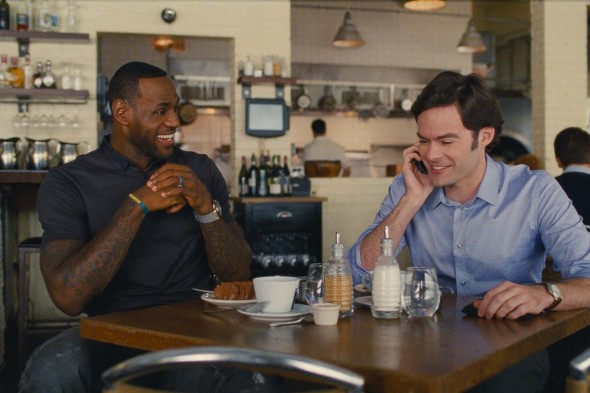 Why is it so funny to see men being relationship-centric? Perhaps these gender stereotypes are still so entrenched in Hollywood, that it's funny when they're broken. A man who goes down on his girlfriend? A woman with an active sex life? Hilarious! What's not funny in the film? Amy's monogamous younger sister, Kim, who gets few laughs. Her doofy, committed husband, played by Mike Birbiglia, though? Hilarious!
Speaking of guest stars, why are Lebron James, John Cena and Amar'e Stoudemire even in this movie? Their inclusion is likely to help this romantic comedy appeal to male audiences. Amy states her hatred of sports at the beginning of the film, but with beloved athletes in the movie, she can't really hate sports. We leave the film loving the sweet characters played by athletes, which robs some power from sports-hating Amy.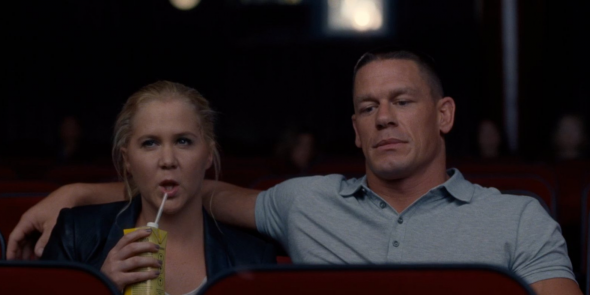 From Sex-Positive to Slut-Shaming
Ultimately, Trainwreck is a romantic comedy that sticks to its genre mechanics. After Amy and Aaron get in a fight and break up, Amy says to her sister, "I'm broken." Then, the film endorses this self-judgment when we see her reform herself, including throwing out all of her alcohol. In the big finale, she performs in a private cheerleading routine with the New York Knicks dancers, wearing their costume and dancing for Aaron. Granted, she's really bad at it, and it's funny. She wins him back.
Does this romantic comedy ending mean that the men in the film were right, that being a monogamous, sensitive romantic (like most of the men in the film) is the key to happiness? It certainly feels that way: Amy is "broken" when she's single, and she's happy when she chooses monogamy.
Imagining a Slightly Different Trainwreck
All the things that are awesome about Trainwreck are still awesome: it stars a woman, was written by a woman, and that woman gets laughs. She often asks for what she wants and gets it. There are lots of fun moments, including a surprisingly funny vomit scene.
Next time a mainstream comedy stars a woman, though, I would love to see it:
Not rely on gender-bending behavior for laughter.
Not require the protagonist tone down her sexuality in order to end up happy.
Not employ athletes or other manly elements to pander to male audiences.
What might this look like in Trainwreck? Maybe it means the male leads in the film have unique flaws of their own, rather than being romantic angels. Maybe it means Amy and Aaron decide to just be friends, and Amy keeps having casual sex. Maybe it means Aaron has a different job outside of the sports world, and we just go on good faith that men will still show up at the theater even though LeBron James doesn't have a cameo.
While these may not seem like huge changes, their absence from Trainwreck is instructive. When you combine genre mechanics and familiar gender roles (even in reverse) with box office performance anxiety, it's hard for a woman protagonist to really be "in control."
Molly Brenner is based in Boston, MA.