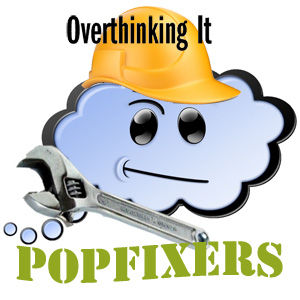 It's the battle of the "M"s, as Matthew Wrather and Matthew Belinkie put themselves in Mario's well-worn shoes. Your sweetheart has been kidnapped by a paramilitary group from a distant Kingdom. Is she alive or dead? What could they possibly want from a plumber like you? Will your union rep even answer your calls? Popfixers plumbs the depths and snakes out the answers.
Hosted by Pete Fenzel.
Audio version
The whole first season of Overthinking It Popfixers will be available as an audio podcast before the year is out. Watch for it on the site!
Subscribe for More Popfixers!
To watch Overthinking It Popfixers live or save them for later, follow our Google+ page and subscribe to our YouTube channel.