This is the blurb from our 2013 Eurovision Party. For details on our 2017 party on May 13 at The Liberty, click here. —Ed.
Given the exhaustive nature of our Eurovision coverage, it may surprise you to learn that we are not all currently in Malmö, Sweden, living in a tent outside the Eurovision theater and counting the minutes until the doors open. But Mark and I will actually be watching the competition here in New York… and you guys should totally join us!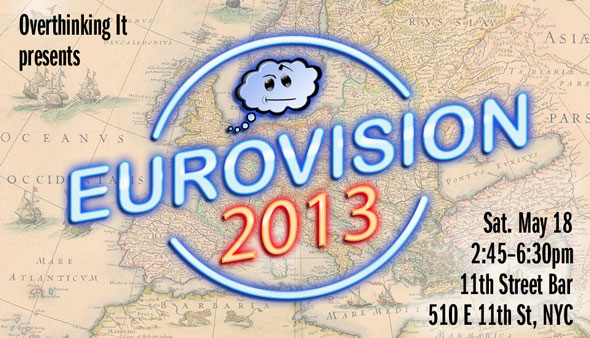 Yes, you read correctly! (I'm assuming you read correctly. Did you read that we're having a Eurovision party on Saturday, May 18 at 2:45pm in NYC? Yes, you did read correctly!) We're going to be streaming the show on a giant projector screen in the heart of the East Village! I am inordinately excited about this! From personal experience, I know that Eurovision is best enjoyed with snarky friends and beer, and both will be available in great quantities.
If you're coming, go to our Facebook event page and RSVP! If you promise to come, we promise not to cover Junior Eurovision.