[Enjoy the guest post by Brad Lawrence!!!]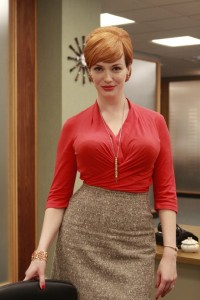 Mad Men is a great show, but for most fans, there's one thing we love about it more than anything else (well, technically two, but people usually don't refer to them individually). I'm talking of course about Joan's (Christina Hendricks) boobs! I don't think any further explanation is really necessary, so let's get right to the list of the ten best episodes of Mad Men, rated on the only criteria that matters:
10. Season 1, Episode 1 "Smoke Gets in Your Eyes" – Gotta start with this one. It's our first introduction to our favorite part of the show. Maybe we don't get the best look at them, but it's definitely a promising start.
9. Season 1, Episode 9 "Shoot" – Now here's what I'm talking about! This is a low-cut dress, like it's super low cut! Woo!
8. Season 3, Episode 1 "Out of Town" – Some observant fans of the show say that Joan dresses to match her moods. I wonder is her boobs get bigger based on her moods, too? Because it seems to be the case here.
7. Season 4, Episode 8 "The Summer Man" – In this one, that little tool Joey insults Joan, and her boobs! You don't insult the boobs, Joey! Never! He gets promptly fired, which is pretty appropriate – someone who can't appreciate those boobs has no business being in advertising.
6. Season 4, Episode 4 "The Rejected" – I didn't think boobs could be this hot without being at least a little bit showing, but man, that blue dress covers everything and it still looks amazing. A true testament to the power of Joan's rack.
5. Season 1, Episode 6 "Babylon" – This time it's not Joan's boobs, but her butt that looks great, as she bends over a table to show things off for the guys. Who says we can't appreciate a good butt, too? Certainly not Ken, who says "I wanna stand and salute that," demonstrating that he either likes what he sees, or else does understand how the government works and possibly believes Joan's rear is the president or something.
4. Season 3, Episode 8 "Souvenir" – Sideboob alert! Sideboob alert! The 2nd best kind of boob after underboob!
3. Season2, Episode 7 "The Gold Violin" – Do Joan boobs ever not look good in a red dress with a low neckline? Of course not, that's crazy.
2. Season 1, Episode 13 "The Wheel" – Most cleavage in the history of the show! Right here! So awesome!
1. Season 5, Episode 10 "Christmas Waltz" – Joan's boobs + Jaguar XKE = Awesome.