[Enjoy this guest post by Robert Northrup!!!]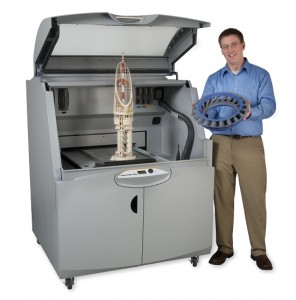 The Gutenberg printing press revolutionized printing, because before that it was just scribing. Printed books became cheaper than handwritten ones, so more people were able to read them. Some people still took them back to the library before finishing though.
Likewise the 3D Printer will revolutionize several industries, including Technology, Manufacturing, Arts, Snacking, Social Scientists, and Industries. It will impact the popular culture because everyone will want to do it and have one (i.e., popular.)
A 3D Printer is similar to the replicator in Star Trek, but just slightly lame because you'd still have to put steel or plastic or gears into it for the printer to turn that raw material into guns or whatever. It can put these things together gradually not just on a piece of paper. I know, right? But like a layer of paper with thick ink on it. And then more thick ink piled on that. And then more thick ink, but in a slightly different area, until you have a little horse or a skateboard or something. I guess you pull the paper off the bottom of it at that point.
Here are the Top Ten Things I will 3D Print someday when I get one:
1. A stack of $100 bills twenty feet tall. But thinner than normal bills, so I could have even more of them to fit in twenty feet worth.
2. A gun. Either a SPAS-12 shotgun or a Heckler & Koch VP70z pistol, which was the only pistol in the James Bond role-playing game that let you fire off bursts of 3 shots instead of one at a time.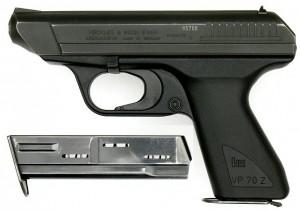 3. A piece of new technology that would be so awe-inspiring, the editors of BoingBoing.net would write about that every day and forget to write about 3D printers and laser cutters for six months.
4. Same as number 3 above, except Engadget and Technorati.
5. A video game with excellent graphics.
6. A clone of myself.
7. A laser cutter.
8. The best ever bowl of chili, which I could enter into contests to win them.
9. Flying Robot and voice-activated remote control wristwatch, keyed to my voice. With a lock on the door of his storage shed so Johnny Sokko can't accidentally get the watch first and mess up everything.
10. A fully functional T-X Terminator like the villainous one in Terminator 3, but not already programmed to fall in love with me, just open to the possibility of it so I could gradually court her and win her love. Because that would be gross otherwise.
11. Another 3D Printer in case the first one breaks.
Thank you for your time.