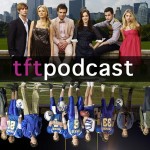 Ryan Sheely and Matthew Wrather consider the entire first season of Lena Dunham's Girls, focusing on misguided critical backlash, the phenomenon of petit bourgeois-face, the show's unique economic situation and artistic merits, and all the damn nudity.
→ Download TFT Episode 75 (MP3)
Reactions to the show? Email us or call/text (203) 285-6401.
Please like the TFT Podcast Facebook Page. We like you.
Want to download new episodes of the TFT Podcast automatically? Subscribe in iTunes or via RSS. And don't forget to follow us on Twitter.
Logo by Varouhas Design.