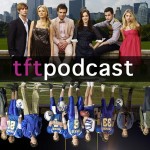 Ryan Sheely and Matthew Wrather count down to the final episode of Gossip Girl, and a revelation that will certainly change everything IN this episode, they consider: the diverse molds of adolescence presented by GG and other TFT shows like Friday Night Lights; adults in the GG aristocracy as types of adolescents (all except Bart Bass); "Chivy Antibodies" and the pathogen model of social infiltration, the Trojan Corucopia, and the ontology of the "bump in," and the necessary ulteriorly of GG third acts.
→ Download TFT Episode 73 (MP3)
Reactions to the show? Email us or call/text (203) 285-6401.
Please like the TFT Podcast Facebook Page. We like you.
Want to download new episodes of the TFT Podcast automatically? Subscribe in iTunes or via RSS. And don't forget to follow us on Twitter.
Logo by Varouhas Design.
References